Changing America: 1961-1999 (Paperback)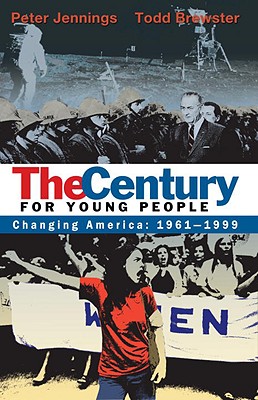 Description
---
Experience the greatest moments of the 20th century with an accessible narrative that makes history come alive.

Adapted from the #1 national bestseller especially for young readers
The twentieth century was a time of tremendous change, the most eventful hundred years in human history. Join Peter Jennings and Todd Brewster for a fascinating journey back in time to experience, through vivid first-person accounts, the most surprising and the most terrifying events of the past hundred years. These are the voices of ordinary people--children and adults who were a part of history in the making. Their joys and sorrows, their hopes and fears provide a compelling insider's look at momentous events that have reshaped the world. The Century for Young People is a riveting read and an essential research resource. It is the story of our time for all time.
About the Author
---
Peter Jennings (1938-2005) was chief anchor of ABC's World News Tonight. In more than 40 years as a broadcast journalist, he worked in most parts of the world, from the American South to Southern Africa, from the Middle East to eastern Europe and the former Soviet Union. Among hundreds of programs he was a part of, he treasured those he did with and for the young. Todd Brewster was the senior editorial producer of ABC's The Century television series. In more than 25 years as a journalist, he has covered the American national political scene and the collapse of Communism in eastern Europe, both for Life, where he was a writer and editor. He is currently the new director of the Center for Oral History at the U.S. Military Academy at West Point.