Soldiers and Slaves: American POWs Trapped by the Nazis' Final Gamble (Paperback)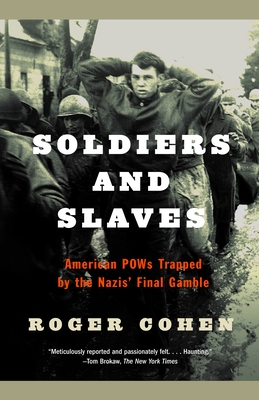 $15.00
Not On Our Shelves—Ships in 1-5 Days
Description
---
In February of 1945, 350 American POWs, selected because they were Jews, thought to resemble Jews or simply by malicious caprice, were transported by cattle car to Berga, a concentration camp in eastern Germany. Here, the soldiers were worked to death, starved and brutalized; more than twenty percent died from this horrific treatment.
This is one of the last untold stories of World War II, and Roger Cohen re-creates it in all its blistering detail. Ground down by the crumbling Nazi war machine, the men prayed for salvation from the Allied troops, yet even after their liberation, their story was nearly forgotten. There was no aggressive prosecution of the commandants of the camp and the POWs received no particular recognition for their sacrifices. Cohen tells their story at last, in a stirring tale of bravery and depredation that is essential for any reader of World War II history.
About the Author
---
Roger Cohen writes on foreign affairs for The New York Times, where he has worked since 1990, primarily as Paris correspondent, bureau chief in the Balkans and Berlin, and foreign editor. He also writes a twice-weekly column for the International Herald Tribune. His book on Bosnia, Hearts Grown Brutal, based on his prizewinning coverage of the war there, was cited for its excellence by the Overseas Press Club. He is married to the sculptor, Frida Baranek, has four children and lives in Brooklyn, New York.
Praise For…
---
"Meticulously reported and passionately felt. . . . Haunting." –Tom Brokaw, The New York Times

"Cohen's contributions are large. . . . We at last know something human, something personal, about these GIs, and can remember and mourn them by name, with the sorrow and honor they deserve."
–The New York Times Book Review

"A powerful account of a chapter of the war that was long suppressed." –The New Yorker

"Roger Cohen has brought us a jewel of a book — a chilling, deeply felt, and powerfully written account of an astonishing episode at the climax of World War II that speaks volumes about human nature, justice, and memory." –Michael Beschloss

"Roger Cohen, who has already written one profoundly moving book on the Bosnian war and provides some of the best American journalism about Europe, understands that huge tragedies are constituted by microhistories of suffering. In Soldiers and Slaves he follows the fate of Jewish American soldiers, captured in the Battle of the Bulge and thrown into the vortex of the crumbling Third Reich as brutalized slave laborers and death-march victims alongside the remnants of surviving Central European Jewery. This is a beautifully crafted narrative of cruelty, heroism, dismaying postwar indifference, and finally, at last, memory redeemed."
–Charles Maier, Saltonstall Professor of History, Harvard University

"Before reading Soldiers and Slaves, I had never heard of concentration camp Berga, 'an ephemeral little hell' within the larger hell of World War II. But I know it now and won't ever forget it, thanks to Roger Cohen's masterful account, wonderfully reported and written."
–Ward Just

"This story of American POWs at Berga–their suffering, their pain, their hope, their memories–has surprisingly been forgotten or inadequately recalled by historians. Roger Cohen is to be thanked for revealing to the public its profound human drama with talent, sensitivity, and a commitment to truth."
–Elie Wiesel

"In this extraordinary book Roger Cohen has brought to light a long-concealed story of Nazi savagery. It brought me to tears–and understanding."
–Anthony Lewis