American Scoundrel (Paperback)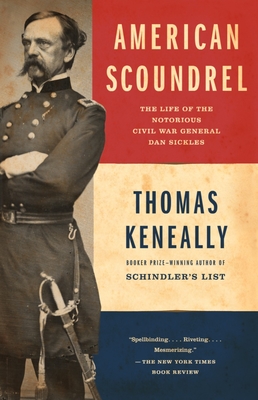 $16.00
Not On Our Shelves—Ships in 1-5 Days
Description
---
Hero, adulterer, bon vivant, murderer and rogue, Dan Sickles led the kind of existence that was indeed stranger than fiction. Throughout his life he exhibited the kind of exuberant charm and lack of scruple that wins friends, seduces women, and gets people killed. In American Scoundrel Thomas Keneally, the acclaimed author of Schindler's List, creates a biography that is as lively and engrossing as its subject.
Dan Sickles was a member of Congress, led a controversial charge at Gettysburg, and had an affair with the deposed Queen of Spain among many other women. But the most startling of his many exploits was his murder of Philip Barton Key (son of Francis Scott Key), the lover of his long-suffering and neglected wife, Teresa. The affair, the crime, and the trial contained all the ingredients of melodrama needed to ensure that it was the scandal of the age. At the trial's end, Sickles was acquitted and hardly chastened. His life, in which outrage and accomplishment had equal force, is a compelling American tale, told with the skill of a master narrative.
About the Author
---
Thomas Keneally has won international acclaim for his novels Schindler's List (the basis for the movie and winner of the Booker Prize), The Chant of Jimmie Blacksmith, Confederates, Gossip from the Forest, The Playmaker, Woman of the Inner Sea, and A River Town and for his work of nonfiction The Great Shame. He lives in Sydney, Australia.
Praise For…
---
"Spellbinding. . . . Riveting. . . . Mesmerizing." —The New York Times Book Review

"Brilliant. . . . Rollicking, captivating. . . . Engrossing, entertaining. . . . Keneally brings Sickles back to life in every colorful and scandalous detail." —Chicago Sun-Times

"Panoramic. . . . For anybody who savors ripely old-fashioned storytelling with a side of modern hindsight." —San Francisco Chronicle

"Lively and evocative. . . . Keneally's prose, as usual, is vivid and his research is thorough; he displays an impressive command of the minutiae of 19th-century American politics." —The Washington Post

"Entertaining. . . . Fast-paced." –The Wall Street Journal

"An especially lively and compelling account of an extraordinary life." –The Seattle Times

"Provocative. . . . [Keneally] shows himself . . . adept at biography. . . . [He] breathes full and controversial life into a famous military engagement." –The Economist

"Engaging. . . . Keneally deftly conveys the atmosphere of fervent in pre—civil war Washington. . . . [He] has the advantage of a novelist's sense of pace, a mellifluous prose style and a profound sympathy for both his main characters." –Sunday Times (London)

"A fascinating look at a time when powerful men could get away with virtually anything." –Houston Chronicle

"A memorable account of Sickles' life, and the political, social and military world in which he lived. Keneally has given us an engaging biography." –The Oregonian

"Keneally's writing is flawless. . . . He tells Sickles' story in a rich voice that is perfectly pitched for this tale of 19th-century excess." –San Antonio Express-News

"Keneally is joyfully inquisitive. . . . He deserves real praise. He enters naturally and sympathetically into the hearts of his protagonists–his own prose takes on the flavour of the period he invokes." –The Times Literary Supplement

"Fast-paced, smooth-as-silk. . . . Remarkable and colorful. . . . Keneally is a gifted writer who captures the mood and manner of an age in succinct verbal portraits." –BookPage

"[An] ambitious work encompassing nearly a full century of American political, financial, cultural and social life. . . . [Sickles's is] a life Keneally nails with sureness and scholarship." –Daily News (New York)