The Times of Their Lives: Life, Love, and Death in Plymouth Colony (Paperback)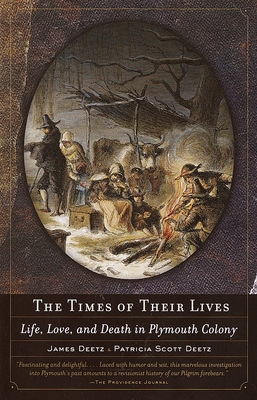 $17.00
Not On Our Shelves—Ships in 1-5 Days
Description
---
The utterly absorbingreal story of the lives of the Pilgrims, whose desires and foibles may be more recognizable to us than they first appear.
Americans have been schooled to believe that their forefathers, the Pilgrims, were somber, dark-clad, pure-of-heart figures who conceived their country on the foundation of piety, hard work, and the desire to live simply and honestly. But the truth is far from the portrait painted by decades of historians. They wore brightly colored clothing, often drank heavily, believed in witches, had premarital sex and adulterous affairs, and committed petty and serious crimes against their neighbors in surprisingly high numbers.Beginning by debunking the numerous myths that surround the landing of the Mayflower and the first Thanksgiving, James Deetz and Patricia Scott Deetz lead us through court transcripts, wills, probate listings, and rare firsthand accounts, as well as archaeological finds, to reveal the true story of life in colonial America.
About the Author
---
James Deetz, Ph.D., was the Harrison Professor of Historical Archaeology at the University of Virginia. One of the founders of modern historical archaeology in America, Deetz's work has profoundly affected the fields of anthropology, history, and folklore. For decades he led research on Plymouth Colony, Massachusetts, revolutionizing our understanding of the way people lived in colonial America. His books include Invitation to Archaeology, In Small Things Forgotten, and Flowerdew Hundred. He died in 2000. Patricia Scott Deetz is a cultural historian with an M.A. in history from Rhodes University, South Africa. She worked with her husband as a researcher in the Department of Anthropology at the University of Virginia. She lives in Williamsburg, Virginia.
Praise For…
---
"[A] fascinating and delightful?revisionist history of our Pilgrim forebears."
--The Providence Journal

"The Deetzes have knocked the dust off these Thanksgiving pageant characters and given them new life."
--The San Diego Union-Tribune

"A hard-headed description...based on the evidence, of life in the Plymouth Colony."
--The New York Times