We're following all official guidelines to keep ourselves healthy on the job, and as a result, shipping may be delayed.
You will receive an email from our web orders team confirming that your order has been processed.
We thank you for your support and your patience at this challenging time.
Woodsburner (Hardcover)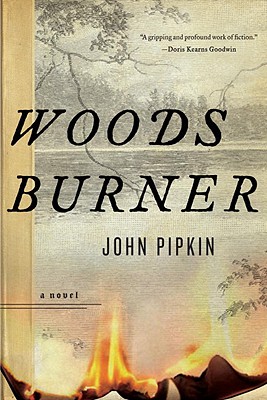 Special Order—Subject to Availability
May 2009 Indie Next List
---
"John Pipkin's Woodsburner is an audacious, wondrous surprise -- audacious for putting someone like Henry David Thoreau and a true event from his life (a great fire) in a novel. It is a luminous story, in which Thoreau, a handful of insightfully drawn characters, and an America they all embody are cast in vivid relief. More than 150 years later, Woodsburner feels like a story from yesterday."
— Rick Simonson, The Elliott Bay Book Company, Seattle, WA
Description
---
Woodsburner springs from a little-known event in the life of one of America's most iconic figures, Henry David Thoreau. On April 30, 1844, a year before he built his cabin on Walden Pond, Thoreau accidentally started a forest fire that destroyed three hundred acres of the Concord woods—an event that altered the landscape of American thought in a single day.

Against the background of Thoreau's fire, Pipkin's ambitious debut penetrates the mind of the young philosopher while also painting a panorama of the young nation at a formative moment. Pipkin's Thoreau is a lost soul, plagued by indecision, resigned to a career designing pencils for his father's factory while dreaming of better things. On the day of the fire, his path will intersect with three very different local citizens, each of whom also harbors a secret dream. Oddmund Hus, a lovable Norwegian farmhand, pines for the wife of his brutal employer. Elliott Calvert, a prosperous bookseller, is also a hilariously inept aspiring playwright. And Caleb Dowdy preaches fire and brimstone to his congregation through an opium haze. Each of their lives, like Thoreau's, is changed forever by the fire.

Like Geraldine Brooks's March and Colm Tóibín's The Master, Woodsburner illuminates America's literary and cultural past with insight, wit, and deep affection for its unforgettable characters, as it brings to vivid life the complex man whose writings have inspired generations
About the Author
---
JOHN PIPKIN was born and raised in Baltimore, Maryland, and he holds degrees from Washington and Lee University, the University of North Carolina at Chapel Hill, and Rice University. He has taught writing and literature at Saint Louis University, Boston University, and Southwestern University. He currently lives in Austin, Texas with his wife and son.
Praise For…
---
"What a terrific tale John Pipkin spins! He has taken a dramatic episode in the life of Thoreau and the history of Concord, Massachusetts, where I have lived for over thirty years, and transformed it into a gripping and profound work of fiction. More than a century and a half ago, my fellow Concordian, Ralph Waldo Emerson said of Walt Whitman. 'I greet you at the beginning of a great career.' The same can now be said to the wonderfully talented Mr. Pipkin."
—Doris Kearns Goodwin

"Thoreau's biographers commonly have made little of the incident, but John Pipkin takes the lighting of that fateful match as the starting point of his intelligent and often lyrical first novel, Woodsburner…. As the fire spreads, his Thoreau springs to life, meditating defensively about accident and intention…and when Pipkin surreptitiously incorporates sections of Thoreau's journals into his character's perspective, he creates a Thoreau who rationalizes with adolescent piquancy…. Pipkin also beguilingly conjures as assortment of appealing characters who find themselves in or near the Concord woods the day Thoreau set fire to them…. Since Woodsburner is, in effect, a wily fictional prequel to 'Walden,' Pipkin's motley characters, taken together, suggest how our vintage Thoreau, a Thoreau of history as well as fantasy, came to be."
—The New York Times Book Review

"Wonderfully grandiose…. Pipkin's portrait of a nation in flux is energetic and optimistic. It's also a remarkably constructed piece of fiction—vibrant, solidly plotted and lyrically yet efficiently composed—and should be a contender for the year's important literary awards."
—The Boston Globe

"John Pipkin's brooding first novel, Woodsburner, starts on the morning of April 30, as Henry David [Thoreau] squats on the bank of Fair Haven Bay and strikes a match he bummed from a shoemaker. The novel ends that evening, as the blackened forest glows in the darkness and soot snows down on the town of Concord. Over the course of this momentous day, Pipkin moves back in time and across the Atlantic, describing several other characters whose lives are lit by their own fires and altered by Thoreau's conflagration.
The ingenious nature of this structure grows clearer with each haunting chapter. The fire that 'flows like brilliant liquid' through Concord Woods is a natural engine for a terrifically exciting story, and Pipkin conveys such a visceral impression of the 'clever flames crouching in the branches' that you can feel the heat radiating off these pages….
But just as captivating are those characters Pipkin has invented, men and women consumed by their own passions. They provide a fascinating impression of the nation when it was still young and swelling and struggling to define itself. They see the Concord fire through their own private flames—fire is everywhere in this novel—and Pipkin allows them to brush up against each other in the most subtle and ingenious ways."
—The Washington Post

"[A] brilliant first novel… rich and memorable…. [Woodsburner] crackles with heat and energy, as we see these characters tested by the flames, scorched by their passions, beliefs and hopes. John Pipkin uses Thoreau's own sentence like a match, to spark a vision of a younger America poised at a moment of self-definition."
—The Times-Picayune, New Orleans

"Woodsburner is Pipkin's first novel, but, with its complex structure and top-notch prose, there's not a page that reads like the work of a novice…. The result is, well, transcendent.
—The Christian Science Monitor

*starred review* "This is a powerfully rendered debut about an infamous moment in American literary history…. Pipkin does an excellent job of bringing the people and environs of historic Concord to life…. A fascinating fictional exploration of a seminal American event."
—Library Journal

*starred review* "An inglorious episode in the life of 19th-century author and environmental saint Henry David Thoreau is the subject of Pipkin's impressive debut novel. In 1844, a year prior to his memorable tenure at Walden Pond, while hiking with a friend on the fringe of woods not far from bustling Concord, Mass., Thoreau impulsively lit a match in dry weather during a high wind, starting a fire that would consume 300 acres of valuable forest and farmland. An initial focus on Henry's guilt and panic unfolds into ongoing portrayals of the lives of three other men variously affected by the conflagration, as independently lived and as briefly linked to the life of Thoreau. Norwegian immigrant farmhand Oddmund Hus, still haunted by images of the fire ignited when the ship that had borne his family to America exploded in Boston Harbor, yearns for his dour employer's buxom Irish wife, and agonizes over whether the recent brush fire he tended had made him the inadvertent 'woodsburner.' Boston bookseller Eliot Calvert, painfully aware of compromises made to support his demanding family, assists volunteer firefighters manfully, but envisions the catastrophe in relation to the unwritten climax of his (hilariously jejune) stage play. And insanely jealous preacher Caleb Dowdy, long estranged from his more temperate clergyman father, seeks purification for his own sin (withholding the promise of salvation from an innocent man falsely accused of child molestation) in the cleansing power of the great fire. Pipkin tells their stories in a breathlessly exciting present tense, layering in substantial information about the credos and conflicts of the new England Transcendentalists.... The author succeeds brilliantly in portraying a young country struggling to shape its idealistic energies into something concrete and enduring. The consequent successes and failures are movingly encapsulated in 'Odd' Hus's emotional, climactic vision of destruction, rebirth and renewal. A superb historical fiction as well as a complex and provocative novel of ideas—Pulitzer Prize material."
—Kirkus Reviews

"Woodsburner deftly weaves big thoughts about fate, religion, and commerce with the burgeoning adventure of America between the Revolutionary and Civil wars, and an unexpected good measure of humor. It's a novel carried effortlessly by Pipkin's engaging, provocative prose and the often-surprising stories of his characters, and culminates in an exciting battle of epic proportions against nature itself. It is, in Pipkin's capable hands, the event that will shape Thoreau's philosophy. Like the almost irresistible urge to stare and meld with the dangerously destructive element of fire, readers will be pulled inexorably toward the heat ignited by the fires of each character's story…. It is a book that will keep you up all night racing toward the last page, and then will leave you longing for more. Do yourself a favor and give up a day for this one."
—Jackson Free Press

"Pipkin's research into the event and the era seems impeccable. The book is rife with interesting historical trivia: how lead pencils were made, the proper use of a mulling poker, how raw coffee beans were roasted. And the author's language nicely captures the tone and diction of 19th-century American English…. This is an ambitious and complex fiction…. Pipkin's Woodsburner is an impressive debut.
—Minneapolis Star Tribune

"The story is infused with moments of genuine drama, peril and suspense. Woodsburner is edifying, engaging and satisfying, an exemplary illustration of how fiction can illuminate the past, bring history to life and make it feel as fresh and relevant as the present day."
—The Dallas Morning News

"Woodsburner doesn't read like debut fiction. It is a mature historical work by a writer who happened upon a small footnote in American history and fanned a flicker into an imaginative, complex novel that humanizes an American icon."
—San Antonio Express

"If for no other reason, John Pipkin deserves a lot of credit for the breadth and ambition of his first novel Woodsburner. Fortunately there are numerous other reasons to recommend this clever little book."
—The Fredericksburg Free Lance-Star

"Witty, bawdy, philosophical, touching, and humorous, Woodsburner is a novel I didn't want to end. While Pipkin's book celebrates a sense of both the abundance and fragility of Thoreau's Nature, it also creates a new American Adam and Eve, thoroughly flawed from the beginning but ultimately victorious in their shared joy. Much as in our own time, the characters struggle with their desire for life-shaping change, the age-old stirrings of the body, and economic necessity along with their quests for spiritual, intellectual, and artistic fulfillment. This book is packed with interesting ideas, vital characters, and vivid writing."
—Sena Jeter Naslund, author of Ahab's Wife and Four Spirits

"Characters whose inner lives are richly and complexly rendered, a suspenseful narrative, and impeccable period details make Woodsburner an exceptional debut. Pipkin tells his story with the verve and authority of a veteran novelist, and the result is a book that, once begun, compels the reader onward to the very last sentence."
—Ron Rash, author of Serena

"Pipkin captures Thoreau's pre-Walden days with great insight and authority. And like all good historical fiction, Woodsburner forges new connections and blows fresh air through a well-worn legend."
—Dominic Smith, author of The Mercury Visions of Louis Daguerre

"Most readers know Thoreau's Walden as a treatise on man's respect for nature, but Pipkin's debut novel adds something new to the equation. A fictionalized version of a true event, this book explores Thoreau's overwhelming guilt for a Concord forest fire he accidentally set a year before his Walden retreat. Pipkin jumps effortlessly among the perspectives of Henry David and several unconnected townsfolk brought together by the fire, taking the blaze itself as his central character: 'not one enemy but many, thousands of individual flames, chewing through trees, taking possession of the woods as if this were their inheritance.' Fire chews through his character's lives as well; as the flames grow too large to control, the townspeople must one by one face the absurdity of man's bulwarks against nature. Pipkin tosses off hints of Thoreau's writings ('man's inability to conceive of the world's limits,' instructing a local bookseller to 'come to this very spot and build your home from the blackened timbers'), but his novel succeeds beyond the confines of its literary pedigree, making it a thought-provoking page-turner in its own right, a successful balance of story and character study."
—Publishers Weekly

"… beautifully executed historical fiction set in a young, rough-hewn America.
—Texas Monthly

"Pipkin has the literary skills to explore matters of import and intellect with wit and verve and imagination. Woodsburner creates figures as complicated and self-reflexive as the people in our lives and layers them into an actual literary legacy. It's an impressive performance using figures real and imagined to offer a new perspective on the real imagination of Thoreau and his country, his landscape—and our landscape as well."
—The Agony Column

"Woodsburner seems to argue that solitude is an absurdity in a functioning society, and that the myth of rugged individualism should give way to a greater appreciation of community. One daydreaming naturalist might start a fire, but it's going to take the shovels of a horde of townspeople afraid of losing their shops to stop it."
—Austin American-Statesman

"Woodsburner is a marvelous, quietly brilliant book. In this compelling homage to an iconic American writer, Pipkin may himself have just written a new American classic."
—Pittsburgh Post-Gazette

"Pipkin's characters are full of convincing contradictions: His Thoreau, for example, spends the day vacillating between guilt over the accident and defiantly rationalizing his incautious actions. The author has some thoughtful things to say about the notion of American freedom, and the conflagration that serves as Woodsburner's central metaphor allows him to say them in language that is at once vividly precise and richly allusive."
—NPR.org, Summer Books "Best Fiction" feature