Body of Secrets: Anatomy of the Ultra-Secret National Security Agency (Paperback)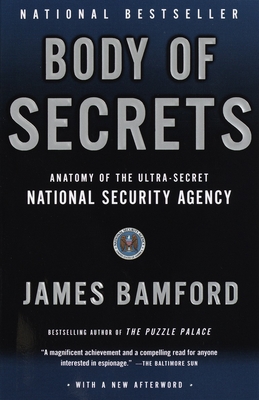 $18.00
Not On Our Shelves—Ships in 1-5 Days
Description
---
The National Security Agency is the world's most powerful, most far-reaching espionage. Now with a new afterword describing the security lapses that preceded the attacks of September 11, 2001, Body of Secrets takes us to the inner sanctum of America's spy world. In the follow-up to his bestselling Puzzle Palace, James Banford reveals the NSA's hidden role in the most volatile world events of the past, and its desperate scramble to meet the frightening challenges of today and tomorrow.
Here is a scrupulously documented account much of which is based on unprecedented access to previously undisclosed documents of the agency's tireless hunt for intelligence on enemies and allies alike. Body of secrets is a riveting analysis of this most clandestine of agencies, a major work of history and investigative journalism.
A New York Times Notable Book.
About the Author
---
James Bamford is the author of Body of Secrets, The Puzzle Palace, and A Pretext for War, and has written on national security for The New York Times Magazine, The Washington Post Magazine, and the Los Angeles Times Magazine. His Rolling Stone article "The Man Who Sold the War" won the 2006 National Magazine Award for reporting. Formerly the Washington investigative producer for ABC'sWorld News Tonight with Peter Jennings and a distinguished visiting professor at the University of California, Berkeley, Bamford lives in Washington, D.C. James Bamford is available for select readings and lectures. To inquire about a possible appearance, please contact Penguin Random House Speakers Bureau at speakers@penguinrandomhouse.com or visit www.prhspeakers.com.
Praise For…
---
"A magnificent achievement and a compelling read for anyone interested in espionage." —The Baltimore Sun

"Extraordinary. . . . A galvanizing narrative brimming with heretofore undisclosed details." —The New York Times Book Review

"Crisply written and prodigiously researched, Body of Secrets . . . is the most detailed picture yet of the activities of the world's largest intelligence-gathering operation." —The Washington Post Book World

"Part history, part expose, the book offers an 'anatomy' of the NSA, seeking to strip away the myth surrounding it. . . . [An] authoritative and engaging book." –The Wall Street Journal

"Body of Secrets is one fascinating book…chock-full of juicy stuff…. Interesting to read, well-written and scrupulously documented."–Salon

"An engaging and informed history…. Bamford weaves a narrative about the NSA that includes…many heretofore undisclosed tidbits of information."–The Nation

"James Bamford, who wrote one of the really good books about American intelligence twenty years ago…has now done it again…. Body of Secrets has something interesting and important to add to many episodes of cold war history…[and] has much to say about recent events."–The New York Review of Books

"At times surprising, often quite troubling but always fascinating…. Writing with a flair and clarity that rivals those of the best spy novelists, Bamford has created a masterpiece of investigative reporting."–Publishers Weekly (starred review)

"Body of Secrets adds fresh material about the world's nosiest and most secret body…. Will fascinate anyone interested in the shadow war."–The Economist