Towns Without Rivers (Hardcover)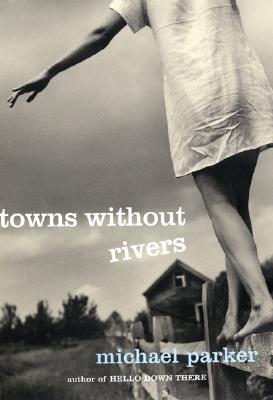 Description
---
In his stirring second novel, Michael Parker paints a vivid portrait of a young woman determined to escape her past. Revisiting Trent -- the Southern town so poignantly rendered in his acclaimed first novel, Hello Down There -- Parker turns his attention to Reka Speight, a character whose strength of spirit brings her as passionately to life as any female character in contemporary literary fiction.
Reka Speight is determined to discover a wider world than the rural backwater that has an almost malevolent grip on her. Armed with nothing but her sharp instincts and a hard-won education she earned while behind bars, Reka lies her way into a job that takes her thousands of miles west.
But it also takes her away from the one person she cares about, her younger brother Randall. Their special bond has always set them apart from the rest of the Speight clan; Reka knows she can't be happy until Randall has escaped their family's legacy of poverty, narrow-mindedness, and alcoholism. Reka hasn't seen Randall since she was released from jail, and she must entrust her father with a letter explaining her departure -- and how Randall can find her -- in the hopes that he will soon follow.
So begins a journey that takes Reka from North Carolina to Montana to Seattle; from steamy Trent to climates colder than she's ever imagined; from prison bars to the World's Fair; and from her dead lover's bedside into the arms of a man she can't forget, no matter how hard she tries. Through it all, Randall is always on her mind. Although returning to Trent means risking everything she has achieved to escape, Reka realizes she and her brother are bound together by a force stronger than will. What she can't know is that Randall's own wanderings have taken him into even darker territories, and that his quest to find the sister he has always emulated may prove more difficult than he expects...now that the only strength he has to rely on is his own.
In a striking tale of one iron-willed woman's determination to decide her own fate, Towns Without Rivers reveals the consequences of taking your life into your own hands and the astonishing resiliency of the human spirit. Probing one of the great conflicts of literature, Michael Parker's triumphant novel asks us whether the absence of love really must be the price of survival.
About the Author
---
Michael Parker is the author of the novel Hello Down There a New York Times Notable Book and the short story collection The Geographical Cure, winner of the Sir Walter Raleigh Prize. Parker teaches at the University of North Carolina at Greensboro.
Praise For…
---
"Parker takes Southern Gothic cliches and turns them on their heads: a powerfully original work."
— Kirkus Reviews (starred review)

"Interesting characters, tons of plot, and evocative writing . . . this is from Daniel Woodrell territory."
— Library Journal

"An absorbing narrative . . . an introspective work that should awaken readers' imaginations and their awareness of their humanity."
— Publishers Weekly (starred review)

"Parker displays the eye for subtle detail and nuance of character that has invited comparisons to Faulkner and Reynolds Price."
— Charlotte Observer