What Cat Is That?: All About Cats (Cat in the Hat's Learning Library) (Hardcover)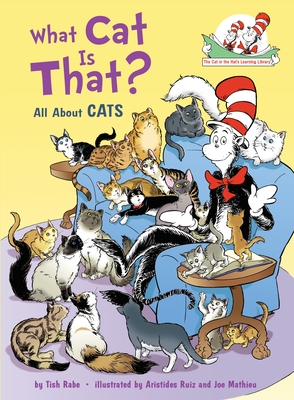 $9.99
Not On Our Shelves—Ships in 1-5 Days
Description
---
The Cat in the Hat learns all about cats—wild and domestic—in this feline-focused Cat in the Hat's Learning Library book! Traveling aboard his Kitty-Cat-Copter, the Cat takes Sally and Nick to meet lions in Kenya, tigers in Bangkok, Siamese down the block—learning along the way those traits that all cats share: scratchy tongues, padded paws, sensitive wiskers, sharp claws, and those things unique to different species. With information about the anatomy and behavior of well-known species and breeds—including lions, tigers, leopards, cheetah, jaguar, ocelots, cougar, American shorthair, Persian, Siamese—and lesser-known ones, like clouded leopards, caracals, Turkish Vans, Scottish folds, American curls, Raga Muffins, and more—there's something here for cat/Cat lovers of all kinds! Fans of the hit PBS Kids show The Cat in the Hat Knows a Lot About That! (which is based on the Cat in the Hat's Learning Library) won't want to miss this purrfect new addition to the series.
About the Author
---
TISH RABE is the author of countless books for young readers, among them twelve Cat in the Hat Learning Librarybooks.

Among the many books illustrated by ARISTIDES RUIZ are all the Cat in the Hat Learning Librarybooks. JOE MATHIEU has illustrated countless children's books.
Praise For…
---
What Cat is That?: All About Cats is a delightful and informative book that will help children better understand the ways in which all cats communicate and behave--whether wild, pedigreed, or random-bred domestic cats. I love the descriptive text and marvelous illustrations expressing how cats act and look when threatened, nervous, or displaying affection.  For a small book it packs loads of good information. There are facts about several rare pedigreed breeds and descriptions of natural cat behavior like "bunting," tail twitching and claw extension. This book will help instill respect for all cats!
--Joan Miller, Cat Fanciers' Association, CFA Outreach and Education