The Dark Deeps: The Hunchback Assignments 2 (Paperback)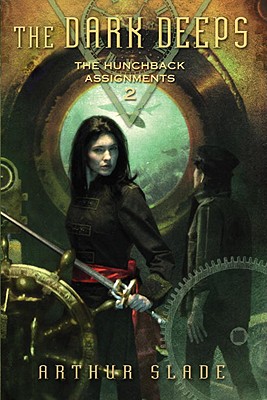 Description
---
A fantastic Steampunk adventure in the deeps

Transforming his appearance and stealing secret documents from the French is all in a day's work for fourteen-year-old Modo, a British secret agent. But his latest mission—to uncover the underwater mystery of something called the Ictíneo—seems impossible. There are rumors of a sea monster and a fish as big as a ship. French spies are after it, and Mr. Socrates, Modo's master, wants to find it first. Modo and his fellow secret agent, Octavia, begin their mission in New York City, then take a steamship across the North Atlantic. During the voyage, Modo uncovers an astounding secret.
 
The Dark Deeps, the second book in Arthur Slade's Hunchback Assignments series, is set in a fascinating Steampunk Victorian world. Modo's underwater adventures and his encounters with the young French spy Colette Brunet, the fearless Captain Monturiol, and the dreaded Clockwork Guild guarantee a gripping read filled with danger, suspense, and brilliant inventions.
About the Author
---
Arthur Slade has published several novels for young readers, including The Hunchback Assignments; Jolted: Newton Starker's Rules for Survival; Megiddo's Shadow; Tribes; and Dust, which won the Governor General's Literary Award for Children's Literature. He lives in Saskatoon, Saskatchewan, with his wife, Brenda Baker.
Visit him on the Web at www.arthurslade.com.


From the Hardcover edition.