In Search of Lost Time Volume III The Guermantes Way (Modern Library Classics) (Paperback)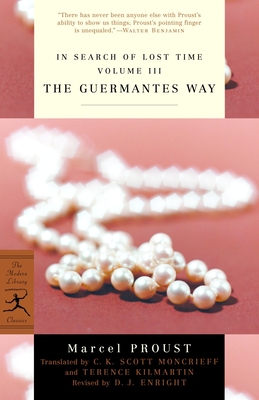 $18.00
Not On Our Shelves—Ships in 1-5 Days
Other Books in Series
Description
---
The "Guermantes Way," in this the third volume of In Search of Lost Time, refers to the path that leads to the Duc and Duchess de Guermantes's château near Combray. It also represents the narrator's passage into the rarefied "social kaleidoscope" of the Guermantes's Paris salon, an important intellectual playground for Parisian society, where he becomes a party to the wit and manners of the Guermantes's drawing room. Here he encounters nobles, officers, socialites, and assorted consorts, including Robert de Saint Loup and his prostitute mistress Rachel, the Baron de Charlus, and the Prince de Borodino.

For this authoritative English-language edition, D. J. Enright has revised the late Terence Kilmartin's acclaimed reworking of C. K. Scott Moncrieff's translation to take into account the new definitive French editions of Á la recherché du temps perdu (the final volume of these new editions was published by the Bibliothèque de la Pléiade in 1989).
About the Author
---
Marcel Proust was born in the Parisian suburb of Auteuil on July 10, 1871. He began work on In Search of Lost Time sometime around 1908, and the first volume, Swann's Way, was published in 1913. In 1919 the second volume, Within a Budding Grove, won the Goncourt Prize, bringing Proust great and instantaneous fame. Two subsequent installments—The Guermantes Way (1920–21) and Sodom and Gomorrah (1921)—appeared in his lifetime. The remaining volumes were published following Proust's death on November 18, 1922: The Captive in 1923, The Fugitive in 1925, and Time Regained in 1927.
Praise For…
---
"There has never been anyone else with Proust's ability to show us things; Proust's pointing finger is unequaled." —Walter Benjamin