The Dive From Clausen's Pier: A Novel (Vintage Contemporaries) (Paperback)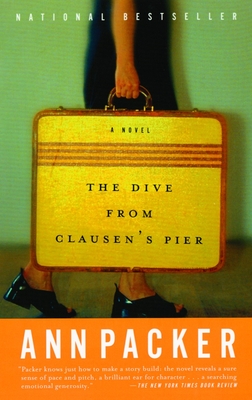 $17.00

Special Order—Subject to Availability
Description
---
How much do we owe the people we love? Is it a sign of strength or weakness to walk away from someone in need? These questions lie at the heart of Ann Packer's intimate and emotionally thrilling new novel, which has won its author comparisons with Jane Hamilton and Sue Miller.

At the age of twenty-three Carrie Bell has spent her entire life in Wisconsin, with the same best friend and the same dependable, easygoing, high school sweetheart. Now to her dismay she has begun to find this life suffocating and is considering leaving it–and Mike–behind. But when Mike is paralyzed in a diving accident, leaving seems unforgivable and yet more necessary than ever. The Dive from Clausen's Pier animates this dilemma–and Carrie's startling response to it–with the narrative assurance, exacting realism, and moral complexity we expect from the very best fiction.
About the Author
---
Ann Packer received the Great Lakes Book Award for The Dive from Clausen's Pier, which was a national bestseller. She is also the author of Mendocino and Other Stories. She is a past recipient of a James Michener award and a National Endowment for the Arts fellowship. Her fiction has appeared in The New Yorker, Ploughshares, and other magazines, as well as in Prize Stories 1992: The O. Henry Awards. She lives in northern California with her family.
Praise For…
---
"Packer knows just how to make a story build: the novel reveals a sure sense of pace and pitch, a brilliant ear for character . . . a searching emotional generosity." –The New York Times Book Review

"Intricately detailed, deeply felt, compelling and utterly surprising. . . . Wonderfully satisfying." –The Boston Globe

"Gracefully written and provocative. . . . An elegant book." –The Washington Post Book World

"[Packer's] characters seem observed rather than invented, and capable of mistakes that the author may never have intended. The result is genuine suspense." –The New Yorker

"A graceful writer . . . a quietly provocative novel. . . . Packer has a wonderfully optimistic yet realistic view of humanity." –Katharine Weber, Chicago Tribune

"One of those small miracles that reinforce our faith in fiction. It does what the best novels so often do, making the largest things visible by its perfect rendering of life on the smaller scale. It is witty, tragic, and touching, and beguiling from its first page." –Scott Turow

"An intricately detailed, deeply felt, compelling and ultimately surprising portrait of a young woman facing an unbearable loss . . . surprisingly suspenseful. . . . By the end of this wonderfully satisfying novel, it's clear why Carrie is too complex a character to take the easy way out." –Jane Ciabattari, San Francisco Chronicle

"[The Dive from Clausen's Pier] has an affinity with the work of Rosellen Brown . . . and Anne Tyler. . . . Packer writes with a rare density of detail and ideas, and it's just possible that the reader will be wiser at the end of the book than she was at the beginning." –Laurie Muchnick, Newsday

"Packer's novel explores how life itself can confront ordinary human beings with daunting moral dilemmas." –USA Today

"A fast, absorbing read. . . . Packer . . . [has] written a first novel whose subject easily transcends the page." –Entertainment Weekly

"[Packer] plays the slower rhythms of Madison against the Broadway boogie-woogie of Manhattan to great effect." –The Economist

"A winning debut novel." –Vogue

"Ambitious . . . both a colorful chronicle of life in Wisconsin and New York City . . . and a serious, moving meditation on the nature of love and of loyalty." –Glamour

"Impressive . . . Packer skillfully distills broad themes into small, personal moments . . . a thoughtful and satisfying examination of duty and personal integrity." –Time Out New York

"Remarkably assured, utterly winning. . . . Packer's characters scramble up from these pages as terrifically physical beings, so well does she describe them." –Miami Herald

"Absorbing . . . the suspense of the book's last pages is intense and moving." –Cleveland Plain Dealer

"Rich with characters and restrained in its language, Packer's novel is, first and foremost, a great story. –Minneapolis Star Tribune

"Fresh, contemporary, and fast-paced . . . a powerful and compelling read." –Baltimore Sun

"Packer knows just where she wants to take us . . . [and] the journey is worth taking." –Milwaukee Journal Sentinel

"Multilayered…absolutely credible and quite surprising." –Seattle Times

"A book I couldn't let go for days after finishing. . . . This book will make you think, so read it and pass it on to a friend." –Winston-Salem Journal