The Barbarous Years: The Peopling of British North America--The Conflict of Civilizations, 1600-1675 (Paperback)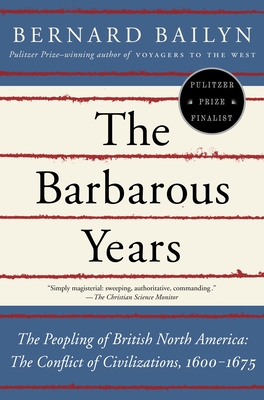 $18.95

Not On Our Shelves—Ships in 1-5 Days
Description
---
Finalist for the Pulitzer Prize

A compelling, fresh account of the first great transit of people from Britain, Europe, and Africa to British North America, their involvements with each other, and their struggles with the indigenous peoples of the eastern seaboard.

The immigrants were a mixed multitude. They came from England, the Netherlands, the German and Italian states, France, Africa, Sweden, and Finland, and they moved to the western hemisphere for different reasons, from different social backgrounds and cultures. They represented a spectrum of religious attachments. In the early years, their stories are not mainly of triumph but of confusion, failure, violence, and the loss of civility as they sought to normalize situations and recapture lost worlds. It was a thoroughly brutal encounter—not only between the Europeans and native peoples and between Europeans and Africans, but among Europeans themselves, as they sought to control and prosper in the new configurations of life that were emerging around them.
About the Author
---
Bernard Bailyn did his undergraduate work at Williams College and his graduate work at Harvard, where he is currently Adams University Professor and James Duncan Phillips Professor of Early American History Emeritus. His previous books include The New England Merchants in the Seventeenth Century; Education in the Forming of American Society; The Ideological Origins of the American Revolution, which received the Pulitzer and Bancroft prizes; The Ordeal of Thomas Hutchinson, which won the National Book Award for History; Voyagers to the West, which won the Pulitzer Prize; Faces of Revolution: Personalities and Themes in the Struggle for American Independence; To Begin the World Anew: The Genius and Ambiguities of the American Founders; and Atlantic History: Concept and Contours. In 2011 he received the National Humanities Medal.
Praise For…
---
"Bailyn spares no gory detail, but he treats his subjects with sympathy." —The New Yorker

"The Barbarous Years, the long-awaited companion to Voyagers to the West, is an even greater achievement. . . . Both in the span of time he examines (the years 1600 to 1675) and in his effort to capture the full range of 'the conflict of civilizations' in the early European colonization of North America, The Barbarous Years is Bailyn's most ambitious book." —The Daily Beast

"Bailyn's extensive skills at demography, material history, and ideological history are on full display." —The Wilson Quarterly

"Barbarous Years [is] a cornucopia of human folly, mischief and intrigue." —The Washington Independent Review of Books

"Bailyn has given readers a bracing, unvarnished account of a century that determined what would follow." —Richmond Times-Dispatch

"Throughout the book, Mr. Bailyn patiently explains the origins of the people who migrated to America. Readers learn which regions of England, the Netherlands and Scandinavia produced the most migrants, which social classes were best represented, and the extent to which young males predominated within various migrant flows." —The Wall Street Journal

"Magisterial. . . . Popular histories often gentrify these early events, but Bailyn's gripping, detailed, often squirm-inducing account makes it abundantly clear how ungenteel they actually were." —Kirkus Reviews

"Drawing on decades of sound, dynamic research, the author has provided scholars and general readers alike with an insightful and engaging account of Colonial America that signals a reset on Colonial studies, the culmination of his work. An important book. . . . Superbly told." —Library Journal (starred review)

"In Bailyn's perceptive and erudite hands, the original British, Dutch, and Swedish ventures assume as wild and variegated guises as did the forceful individuals who embarked on them." —Booklist