We're following all official guidelines to keep ourselves healthy on the job, and as a result, shipping may be delayed.
You will receive an email from our web orders team confirming that your order has been processed.
We thank you for your support and your patience at this challenging time.
Becoming Animal: An Earthly Cosmology (Hardcover)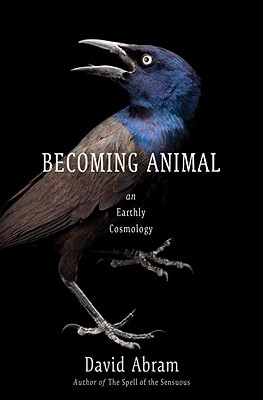 Special Order—Subject to Availability
Description
---
David Abram's first book, The Spell of the Sensuous—hailed as "revolutionary" by the Los Angeles Times, as "daring and truly original" by Science—has become a classic of environmental literature. Now Abram returns with a startling exploration of our human entanglement with the rest of nature.
 
As the climate veers toward catastrophe, the innumerable losses cascading through the biosphere make vividly evident the need for a metamorphosis in our relation to the living land. For too long we've inured ourselves to the wild intelligence of our muscled flesh, taking our primary truths from technologies that hold the living world at a distance. This book subverts that distance, drawing readers ever deeper into their animal senses in order to explore, from within, the elemental kinship between the body and the breathing Earth.
 
The shapeshifting of ravens, the erotic nature of gravity, the eloquence of thunder, the pleasures of being edible: all have their place in Abram's investigation. He shows that from the awakened perspective of the human animal, awareness (or mind) is not an exclusive possession of our species but a lucid quality of the biosphere itself—a quality in which we, along with the oaks and the spiders, steadily participate.
 
With the audacity of its vision and the luminosity of its prose, Becoming Animal sets a new benchmark for the human appraisal of our place in the whole.
About the Author
---
David Abram is an ecologist, anthropologist, and philosopher who lectures widely around the world. He is the author of "The Spell of the Sensuous, "for which he received a Lannan Literary Award for Nonfiction; his essays on the cultural causes and consequences of environmental turmoil are published in numerous magazines, scholarly journals, and anthologies. David is co-founder and Director of the "Alliance for Wild Ethics""(AWE)." He lives with his family in the foothills of the southern Rockies.
Praise For…
---
"This book is like a prehistoric cave. If you have the nerve to enter it and you get used to the dark, you'll discover things about storytelling which are startling, urgent and deeply true. Things each of us once knew, but forgot when we were born into the 19th and 20th centuries. Extraordinary rediscoveries!" -John Berger

"David Abram is among the most important interpreters of the wild voice within us. At no other time in Western history have we needed to listen to that voice, and David's, as much as we do today."
—Richard Louv, author of Last Child in the Woods: Saving Our Children from Nature-Deficit Disorder

"As with many deeply original—and radical—books, this work may startle, even provoke the reader in its electric reversal of conventional thought. Worth any provocation for the profundity of its insights, this is a portrait of the artist as a young raven, arguing, with all the subtlety of his mind, for the mindedness of the body. An exercise of uncanny imagination by a writer who has a sixth sense for the intelligence of the first five."
—Jay Griffiths, author of Wild: An Elemental Journey

"Provocative, boldly recalibratingŠA creative and visionary ecologist and philosopher, Abram offers perception-heightening insights into the disastrous consequences of our increasing detachment from the living world as we funnel our attention to the cyber realm. He tells extraordinary tales of his encounters with wildlife from whales to ravens, and illuminates the planet¹s myriad forms of sentient life. In addition to writing with poetic precision about sensory experience‹his analysis of shadows and life¹s reciprocity are phenomenal feats of observation and eloquence‹he draws on his adventures as an itinerant sleight-of-hand magician and apprentice to indigenous shamans to forge an inspirited physics of being. Prodigious, transfixing, and rectifying." –Booklist, starred review

"This brave and magical book summons wild wonder to re-mind us who we are."
—Amory B. Lovins, Chief Scientist, Rocky Mountain Institute
 
"David Abram's new book is so invigorating, its teachings leap off the page and translate immediately into lived experience. Shaking us free from the prisons of our mental constructions, Becoming Animal brings us home to ourselves as living organs of this wild planet."
—Joanna Macy, buddhist scholar and activist
 
"If we are to survive—indeed, if we are to stop the dominant culture from killing the planet—it will be in great measure because of brave and brilliant beings like David Abram. This is a beautifully written, deeply moving, and important book."
—Derrick Jensen, author of Endgame and A Language Older Than Words
 
"This startling, sparkling book challenges the technological temper of our times by returning us to the animal body in ourselves. Abram shows brilliantly how this body brings us back to Earth in a series of acutely moving descriptions of its polysensory genius. An original work of primary philosophy, it is written with verve, passion, and poetry."
—Edward S. Casey, author of The Fate of Place: A Philosophical History

"Abram brings the magician's sense of mystery and playful surprise to these experimental and improvisational forays...his celebratory embrace of all that surrounds him is refreshing in the extreme. The author is an inspired force who invites the neglected yet ever-present serendipities of the natural world to show themselves." –Kirkus

"Abram's prose is lighted from within, happy, solid and clear. It's fun to read and helps the reader remember his or her place in the larger, luminous world." –Los Angeles Times

"Fascinating…Highly readable, Becoming Animal sets a new benchmark for the human appraisal of our place in the whole world." –Tucson Citizen

"Graceful storytelling…Abram has given us another classic that will help us ponder our future and choose our actions wisely." –Greenpeace International  

"Crafted with poetic elegance, nearly every one of Abram's sentences shimmers with a melodious resonance that commands an unhurried pace. An abundance of rich, vivid storytelling allows Abram to ably navigate us through to what, for many, will undoubtedly be a new way of thinking about, and engaging in, our world. In Becoming Animal, Abram has crafted the rarest of literary gems: a sublime effort combining transcendent prose, lucid insight, and lasting consequence." –Shambhala Sun Space