We're following all official guidelines to keep ourselves healthy on the job, and as a result, shipping may be delayed.
You will receive an email from our web orders team confirming that your order has been processed.
We thank you for your support and your patience at this challenging time.
Dictionary of the Undoing (Paperback)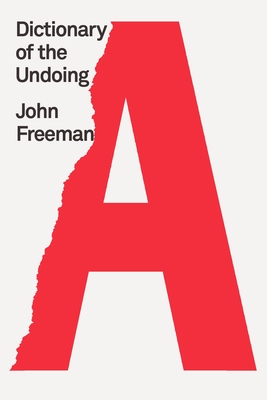 Description
---
For John Freeman—literary critic, essayist, editor, poet, "one of the preeminent book people of our time" (Dave Eggers)—it is the rare moment when words are not enough. But in the wake of the election of 2016, words felt useless, even indulgent. Action was the only reasonable response. He took to the streets in protest, and the sense of community and collective conviction felt right. But the assaults continued—on citizens' rights and long-held compacts, on the core principles of our culture and civilization, and on our language itself. Words seemed to be losing the meanings they once had and Freeman was compelled to return to their defense. The result is his Dictionary of the Undoing.
From A to Z, "Agitate" to "Zygote," Freeman assembled the words that felt most essential, most potent, and began to build a case for their renewed power and authority, each word building on the last. The message that emerged was not to retreat behind books, but to emphatically engage in the public sphere, to redefine what it means to be a literary citizen.
With an afterword by Valeria Luiselli, Dictionary of the Undoing is a necessary, resounding cri de coeur in defense of language, meaning, and our ability to imagine, describe, and build a better world.
About the Author
---
John Freeman is the editor of Freeman's, a literary annual of new writing. His books include How to Read a Novelist and The Tyranny of E-mail, as well as Tales of Two Americas, an anthology of new writing about inequality in the U.S. today. Maps, his debut collection of poems, was published in 2017. His work has been translated into more than twenty languages and has appeared in The New Yorker, The Paris Review, andThe New York Times. The former editor of Granta and one-time president of the National Book Critics Circle, he is currently Artist-in-Residence at New York University.
Praise For…
---
"[An] incisive, bold, and passionate reclamation of language . . . Each entry in [Freeman's] dictionary . . . is a perceptive and rousing assessment of various aspects of the raging 'information war' and what it's doing to us and what we can do to counter it. The result, gracefully punctuated with an afterword by MacArthur fellow Valeria Luiselli, is an incandescent and galvanizing protest and call for awareness and action."
—DONNA SEAMAN, Booklist
"[John Freeman] offers an alphabet of hope and action in this spare, eloquent meditation . . . The representative words, including resonant headings such as citizen, justice, and rage, introduce extended definitions that are sobering, probing, and precise . . . A protest, a poem, and a plea, Freeman's utterly original manifesto is a pocket manual for informed political dissent and a must-read for all thinking citizens." —Publishers Weekly (starred review)
"Poet and editor, John Freeman, has created a work of both artistry and activism in Dictionary of the Undoing, a lexicon of what should matter from A to Z—a complex and nuanced rebirthing of words that have been worn away by the strife and noise of this era." —WALTER MOSLEY
"All [of John Freeman's] projects feel like an invitation to enter into a polyphonic, multi-voiced conversation with other minds. Dictionary of the Undoing is no different. It is a book that makes you think, then rethink. It invites you to engage with it, to refute it, to contribute to it." —VALERIA LUISELLI
"How to be good in bad times? How to speak truth? Why read? Why write? Why bother? It is a symptom of our ongoing catastrophe that such questions must be asked, but we're lucky that John Freeman is out there looking for some answers. Language is Freeman's primary concern, and in Dictionary of the Undoing he sets out to reclaim it and restore what was damaged by an onslaught of evil and idiocy. One day you might be asked what you were reading in 2019, when everything seemed to be coming apart, and you're going to want to say John Freeman's Dictionary of the Undoing." —ALEKSANDAR HEMON