Sea of Poppies (Hardcover)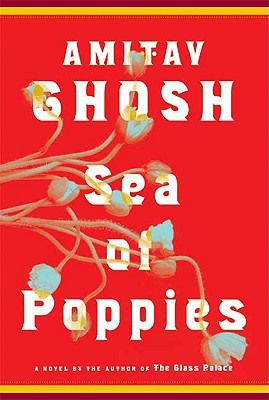 $30.00
Special Order—Subject to Availability
Description
---
A "San Francisco Chronicle" Best Book of 2008
A "Chicago"" Tribune" Best Book of 2008
A "Washington"" Post" Best Book of 2008
An "Economist" Best Book of 2008
A "New York" Best Book of 2008
A "Christian Science Monitor" Best Book of 2008
A "Publishers Weekly "Best Book of 2008
Shortlisted for the Man Booker Prize
At the heart of this vibrant saga is a vast ship, the "Ibis." Its destiny is a tumultuous voyage across the Indian Ocean; its purpose, to fight China's vicious nineteenth-century Opium Wars. As for the crew, they are a motley array of sailors and stowaways, coolies and convicts.
In a time of colonial upheaval, fate has thrown together a diverse cast of Indians and Westerners, from a bankrupt raja to a widowed tribeswoman, from a mulatto American freedman to a freespirited French orphan. As their old family ties are washed away, they, like their historical counterparts, come to view themselves as "jahaj-bhais," or ship-brothers. An unlikely dynasty is born, which will span continents, races, and generations.
The vast sweep of this historical adventure spans the lush poppy fields of the Ganges, the rolling high seas, the exotic backstreets of Canton. But it is the panorama of characters, whose diaspora encapsulates the vexed colonial history of the East itself, that makes "Sea of Poppies "so breathtakingly alive--a masterpiece from one of the world's finest novelists.
About the Author
---
AMITAV GHOSH is the internationally bestselling author of many works of fiction and nonfiction, including "The Glass Palace," and is the recipient of numerous awards and prizes. Ghosh divides his time between Kolkata and Goa, India, and Brooklyn, New York.
Praise For…
---
"Ghosh's best and most ambitious work yet . . . Ghosh writes with impeccable control, and with a vivid and sometimes surprising imagination." —The New Yorker "Over the last two decades, the Indian author Amitav Ghosh has established himself as a writer of uncommon talent who combines literary flair with a rare seriousness of purpose . . . [Sea of Poppies] sees Ghosh painting upon a larger canvas than ever before, with a multitude of characters and an epic vision . . . One does not need the impressive bibliography of sources at the end to be struck by the wealth of period detail the author commands. His descriptions bring a lost world to life, from the evocatively imagined opium factory, the intricacies of women's costumes and the lovingly enumerated fare on the opulent dining tables of the era, to the richly detailed descriptions of the Ibis and its journey." —Shashi Tharoor, The Washington Post Book World "[A] sprawling and rather wonderful new historical novel . . . Ghosh has done an extraordinary amount of research and possesses the deep dramatic sense that makes what he knows plausible . . . Ghosh's own beautifully made sentences and paragraphs buoy up ship, plot, characters and the setting itself with a natural ease and beauty." —Alan Cheuse, San Francisco Chronicle
"Any reader would be forgiven, upon finishing the Indian writer Amitav Ghosh's new novel Sea of Poppies, for suspecting that Ghosh is an avatar of Charles Dickens." —Art Winslow, Chicago Tribune
"Ghosh gives the full panoramic treatment to a fascinating subject." —New York
"Amitav Ghosh's literary costume drama Sea of Poppies gathers together a boisterous Babel of characters . . . for a storm-tossed adventure worthy of Sir Walter Scott." —Vogue
"Ambitious . . . A sweeping opus set just before the First Opium War, Sea of Poppies contains traces of Dickens and Twain and also recalls Lucas—George Lucas that is—and his Star Wars trilogy. Yes, Mr. Ghosh's book resembles less a modern novel than a cinematic epic; and this style . . . complements a work of profound historical magnitude. . . Ghosh's 19th-century world is worth savoring for its meticulous props and sets." —Hirsh Sawhney, New York Observer
"Brilliant . . . Ghosh is a wonderful literary writer. His well-researched details of life in 19th-century India reincarnate this misplaced piece of history . . . Language enlivens Ghosh's pages as well—especially the period Anglo-Indian pidgin and lascar jargon that spices dialogue with a rich phonetic authenticity . . . Besides a complexity of language and characters, Ghosh creates a plot of epic proportions with frequent foreshadowing that leaves no doubt its 500-plus pages are only the beginning . . . By the book's stormy and precarious ending, most readers will clutch it like the ship's rail awaiting, just like Ghosh's characters, the rest of the voyage to a destination unknown." —Don Oldenburg, USA Today
"Sea [of Poppies] is marvelous, its range and authority astonishing . . . There is extraordinary tenderness, too . . . Philosophically rich, exuberantly written, Sea of Poppies expands the mind and quickens the heart." —Carlo Wolff, The Plain Dealer
"[A] majestic epic . . . Ghosh masterfully weaves the economic tumult of 1830s India and the calculations of British imperialism into the lives of an array of finely wrought characters . . . In addition to fascinating back stories, Ghosh expertly utilizes language to delineate the differences between the characters . . . Complementing Ghosh's nuanced portrayal of linguistic variation is his richly detailed treatment of seamanship . . . Mesmerizing." —Rayyan Al-Shawaf, Milwaukee Journal Sentinel

"Ghosh conjures up each character with alacrity, fixing even minor players in the reader's mind with a few deft words . . . The narrative rolls along to the rhythms of the sea, seasoned with salty language and bawdy badinage . . . This is a deeply old-fashioned novel, unburdened by post-modern trickery and driven by plot devices that Robert Louis Stevenson would have loved: Grudges must be avenged, debts paid off, pasts hidden." —Hephzibah Anderson, Bloomberg
"With
ebullient energy and ingenious plotting
, Ghosh assembles a cast of characters whose destinies converge on a single vessel . . .
This page-turner also bristles with intriguing historical detail
. . . [Ghosh] has created
a rollicking romantic adventure
." —Maya Jaggi,
Bookforum
"
The cast is marvelous and the plot majestically serpentine
,
but the real hero is the English language
,
which has rarely felt so alive and vibrant
." —
Publishers Weekly
(starred review and a
Best Book of 2008
)
"In vivid settings ranging from the hellish precincts of an enormous opium factory, to absurdly lavish upper-class households, to the
Ibis
' grim hold, Ghosh unfurls tales of betrayal and tyranny, revelation and transformation, while reveling in the mischievous inventiveness of a bawdy polyglot lingo favored by sailors on Eastern seas. With intimations of Dickens and Melville, Ghosh's vital saga encompasses suspense and satire, perverse cruelty and profound kindness, and the countless ways humans conceal desire and fear behind arrogance and brutality." —Donna Seaman,
Booklist
"Ghosh orchestrates his polyphonic saga with a composer's fine touch . . . The density of settings, from rural India to teeming Calcutta to the Sudder Opium Factory, is historically convincing, and the author pays close attention to variations in speech . . . Planned as the first of a trilogy, this astonishing, mesmerizing launch will be hard to top." —Kirkus Reviews (starred review)
"First, on the side of entertainment, it is a nautical yarn, brimming with enough fo'c'sles and jibs and fife rails to satisfy the salty cravings of the Patrick O'Brian crowd. Second, its characters are brightly, if broadly drawn; there are good guys to root for and bad guys to hiss . . . Sea of Poppies is drunk on language or, rather, on two languages . . . The two lingoes combine into a Joycean cacophony that testifies to the fecund energy of English at its fringes and borders . . . [A] jolly outing." —Laura Miller, Salon's "Must Read"
"Fiction set on the high seas has long mixed tense adventure with intelligent drama: Think The Odyssey, Treasure Island and Moby Dick. You can now add to this list Sea of Poppies . . . [Ghosh's] language is a multivalent, almost chaotic triumph . . . His characters know how to maneuver a boat, and he knows how to direct them on the page—so well, that readers will be happy to know that there are two books still to come." —Drew Toal, Time Out New York
"[A] remarkably rich saga . . . which has plenty of action and adventure à la Dumas, but moments also of Tolstoyan penetration—and a drop or two of Dickensian sentiment." —Adam Mars-Jones, The Observer (London)
"India in the 1830s is wonderfully evoked—the smells, rituals and squalor . . . Coarseness and violence, cruelty and fatalism, are relieved with flashes of emotion and kindness. [Sea of Poppies] is no anti-colonial rant or didactic tableau but the story of men and women of all races and castes, cooped up on a voyage across the 'Black Water' that strips them of dignity and ends in storm . . . It is profoundly moving." —Michael Binyon, The Times (London)
"[A] terrific novel . . . In bringing his troupe of characters to Calcutta . . . Ghosh provides the reader with all manner of stories, and equips himself with the personnel to man and navigate an old-fashioned literary three-decker . . . Yet for all its research, Sea of Poppies is full of the open air. It never, as the eighteenth century used to say, 'smells of the lamp.' " —James Buchan, The Guardian
"The seaboard sections rival those in Melville and Conrad, but the scenes ashore are equally gripping and one leaves this long page-turner wishing it could continue . . . Sea of Poppies is a tremendous novel . . . [The] 'Ibis' trilogy will surely come to be regarded as one of the masterpieces of twenty-first-century fiction." —John Thieme, The Literary Review
"Hugely entertaining . . . Glorious babel of a novel . . . Carried along by the sheer energy of the narrative, most readers will soon tune in to this marvelously inventive lingo . . . [Sea of Poppies] is utterly involving and piles on the tension until the very last page . . . The next volume cannot come too soon." —Peter Parker, The Sunday Times (London)
"Bedazzling . . . Amitav Ghosh's Sea of Poppies, the first volume in his 'Ibis trilogy,' revisits in new, breathtakingly detailed and compelling ways some of the concerns of his earlier novels . . . We [await] with eagerness the second volume of the trilogy." —Shirley Chew, The Independent
"Sea of Poppies is bathed in rich vernacular . . . [It] is a thoroughly readable romp of a novel, filled with excellent set pieces, comic digressions (especially its comedies of manners), love interest, subterfuge and betrayal. We are left thirsty for more." —Toby Lichtig, New Statesman
"Epic . . . Each scene is boldly drawn, but it is the sheer energy and verve of Ghosh's storytelling that bind this ambitious medley." —Hephzibah Anderson, The Daily Mail
"Rich and panoramic, Amitav Ghosh's latest novel sees this Indian author on masterly form . . . Sea of Poppies is a sprawling adventure with a cast of hundreds and numerous intricate stories encompassing poverty and riches, despair and hope, and the long-fingered reach of the opium trade . . . Lustrous." —The Economist
"In Sea of Poppies, part one of the Ibis trilogy, Ghosh pulls off a most remarkable transformation. In a novel that hinges on transgressions and focuses on deep and often violent change (both personal and social), [he is] cast anew as a writer who can inform, edify, provoke and entertain. This is a barnstormer of a book. When it ends and you're done wiping your palms and your brow, you'll give thanks that it's only the first installment in a trilogy, which means there's more to come." —Avtar Singh, Time Out Mumbai
Praise for Amitav Ghosh:
"A writer of supreme skill and intelligence. " —The Atlantic Monthly
"Such is the power of Ghosh's precise, understated prose that one occasionally wishes to turn the pages three at a time, eager to find out where Ghosh's tale is headed." —Thrity Umrigar, The Boston Globe