Nature's Engraver: A Life of Thomas Bewick (Hardcover)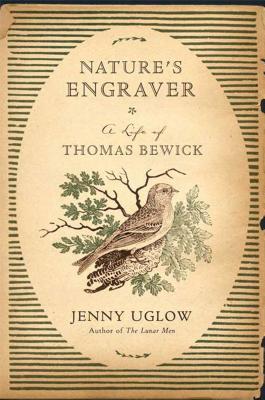 $30.00
Special Order—Subject to Availability
Description
---
A beautifully illustrated biography of Thomas Bewick (1753-1828), the man whose art helped shape the way we view the natural world

At the end of the eighteenth century, Britain, and much of the Western world, fell in love with nature. Thomas Bewick's History of British Birds marked the moment, the first "field guide" for ordinary people, illustrated with woodcuts of astonishing accuracy and beauty. But his work was far more than a mere guide, for in the vivid vignettes scattered through the book, Bewick captured the vanishing world of rural English life.

In this superb biography, Jenny Uglow tells the story of the farmer's son from Tyneside who influenced book illustration for a century to come. It is a story of violent change, radical politics, lost ways of life, and the beauty of the wild -- a journey to the beginning of our lasting obsession with the natural world.
About the Author
---
Jenny Uglow's books include prizewinning biographies of Elizabeth Gaskell and William Hogarth. The Lunar Men (FSG, 2002) was described by Richard Holmes as "an extraordinarily gripping account," while Nature's Engraver won the National Arts Writers Award for 2007. A Gambling Man (FSG, 2009) was short-listed for the 2010 Samuel Johnson Prize for Non-Fiction. Uglow grew up in Cumbria and now lives in Canterbury, England.
Praise For…
---
"Uglow's biography is as poignant, shapely and incisive as Bewick's woodcuts. Grounded in the countryside he came from, this marvellous book takes its structure from the River Tyne and explores the patterns of its subject's life organically, working outwards from within, tracing the inner play of force and feeling so that the outlines stand out crisply as each tiny detail falls into place." —Hilary Spurling, The Observer

"Perhaps future biographies (of requisite quality) celebrating a certain kind of unshowy Georgian figure could be called 'Uglow's Lives' after the woman who has made the genre her own . . . Jenny Uglow has captured her own man with just such skill. This is a lovely book, not just in the quality and sympathy of the writing but in the care of its design and illustration. She has turned a rich but undramatic life into a vignette as full of interest and detail as one of Bewick's own woodcuts." —Michael Prodger, Sunday Telegraph

"Biographies rarely afford a glimpse behind the office door, and it is the image of Bewick at work that is so valuable here . . . It is hard to imagine a better biographer for this subject than Uglow, with her background in publishing and her knowledge of the North of England and the eighteenth century. It is also hard to imagine a more beautifully and produced book: scores of Bewick's frameless vignettes float frame-free and captionless throughout, appearing as they would have done in his own time, tale pieces every one." —Frances Wilson, Times Literary Supplement

"It's a combination of precision allied to an uncluttered vision, and an exquisite sensibility, that makes Jenny Uglow the perfect biographer for this artist who spent his entire life in love with nature . . . Jenny Uglow is a publisher as well as a writer, who understands how important it is that a study of 'nature's engraver' should please the eye as well as satisfy the mind . . . A worthy tribute to Thomas Bewick and a delicious treat for readers." —Mark Bostridge, Independent on Sunday

"Bewick, Hogarth's heir in his passion for drawing from life, was the greatest engraver Britain had produced. Jenny Uglow's earlier study of Hogarth is the blueprint for its natural successor, a book that is as delightful to look at as to read . . . Uglow's gorgeous book does rich justice both to the man and his art." —Miranda Seymour, Sunday Times

"[A] beautifully written, designed and presented book . . . immeasurably enriched by Uglow's canny grasp of period detail . . . As in all her books, she makes us feel the life behind the facts." —Frances Spalding, Guardian

"Bewick was more than just an engraver. He was a fascinating human being whose life, told by the gifted biographer Jenny Uglow, in this beautifully illustrated little book, embodies the philosophical and political cross-currents of his times . . . Uglow already has a justifiable reputation as one of the country's best biographers; this fabulous book will only enhance it." —Paul Riddell, Scotsman