Raising the Hunley: The Remarkable History and Recovery of the Lost Confederate Submarine (Paperback)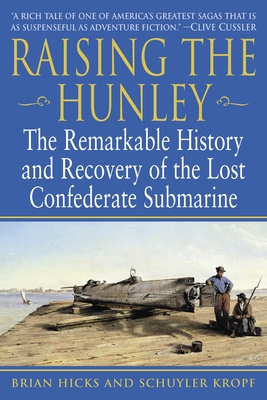 $18.00
Not On Our Shelves—Ships in 1-5 Days
Description
---
The history of the Confederate submarine
H. L. Hunley
is as astonishing as its disappearance. On February 17, 1864, after a legendary encounter with a Union battleship, the iron "fish boat" vanished without a trace somewhere off the coast of South Carolina. For more than a century the fate of the
Hunley
remained one of the great unsolved mysteries of the Civil War. Then, on August 8, 2000, with thousands of spectators crowding Charleston Harbor, the
Hunley
was raised from the bottom of the sea and towed ashore. Now, award-winning journalists Brian Hicks and Schuyler Kropf offer new insights into the
Hunley
's final hours and recount the amazing true story of its rescue.
The brainchild of wealthy New Orleans planter and lawyer Horace Lawson Hunley, the
Hunley
inspired tremendous hopes of breaking the Union's naval blockade of Charleston, only to drown two crews on disastrous test runs. But on the night of February 17, 1864, the
Hunley
finally made good on its promise. Under the command of the heroic Lieutenant George E. Dixon, the sub rammed a spar torpedo into the Union sloop
Housatonic
and sank the ship within minutes, accomplishing a feat of stealth technology that would not be repeated for half a century.
And then, shortly after its stunning success, the
Hunley
vanished.
This book is an extraordinary true story peopled with a fascinating cast of characters, including Horace Hunley himself, the Union officers and crew who went down with the
Housatonic
, P. T. Barnum, who offered $100,000 for its recovery, and novelist Clive Cussler, who spearheaded the mission that finally succeeded in finding the
Hunley
. The drama of salvaging the sub is only the prelude to a page-turning account of how scientists unsealed this archaeological treasure chest and discovered the inner-workings of a submarine more technologically advanced than anyone expected, as well as numerous, priceless artifacts.
Hicks and Kropf have crafted a spellbinding adventure story that spans over a century of American history. Dramatically told, filled with historical details and contemporary color, illustrated with breathtaking original photographs,
Raising the Hunley
is one of the most fascinating Civil War books to appear in years.
From the Hardcover edition.
About the Author
---
Brian Hicks is a senior writer with the Post and Courier in Charleston, South Carolina, and the co-author of Into the Wind. The recipient of a number of journalism awards, including the South Carolina Press Association Journalist of the Year, Hicks has covered the Hunley since 1999. Schuyler Kropf is a senior political reporter with the Post and Courier and the recipient of numerous reporting awards. He has followed the Hunley story since 1995. Both authors live in Charleston. From the Hardcover edition.
Praise For…
---
"Forget the Titanic; this sub wreck is hot."
–The Wall Street Journal