Last Orgy of the Divine Hermit (Hardcover)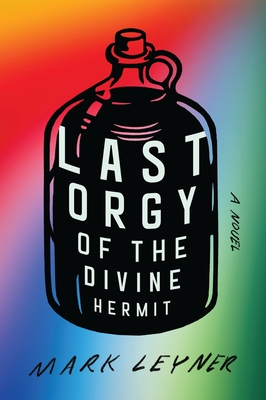 $27.00
In Stock—Click for Locations
Description
---
A "shamelessly funny" (Kirkus) and utterly original new novel from Mark Leyner about a father and his intense and devout relationship with his daughter and with alcohol.

An anthropologist and his daughter travel to Kermunkachunk, the capitol of Chalazia, to conduct research for an ethnography on the Chalazian Mafia Faction (a splinter group of the Chalazian Children's Theater).

The book takes place over the course of a night at the Bar Pulpo, Kermunkachunk's #1 spoken-word karaoke bar, where conversations are actually being read from multiple karaoke screens arrayed around the barroom. Moreover, it's Thursday, "Father/Daughter Nite," when the bar is frequented by actual fathers and daughters as well as couples cosplaying fathers and daughters.

Last Orgy of the Divine Hermit is a book about the deep pleasures of reading and drinking, the tumultuous reign of a cabal of mystic mobsters, and, of course, the transcendent love of a father for his daughter.
About the Author
---
Mark Leyner is the author of the novels Gone with the Mind, The Sugar Frosted Nutsack; My Cousin, My Gastroenterologist; Et Tu, Babe; and The Tetherballs of Bougainville. His nonfiction includes the #1 New York Times bestseller Why Do Men Have Nipples?. Leyner cowrote the movie War, Inc. He currently lives in Hoboken, New Jersey.
Praise For…
---
"Narrative form is an ever malleable plaything in Leyner's ostentatiously acrobatic new novel. . . .  shamelessly funny."
—
Kirkus Reviews
"With Last Orgy of the Divine Hermit, Mark Leyner -- comic virtuoso, avant-garde literary tummler, trope-exploder extraordinaire -- has outdone himself. After more than three decades, he remains the funniest and bravest of writers, not to mention the one least interested in stale conventions of fiction. We are lucky to have Leyner. Without his books to read, I probably would have enucleated my eyes with a melon-baller a long time ago."
—
Sam Lipsyte, author of Hark and The Ask
"Like a neck realignment you didn't know you needed, and didn't even ask for, Last Orgy of the Divine Hermit will leave you amazed, euphoric and stunned. Underneath the brilliant one-liners, wide-ranging satire and thrillingly violent slapstick set pieces, is a poignant story about a father's love for his daughter, and his terror of losing the one person on earth who seems to vaguely understand him. Aggressively original, intensely inventive and extremely funny, Leyner's new novel reminds me of why his books inspired me to start writing fiction in the first place. Stop being such a coward for once in your damn life and read Mark Leyner."
—
Simon Rich, author of Hits & Misses
"Exhilarating and grotesque."
—
Publishers Weekly
"Mark Leyner is one of the most inventive, receptive, and uproariously funny novelists working today. He's also, somehow, one of the most compassionate. Sure, on its face, Last Orgy of the Divine Hermit is about two drunk anthropologists and their obsession with ultraviolent street soldiers. But it's also a story of love and family, the comforts of ritual, and the sad mystery of death. Like a power ballad—beautiful because it's unhinged—this novel should play on repeat, forever, in all the karaoke bars of the world."
—
Dan Piepenbring, editor of The Beautiful Ones and coauthor of CHAOS: Charles Manson, the CIA, and the Secret History of the Sixties
"I laughed myself silly. If you haven't read Mark Leyner, try this book!"
—
Nell Zink, author of Doxology