We're following all official guidelines to keep ourselves healthy on the job, and as a result, shipping may be delayed.
You will receive an email from our web orders team confirming that your order has been processed.
We thank you for your support and your patience at this challenging time.
Let's Hope for the Best (Hardcover)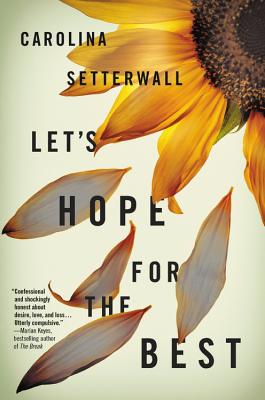 Description
---
"In Let's Hope for the Best, the protagonist becomes a widow in a moment, a moment that I cannot get out of my head. I feel tremulous admiration for how a work of beauty can exist within a well of violent pain. We should read to explore the width of our humanity. And ultimately, how to expand it."--Lisa Taddeo, bestselling author of Three Women
In her debut novel, Let's Hope for the Best, Carolina Setterwall recounts the intensity of falling in love with her partner Aksel, and the shock of finding him dead in bed one morning. Carolina and Aksel meet at a party, and their passionate first encounter leads to months of courtship during which Carolina struggles to find her place. While Aksel prefers to take things slow, Carolina is eager to advance their relationship -moving in together, getting a cat, and finally having a child.

Perhaps to impose some order on the chaos, Carolina devotedly chronicles the months after Aksel's passing like a ship's log. She unpacks with forensic intensity the small details of life before tragedy, eager to find some explanation for the bad hand she's been dealt. When new romance rushes in, Carolina finds herself assuming the reticent role Aksel once played. She's been given the gift of love again. But can she make it work?

A striking feat of auto-fiction, written in direct address to Setterwall's late partner, LET'S HOPE FOR THE BEST is a stylistic tour-de force.
"A moving and tender work of autofiction that depicts the obsessive interiority of grief."--Kirkus
About the Author
---
Carolina Setterwall was born in 1978 in Sala, Sweden. After studying Media and Communication in Uppsala, Stockholm, and London she has worked within the music and publishing industries as an editor and writer. Setterwall lives in Stockholm with her son.
Praise For…
---
"Carolina's sentences are spare and simple, and they reveal a portrait of anxiety and control, grief and abandonment, that lasts for many painful years. "How can I hold onto you when you're not here?" she asks. "How can I move on without the approval of the people in our life who matter the most to me? The equation seems unsolvable."A moving and tender work of autofiction that depicts the obsessive interiority of grief."—Kirkus

"Confessional and shockingly honest about desire, love, and loss...utterly compulsive."—Marian Keyes, bestselling author of The Break and The Woman Who Stole My Life

"It's the most compelling book I've read in years."—Times

"Intense and relentlessly navel-gazing, this debut by 40-year-old Swedish writer Carolina Setterwall may be billed as an autobiographical novel but is quite simply one of the best bereavement memoirs I've read... It's impossible not to draw comparisons with Karl Ove Knausgaard, who must surely have been an inspiration. But there is a unique voice here, a style of disclosure all her own, incidentally beautifully translated. It's an emotional battering ram, I thought, and I absolutely loved it."—Evening Standard

"This Scandinavian bestseller was based on tragic real events, so it's not surprising that every spare, controlled sentence has the ring of truth. (...) This painfully clear-sighted, unsentimental novel is in two alternating parts; one detailing the years leading up to Aksel's death, the other everything that comes after. It's about grief in all its raw messiness, but it's also (as how could it not be?) about time ... Setterwall's refusal to impose twists or false neatness is at first admirable then, as a fragile new love begins to blossom for Carolina, gripping."—Daily Mail