Politics and Prose will be closed on January 20.
Looking to Get Lost: Adventures in Music and Writing (Hardcover)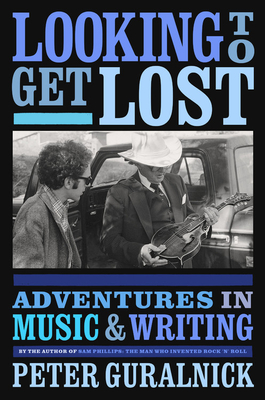 $30.00
In Stock—Click for Locations
Description
---
By the bestselling author of Sam Phillips: The Man Who Invented Rock 'n' Roll and Last Train the Memphis: The Rise of Elvis Presley, this dazzling new book of profiles is not so much a summation as a culmination of Peter Guralnick's remarkable work, which from the start has encompassed the full sweep of blues, gospel, country, and rock 'n' roll.

It covers old ground from new perspectives, offering deeply felt, masterful, and strikingly personal portraits of creative artists, both musicians and writers, at the height of their powers.

"You put the book down feeling that its sweep is vast, that you have read of giants who walked among us," rock critic Lester Bangs wrote of Guralnick's earlier work in words that could just as easily be applied to this new one. And yet, for all of the encomiums that Guralnick's books have earned for their remarkable insights and depth of feeling, Looking to Get Lost is his most personal book yet. For readers who have grown up on Guralnick's unique vision of the vast sweep of the American musical landscape, who have imbibed his loving and lively portraits and biographies of such titanic figures as Elvis Presley, Sam Cooke, and Sam Phillips, there are multiple surprises and delights here, carrying on and extending all the themes, fascinations, and passions of his groundbreaking earlier work.
About the Author
---
Peter Guralnick's books include the prize-winning two-volume biography of Elvis Presley, Last Train to Memphis and Careless Love, Sweet Soul Music, and Dream Boogie: The Triumph of Sam Cooke. He won a Grammy for his liner notes for Sam Cooke Live at the Harlem Square Club, wrote and co-produced the documentary Sam Phillips: The Man Who Invented Rock 'n' Roll, and wrote the scripts for the Grammy-winning documentary Sam Cooke/Legend and Martin Scorsese's blues documentary Feel Like Going Home. His most recent book is Sam Phillips: The Man Who Invented Rock 'n' Roll.
Praise For…
---
"Peter Guralnick's Looking to Get Lost -- a literary masterpiece -- takes the reader on a fantastic journey through the very best of America's musical landscape. His jewel-like personal stories about Skip James, Bill Monroe, Doc Pomus, Solomon Burke, Joe Tex and others are priceless. Looking to Get Lost proves that nobody  knows more about rhythm and blues, bluegrass, rockabilly, and soul music than Guralnick. This pulsing jukebox of a memoir and cultural history certifies that mighty claim."
—
Douglas Brinkley, Author of Cronkite
"If there's a leading figure among writers on American popular music -- one who both defines and transcends the field -- it has to be Peter Guralnick."
—
Preston Lauterbach
,
Wall Street Journal
"If this is what it means to get lost, it's a wonder anyone would ever care to be found."
—
Pop Matters
"Peter Guralnick is one of the 3 or 4 greatest writers in the country today. His searching intelligence, his unquenchable curiosity, his astonishing omnicompetence and his stunning scope of knowledge are all on display in this breathtaking volume dedicated to the odd duties of art and the taxing if transcendent assignments of genius. In Looking to Get Lost, Guralnick explores everything from the edifying enigma of blues icon Robert Johnson to the Appalachian absurdity of writer Lee Smith as he taps the veins of their, and other artists', combustible originality -- all while fashioning his own inimitable aesthetic and sublime style as a formidable master of American letters."
—
Michael Eric Dyson, author of Long Time Coming: Reckoning with Race in America
"Peter Guralnick is a dedicated explorer, and like all explorers with true mastery of their quest, he is singular and tenacious. He goes deep into the difficult emotional undercurrents, and the contradictions of success, in the lives of artists, and by subtle extension, into his own life. He is a writer of great sensitivity and intuition, who lyrically untangles the network that exists between artist and art, persona and humanity, rhythm and melody, the mortal desires that underscore it all, and, crucially and seamlessly, his own relationship to everything and everyone he contemplates."
—
Rosanne CashPRAISE FOR SAM PHILLIPS: THE MAN WHO INVENTED ROCK 'N' ROLLA NEW YORK TIME BESTSELLER & WASHINGTON POST NOTABLE NONFICTION BOOK OF THE YEAR (2015)
—
-
"Mr. Guralnick is a sensitive biographer who has landed upon a perfect topic in Phillips, the brilliant Memphis producer who, in the 1950s, recorded the earliest work of Elvis Presley, Johnny Cash, Jerry Lee Lewis and Howlin' Wolf. This is vital American history, smartly and warmly told."
—
Dwight Garner, New York Times, Top Books of 2015
"Definitive...With Presley's story at its core,
Sam Phillips: The Man Who Invented Rock 'n' Roll
is in some ways the third volume [to] Guralnick's double-volume Elvis bio. What makes it more illuminating and arguably truer is seeing Elvis in the broader context of Phillips' career, [which was] in many ways a mission to transform [t]his nation's history of bigotry....You may come away born again."—
Rolling Stone
"A book so thoroughly steeped in its subject that it is almost an autobiography in the third person.... 'This is a book written out of admiration and love,' Guralnick states frankly in an author's note. As such, it honors Sam Phillips elegantly, by devoting itself to the one subject Phillips seemed to admire and love as much as he did ­music: Sam Phillips himself."
—
David Hajdu, New York Times Book Review
"Lovingly crafted.... With crisp prose and meticulous detail, Guralnick gives Phillips the same epic treatment he previously employed in acclaimed biographies of Sam Cooke and Elvis Presley.... An astonishing feat.... It is difficult to imagine a more complete or poetic account of his life than this remarkable volume.... 'I didn't set out to revolutionize the world,' Phillips once told Guralnick in a moment of humility, but in this book [the author] convincingly argues that Phillips did just that."
—
Charles Hughes, The Washington Post
"Peter Guralnick isn't just a music writer or a biographer--he's one of the essential chroniclers of American popular culture, and his work illuminates some of the crucial components of our national identity: race, religion, fame, and the big business of having fun, among others. In this epic biography of Sam Phillips, Guralnick bears witness to the birth of rock and roll and the cultural revolution it inspired. It's not only an unforgettable portrait of an eccentric visionary, it's a testament to the power of ordinary people to change the world with nothing more than a beautiful idea and a handful of songs."
—
Tom Perrotta, author of The Leftovers
"When Elvis Presley stepped into a Memphis recording studio with producer Sam Phillips in 1954, they defined rock 'n' roll as we know it. Peter Guralnick already gave us Elvis's story in two landmark books. He now returns with a brilliant, intensely human look at Phillips, the endlessly fascinating figure who also recorded Johnny Cash, B.B King, Howlin' Wolf, and Jerry Lee Lewis. It's a bold, insightful work that tells us in novelistic detail about the obsessions and struggles of the man who presided over the uneasy birth of rock 'n' roll."
—
Robert Hilburn, author of Johnny Cash
"
Sam Phillips
is an epic biography, at once sweeping and personal, in which the gifted writer Peter Guralnick captures the voice and life of a transformational figure in American music."—
Jess Walter, author of Beautiful Ruins
"Guralnick wrote definitive biographies of Elvis and now does the same for Phillips, a visionary who gave voice to a rich and diverse culture long marginalized.... Essential reading for music fans."
—
Ben Segedin, Booklist (starred review)
"Epic, elegant and crisply told."
—
Henry L. Carrigan, Jr., BookPage
"Acclaimed music historian Guralnick has written landmark accounts of Elvis and the history of American roots music, and he now turns his considerable skills to the life of Sun Records producer Sam Phillips in this delightful and comprehensive volume. Guralnick energetically tells the must-read tale of a Southern boy intent on enacting his vision of freedom and justice through music."
—
Publishers Weekly (starred review)
"The book is a labor of love. Guralnick is passionate about the music, but he doesn't let his passion overinflate his prose, and he seems to know everything about everyone who was part of the Southern music world... It's natural for us to take events that were to a significant extent the product of guesswork, accident, short-term opportunism and good luck...and shape them into a heroic narrative....But a legend is just one of the forms that history takes -- which is why it's good to have Guralnick's book."
—
Louis Menand, The New Yorker