Tomato Red: A Novel (Paperback)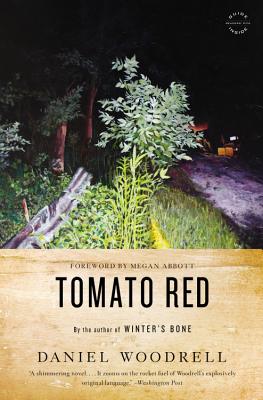 $14.99
Not On Our Shelves—Ships in 1-5 Days
Description
---
A sharp and funny addition to Daniel Woodrell's collection of "country noir" novels, featuring anti-hero Sammy Barlach and Jamalee Merridew, her hair tomato red with rage and ambition.
In the Ozarks, what you are is where you are born. If you're born in Venus Holler, you're not much. For Jamalee Merridew, Venus Holler just won't cut it. Jamalee sees her brother Jason, blessed with drop-dead gorgeous looks and the local object of female obsession, as her ticket out of town. But Jason may just be gay, and in the hills and hollows of the Ozarks that is the most dangerous and courageous thing a man could be.
Enter Sammy Barlach, a loser ex-con passing through a tired nowhere on the way to a fresher nowhere. Jamalee thinks Sammy is just the kind of muscle she and Jason need.
About the Author
---
Five of Daniel Woodrell's eight published novels were selected as New York Times Notable Books of the Year. Tomato Red won the PEN West Award for the Novel in 1999. Woodrell lives in the Ozarks near the Arkansas line with his wife, Katie Estill.
Praise For…
---
"Dan Woodrell does for the Ozarks what Raymond Chandler did for
Los Angeles
."—
Richard Eder, Los Angeles Times
"A shimmering novel, rich with insight...a pleasure... Zooms on the rocket fuel of Woodrell's explosively original language."—
The Washington Post Book World
"Woodrell's storytelling is as melodic, jangly and energetic as a good banjo riff.... Sammy Barlach's story is a tragedy, but the telling of it is a pleasure."—
Valerie Sayers, The New York Times Book Review