Top Secret America: The Rise of the New American Security State (Paperback)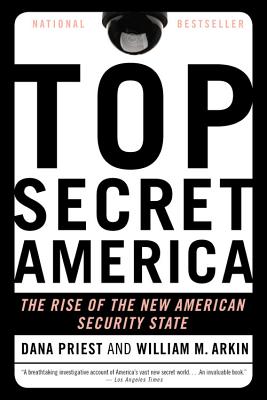 $17.00
Not On Our Shelves—Ships in 1-5 Days
Description
---
After 9/11, the United States government embarked on an unprecedented effort to protect America. The result has been calamitous: after ten years of unparalleled spending and growth, the result is that a system put in place to keep America safe may in fact be putting us in even greater danger-but we don't know because it's all Top Secret.
In TOP SECRET AMERICA, award-winning journalists Dana Priest and William M. Arkin lift the curtain on this clandestine universe. From the companies and agencies keeping track of American citizens and the military commanders building America's first "top secret city" to a hidden army within the U.S. military more secret than the CIA, this new national security octopus has become a self-sustaining "Fourth Branch" of government. A tour de force of investigative journalism, TOP SECRET AMERICA presents a fascinating and disturbing account of government run amok and a war on terrorism gone wrong in a post-9/11.
About the Author
---
Dana Priest is an investigative reporter for The Washington Post. She has won numerous awards, including the 2008 Pulitzer Prize for public service for "The Other Walter Reed" and the 2006 Pulitzer for beat reporting for her work on CIA secret prisons and counterterrorism operations overseas. She is the author of The Mission: Waging War and Keeping Peace with America's Military. William M. Arkin has been a columnist and reporter with The Washington Post since 1998. He has worked on the subject of government secrecy and national security affairs for more than 30 years. He has authored or co-authored more than a dozen books about the U.S. military and national security.
Praise For…
---
"One of the many strengths of Top Secret America is that Priest and Arkin take nothing for granted. They ask basic, even faux- naïve questions about the purpose, accountability, and effectiveness of the acronym soup of covert programs, companies, and Pentagon commands created or expanded after September 11. Their analysis is neither naïve about the threat posed by al-Qaeda and similar groups, nor credulous about the generals, spies, and bureaucrats who have so dramatically expanded the country's defenses in response to September 11."
-The New York Review of Books

"Priest and Arkin fully flesh out how the Byzantine security maze actually works, breaking down its components....The authors' arguments are compelling."
-Washington City Paper

"Despite the sobering subject matter, Top Secret America makes for lively reading....[and is] full of the authors' remarkable insights, anecdotes and encounters."
-The Secrecy Blog of the Federation of American Scientists