We're following all official guidelines to keep ourselves healthy on the job, and as a result, shipping may be delayed.
You will receive an email from our web orders team confirming that your order has been processed.
We thank you for your support and your patience at this challenging time.
The Luminaries (Paperback)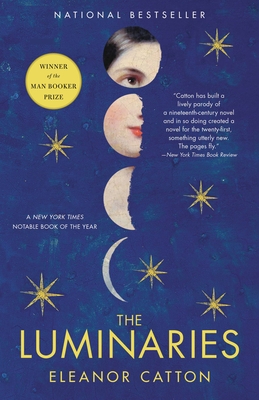 Description
---
The bestselling, Man Booker Prize-winning novel hailed as "a true achievement. Catton has built a lively parody of a 19th-century novel, and in so doing created a novel for the 21st, something utterly new. The pages fly."-New York Times Book Review

It is 1866, and Walter Moody has come to stake his claim in New Zealand's booming gold rush. On the stormy night of his arrival, he stumbles across a tense gathering of 12 local men who have met in secret to discuss a series of unexplained events: a wealthy man has vanished, a prostitute has tried to end her life, and an enormous cache of gold has been discovered in the home of a luckless drunk. Moody is soon drawn into a network of fates and fortunes that is as complex and exquisitely ornate as the night sky.

Richly evoking a mid-nineteenth-century world of shipping, banking, and gold rush boom and bust, The Luminaries is at once a fiendishly clever ghost story, a gripping page-turner, and a thrilling novelistic achievement. It richly confirms that Eleanor Catton is one of the brightest stars in the international literary firmament.
About the Author
---
Eleanor Catton was awarded the 2013 Man Booker Prize for The Luminaries. Her first novel, The Rehearsal, won the 2009 Betty Trask Award and the Adam Prize in Creative Writing, and was long-listed for the Orange Prize and short-listed for the Dylan Thomas Prize. She holds an MFA from the Iowa Writers' Workshop and an MA in fiction writing from the International Institute of Modern Letters. Born in Canada, Catton was raised in New Zealand, where she now lives.
Praise For…
---
"The Luminaries is a true achievement. Catton has built a lively parody of a 19th-century novel, and in so doing created a novel for the 21st, something utterly new. The pages fly, the great weight of the book shifting quickly from right hand to left, a world opening and closing in front of us, the human soul revealed in all its conflicted desperation. I mean glory. And as for the length, surely a book this good could never be too long."—Bill Roorbach, New York Times Book Review

"Catton provides descriptions of her characters that are meticulous and precise...The result is a finely wrought fun house of a novel. Enjoy the ride."—Chris Bohjalian, Washington Post

"Irresistible, masterful, compelling...The Luminaries has a gripping plot that is cleverly unravelled to its satisfying conclusion, a narrative that from the first page asserts that it is firmly in control of where it is taking us...[Catton is] a mistress of plot and pacing..."—The Telegraph (5-star review)

"The type of novel that you will devour only to discover that you can't find anything of equal scope and excitement to read once you have finished...Do yourself a favour and read The Luminaries."—The Independent

"Note-perfect... [Catton's] authority and verve are so impressive that she can seemingly take us anywhere; each time, we trust her to lead us back ... A remarkable accomplishment."—Globe and Mail

"A very clever, absurdly fun novel that reads like a cross between a locked-room mystery, a spaghetti Western, a game of Sodoku, and Edwin Drood."—New York Magazine

"To say that The Luminaries is daringly ambitious in its reach and scope doesn't really do it justice."—The Wall Street Journal