Sunset Park: A Novel (Paperback)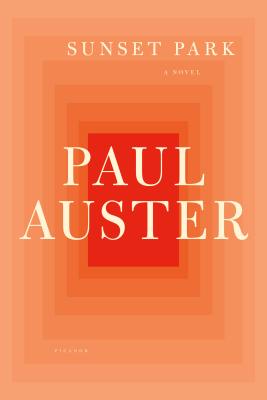 $22.00

Not On Our Shelves—Ships in 1-5 Days
(This book cannot be returned.)
November 2010 Indie Next List
---
"In Auster's latest novel, the once-vibrant Miles Heller has been running from responsibility, abandoning all contact with his family for seven years. Fleeing a doomed love affair in Florida, he returns to Brooklyn. Soon, Heller finds himself avoiding the law, squatting in Sunset Park among an eclectic cast of characters, and desperately trying to repair the damage done by his estrangement and guilt.This is a dark look at how life can turn in a moment's notice and how the resulting consequences can impact the ones we love the most."
— Kristin Bates, McLean & Eakin Booksellers, Petoskey, MI
Description
---

A New York Times Bestseller

From the bestselling author of Invisible and The New York Trilogy comes a new novel set during the 2008 economic collapse. Sunset Park opens with twenty-eight-year-old Miles Heller trashing out foreclosed houses in Florida, the latest stop in his flight across the country. When Miles falls in love with Pilar Sanchez, he finds himself fleeing once again, going back to New York, where his family still lives, and into an abandoned house of young squatters in Sunset Park, Brooklyn. Woven together from various points of view—that of Miles's father, an independent book publisher trying to stay afloat, Miles's mother, a celebrated actress preparing her return to the New York stage, and the various men and women who live in the house—"Auster seems to carry all of humanity inside him" (Jan Stuart, The Boston Globe).
About the Author
---
Paul Auster is the bestselling author of 4 3 2 1, Sunset Park, Invisible, The Book of Illusions, and the New York Trilogy, among many other works. In 2006 he was awarded the Prince of Asturias Prize for Literature. Among his other honors are the Prix Médicis étranger for Leviathan, the Independent Spirit Award for the screenplay of Smoke, and the Premio Napoli for Sunset Park. In 2012, he was the first recipient of the NYC Literary Honors in the category of fiction. He has also been a finalist for the International IMPAC Dublin Literary Award (The Book of Illusions), the PEN/Faulkner Award (The Music of Chance), the Edgar Award (City of Glass), and the Man Booker Prize (4 3 2 1). He is a member of the American Academy of Arts and Letters and a Commandeur de l'Ordre des Arts et des Lettres. His work has been translated into more than forty languages. He lives in Brooklyn, New York.
Praise For…
---
"Paul Auster is one of those sages with confounding talent--confounding for one because he's simply that good... He belongs among Vonnegut, Roth, and DeLillo... Now is the time to herald the Post-Recession Novel. Sunset Park looks to be it." —Claire Howorth, The Daily Beast

"Exquisitely crafted, surprisingly tender... A story grounded in the potent emotions of love, loss, regret and vengeance, and the painful reality of current day calamities.... Auster fans and newcomers will find in Sunset Park his usual beautifully nuanced prose.... [and] a tremendous crash bang of an ending." —Jane Ciabattari, NPR "Books We Like"

"A swift-moving, character-driven narrative [that] explores guilt, luck, and our enduring need for human contact and a sense of belonging. Powerful…Readers might find their one regret is seeing the book end." —Doug Childers, Richmond Times-Dispatch

"A haymaker of a contemporary American novel, realistic and serious as your life." —Jim Higgins, Milwaukee Journal Sentinel

"With a plot that encompasses war in the Middle East, economic recession and the perils of the publishing industry, a contemporary vitality distinguishes the latest from the veteran author…. Sure to please Auster fans and likely to attract new readers as well." —Kirkus (Starred Review)

"Passionately literary… every element is saturated with implication as each wounded, questing character's story illuminates our tragic flaws and profound need for connection, coherence, and beauty. In a time of daunting crises and change, Auster reminds us of lasting things, of love, art, and 'the miraculous strangeness of being alive.'" —Donna Seaman, Booklist (Starred Review)

"Auster deftly balances minute details that evoke New York City, post-financial meltdown, with marvelously drawn characters bruised but unbowed by life's vicissitudes. He has an impressive array of literary nominations to his credit, but this should be the novel that brings him a broader readership." —Sally Bissell, Library Journal (Starred Review)

"Auster is in excellent form… a gratifying departure from the postmodern trickery he's known for, one full of crisp turns of phrase and keen insights." —Publishers Weekly

"Sunset Park is sprawling but taut, toweringly ambitious in scope yet wholly intimate in the sphere of its characters' lives. While we still teeter on the brink of recession in an uncertain economic recovery--with millions still out of work and losing their homes--this novel is probably one of the most important literary touchstones of our era. And it's a true pleasure to read." —Jason Bennett, Library Journal

"A clear-eyed and muscular fable about tough economic times." —Barbara Hoffert, Library Journal (Pre-Pub "My Picks")

"The latest and arguably most user-friendly among the whip-smart fiction canon of Paul Auster... [A] winning novel... In Sunset Park, Auster seems to carry all of humanity inside him." —Jan Stuart, The Boston Globe

"As remarkable as are Auster's skill and experience, this kind of writing--this kind of ending--takes another, rarer attribute: tremendous courage." —David Takami, The Seattle Times

"Unexpectedly searing... Sunset Park's prodigal-son tale is somberly poignant, a study of how deeply the urge to connect runs." —Mark Athitakis, Salon.com

"Classic Auster." —Joseph Peschel, The Kansas City Star

"Resonate[s] with a warm acknowledgment of the tests and limitations of age and the vibrancy of experience... A lovely ride." —Kate Christensen, Elle

"Auster has delivered an emotionally appealing book about the varieties of modern love... The son-father story is in fact the warmest line of narrative Auster has ever written, outside of the man and the dog story in his much earlier novel, Timbuktu, and it lends the entire novel a certain provident heat." —Alan Cheuse, Dallas News