Critical (Paperback)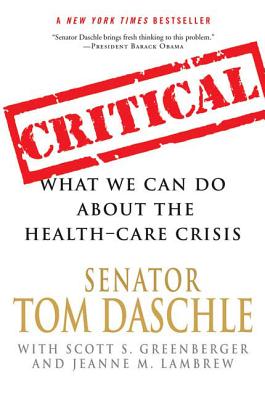 $18.99
Not On Our Shelves—Ships in 1-5 Days
Description
---
A much-needed and hard-hitting plan, from one of the great Democratic minds of our time, to reform America's broken health-care system.
Undoubtedly, the biggest domestic policy issue in the coming years will be America's health-care system. Millions of Americans go without medical care because they can't afford it, and many others are mired in debt because they can't pay their medical bills. It's hard to think of another public policy problem that has lingered unaddressed for so long. Why have we failed to solve a problem that is such a high priority for so many citizens?
Former Senate Majority Leader Tom Daschle believes the problem is rooted in the complexity of the health-care issue and the power of the interest groups--doctors, hospitals, insurers, drug companies, researchers, patient advocates--that have a direct stake in it. Rather than simply pointing out the major flaws and placing blame, Daschle offers key solutions and creates a blueprint for solving the crisis.
Daschle's solution lies in the Federal Reserve Board, which has overseen the equally complicated financial system with great success. A Fed-like health board would offer a public framework within which a private health-care system can operate more effectively and efficiently--insulated from political pressure yet accountable to elected officials and the American people. Daschle argues that this independent board would create a single standard of care and exert tremendous influence on every other provider and payer, even those in the private sector.
After decades of failed incremental measures, the American health-care system remains fundamentally broken and requires a comprehensive fix. With his bold and forward-looking plan, Daschle points us to the solution.
About the Author
---
Tom Daschle is a former U.S. Senator and Senate majority leader from South Dakota. He is currently a special policy advisor at the law firm Alston & Bird LLP, a visiting professor at the Georgetown Public Policy Institute, and a Distinguished Senior Fellow at the Center for American Progress.Jeanne M. Lambrew is an associate professor at the Lyndon B. Johnson School of Public Affairs at the University of Texas. Dr. Lambrew is also a senior fellow at the Center for American Progress. Previously, she worked on health policy at the White House as the program associate director for health at the Office of Management and Budget (OMB) and as the senior health analyst at the National Economic Council.Scott S. Greenberger, a former staff reporter at The Boston Globe, is a writer and consultant at Ricchetti, Inc., in Washington, D.C.
Praise For…
---
ADVANCE PRAISE FOR CRITICAL
"I may not agree with some of the political statements but Senator Daschle is right on target on the need to start a serious dialogue on health care for Americans. His thoughtful health-care proposals will move the process forward. Senator Daschle and I agree on the need for nonpartisanship in coming to grips with this number one domestic problem." —Bob Dole, former Senate majority leader
"The American health-care system is in crisis, and workable solutions have been blocked for years by deeply entrenched ideological divisions. Sen. Daschle brings fresh thinking to this problem, and his Federal Reserve for Health concept holds great promise for bridging this intellectual chasm and, at long last, giving this nation the health care it deserves." —Senator Barack Obama (IL)
"This book provides real solutions for America's broken health care system." —Senator Harry Reid (NV), Senate majority leader
"Critical provides answers to one of the most vexing challenges of our time." —John Podesta, president and CEO of the Center for American Progress and a former White House chief of staff
"It is a must-read." —Jerome H. Grossman M.D., senior fellow and director of the Health Care Delivery Project at Harvard University's Kennedy School of Government
"Senator Daschle adds to his reputation as a clear thinker and leader. Critical shows us not only why we must solve our health care crisis but that—with political will—we can." —Judy Feder, professor and dean at Georgetown Public Policy Institute