Death of an Empire: The Rise and Murderous Fall of Salem, America's Richest City (Hardcover)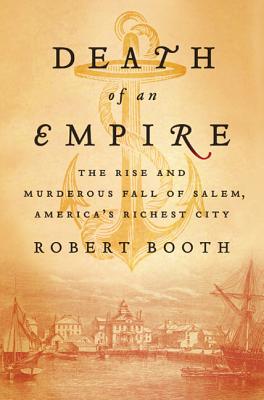 $39.99

Not On Our Shelves—Ships in 1-5 Days
(This book cannot be returned.)
Description
---
Most readers know Salem only for the city's notorious witch trials. But years later it became a very different city, one that produced America's first millionaire (still one of history's 75 wealthiest men) and boasted a maritime trade that made it the country's richest city. Westward expansion and the industrial revolution would eventually erode Salem's political importance, but it was a shocking murder and the scandal that followed which led at last to its fall from national prominence.
Death of an Empire is a finely-written tale of a little-known but remarkably rich era of American history, drawing in characters such as Nathaniel Hawthorne, John Quincy Adams, and Daniel Webster.
About the Author
---
Robert Booth graduated from Harvard and from Boston University's graduate program in New England and American Studies. His guidebook Boston's Freedom Trail has been in print for twenty-five years and he has contributed to the anthology Salem: Place, Myth & Memory. He is curator emeritus of the Pickering House in Salem and serves on the boards of several history organizations. He lives in Marblehead, Massachusetts.
Praise For…
---
"The Death of an Empire is a masterfully told story of greed, recklessness, murder, and the precipitous decline of Salem, one of young America's greatest ports. It is a chilling tale and an excellent history, which is as fascinating as it is shocking." —Eric Jay Dolin, author of Fur, Fortune, and Empire and Leviathan
"Beautifully written and impeccably researched, The Death of an Empire details not only the death rattle of one of our country's most important world ports but the growing pains of an emerging nation. Robert Booth has spun a stranger than fiction family saga set in my favorite city, a tale that will hold the reader enthralled." —Brunonia Barry, author of The Lace Reader
"A fascinating exploration of the dark side of Salem's maritime history, which includes drug peddling, slave trading and murder. The mercantile glory so often contrasted with the shame of Salem's witch trials is here shown to be as equally underpinned as that dark episode by hypocrisy, ruthlessness and greed." —Frances Hill, author of A Delusion of Satan
"A complex and well-researched yarn, Death of an Empire chronicles the little-known history of this relatively brief period of wealth and good fortune for a Massachusetts seafaring center, along with its economic downfall amid the rise of industrialization in the United States. It also recounts a lethal conspiracy and scandal that robbed Salem of whatever remaining luster was left after the city's golden age. Booth, a local historian - and sometime lobsterman - grew up in Marblehead and knows the territory of which he writes with authority." —The Boston Globe
"Booth has reconstructed in astonishing detail not only the Salem of Hawthorne, Joseph Story, and Daniel Webster but also true Heart of Darkness moments from all corners of the globe." —Booklist
"This is a readable, even gripping account of the consequences of the economic decline of a once proud city. Recommended for fans of accessible history and historical true crime." —Library Journal