The Gospel According to the Fix: An Insider's Guide to a Less Than Holy World of Politics (Paperback)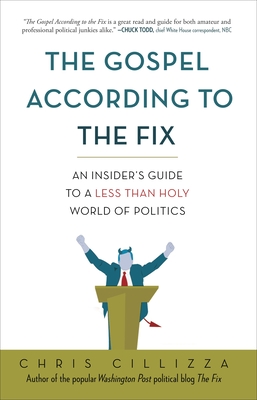 $14.00
Not On Our Shelves—Ships in 1-5 Days
Description
---
A divine guide to deciphering the sinful world of American politics, from the author of the Washington Post's The Fix The political world is full of acronyms, shortcuts, and lingoes that stand as a barrier to entry for anyone not in the business. The onset of social media has only made that barrier higher, as insiders tweet furiously to one another in a language most of us can't even understand. Everyday Americans and even political junkies need a how-to manual for understanding what words matter in this arena and why. Enter Brother Chris Cillizza and The Gospel According to the Fix--an essential guide to the wonderfully odd religion of politics. Based on his highly popular blog, The Gospel According to the Fix will teach you something new about politics, no matter who you are and whom you know. In our torturous political climate, this Gospel is the one true source for comprehending what the heck is going on in DC. Chapter and verse, this political Gospel will include parables the likes of: - Why Ron Paul's candidacy is a lot like the TV show Friday Night Lights
- What it takes to be Richard Ben Cramer and write the political classic What It Takes
- The top ten negative campaign ads of all time
- The top ten issues candidates should be discussing but aren't because of the economy
- The dos and don'ts of surviving a political sex scandal.
About the Author
---
CHRIS CILLIZZA writes The Fix for the Washington Post. He is an MSNBC contributor and political analyst who appears regularly on the network in addition to NBC, PBS, and NPR's Diane Rehm Show. Chris has worked for Roll Call, the Cook Political Report, and Congress Daily. His freelance work has appeared in a variety of publications, including The Atlantic, Washingtonian, and Slate.
Praise For…
---
"The Gospel According to the Fix is a great read and guide for both amateur and professional political junkies alike." —Chuck Todd, chief White House correspondent, NBC
 
"This is a smart, funny road map through the maze of presidential politics, replete with Chris Cillizza's trademark insights and keen wit. If you have time for one guide to politics, The Gospel According to the Fix is it." —Andrea Mitchell, chief foreign affairs correspondent, NBC

"The Gospel According to the Fix hits its stride in several ambitious explorations of various aspects of the political scene….The speed, volume and reach of [Cillizza's] take on matters not only chronicles the daily grind but influences it, too: Consultants read him, and their candidates react." –Ken Kurson, Wall Street Journal