Michelle Obama: A Life (Paperback)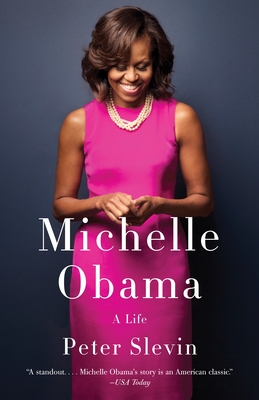 Description
---
This is the inspiring story of a modern American icon, the first comprehensive account of the life and times of Michelle Obama.
With disciplined reporting and a storyteller's eye for revealing detail, Peter Slevin follows Michelle to the White House from her working-class childhood on Chicago's largely segregated South Side. He illuminates her tribulations at Princeton University and Harvard Law School during the racially charged 1980s and the dilemmas she faced in Chicago while building a high-powered career, raising a family, and helping a young community organizer named Barack Obama become president of the United States.
From the lessons she learned in Chicago to the messages she shares as one of the most recognizable women in the world, the story of this First Lady is the story of America.
Michelle Obama: A Life
is a fresh and compelling view of a woman of unique achievement and purpose.  
About the Author
---
Peter Slevin spent a decade on the national staff of The Washington Post before joining Northwestern University's Medill School of Journalism, where he is an associate professor. He has written extensively about Barack and Michelle Obama, as well as political campaigns and policy debates from one end of the country to the other. Slevin graduated from Princeton and Oxford. He lives with his family in Evanston, Illinois.


Praise For…
---
Finalist for the 2015 PEN/Jacqueline Bograd Weld Award for Biography

One of Booklist's Top Ten Biographies of 2015

"Detailed and absorbing. . . . [B]ring[s] a storied public figure to life." —The Washington Post

"A deeply informed portrait of the first lady and her native Chicago. . . . Her larger story, told so powerfully in Slevin's biography, suggests she will forever be a force with which to be reckoned."
—Chicago Tribune

"A must-read. . . . An important new biography. . . . Slevin treats [the First Lady] and her accomplishments with the detail and nuance they deserve."
—Elle Magazine

"A standout. . . . Michelle Obama's story is an American classic. . . . Slevin combines access to her and her family and friends with a keen understanding of American politics and history."
—USA Today

"Thoughtful. . . . Ripe with revelations about her deeply complicated relationship with her own position as an Ivy League-­educated black woman. . . . Richly rendered context for Mr. Obama's 2008 campaign, when Mrs. Obama suddenly became a litmus test."
—The New York Times Book Review
 
"[A] meticulously reported, close-up look. . . . A detailed portrait of an ambitious, civic-minded woman with a track record for getting things done."
—The Florida Times-Union
 
"Makes a convincing case that Mrs. Obama's popularity today has more to do with events that took place on the south side of Chicago decades ago than with the work of an image maker in the East Wing of the White House."
—The Wall Street Journal 
 
"Impressively reported and researched. . . . fast-paced."
—Chicago magazine

"Richly detailed prose. . . . tons of little-known nuggets revealed in the book, offering readers a closer look at the Mrs. Obama they never knew."
—NBC

"[An] intimate view of her life. . . . The most comprehensive portrait to date of the nation's first African-American first lady."
—Atlanta BlackStar
 
"The most ambitious and authoritative book about [First Lady Michelle Obama] yet. Richly reported, beautifully written, thoughtful in its judgments and revelatory in its details . . . a work that does justice to Michelle Obama in a fresh way."
—John Heilemann, co-author of Game Change and Double Down
 
"The life of Michelle Obama is a uniquely American story, and Peter Slevin tells it beautifully in this deft, revealing work. . . . Slevin also paints a rich picture of Chicago's South Side during the past century and the family and forces that helped shape this exceptional woman."
—David Axelrod, former Senior Advisor to the President, director of the Institute of Politics at the University of Chicago
 
"Slevin is dogged in his reporting, nuanced in his storytelling and thoughtful in his analysis. He not only shows us who this historical first lady is, but how she came to be. In the process, he reveals much about our times and our culture."
—Robin Givhan, Pulitzer Prize-winning critic for the Washington Post
 
"Compelling. . . . [An] exhaustive and thoughtful portrait. . . . will delight the most ardent Michelle Watchers."
—Patrik Henry Bass, NY1
 
"An amazing, eye-opening biography that begins on Chicago's South Side and ends in the White House. . . . a rich, powerful portrait at once revealing of Mrs. Obama and of ourselves as Americans."
—Dexter Filkins, author of The Forever War