Politics and Prose will be closed on January 20.
The Boat Rocker: A Novel (Hardcover)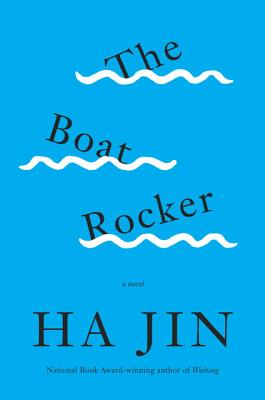 $25.95
Special Order—Subject to Availability
Description
---
From the award-winning author of Waiting and War Trash: an urgent, timely novel that follows an aspiring author, an outrageous book idea, and a lone journalist's dogged quest for truth in the Internet age.

New York, 2005. Chinese expatriate Feng Danlin is a fiercely principled reporter at a small news agency that produces a website read by the Chinese diaspora around the world. Danlin's explosive exposés have made him legendary among readers—and feared by Communist officials. But his newest assignment may be his undoing: investigating his ex-wife, Yan Haili, an unscrupulous novelist who has willingly become a pawn of the Chinese government in order to realize her dreams of literary stardom.

Haili's scheme infuriates Danlin both morally and personally—he will do whatever it takes to expose her as a fraud. But in outing Haili, he is also provoking her powerful political allies, and he will need to draw on all of his journalistic cunning to emerge from this investigation with his career—and his life—still intact. A brilliant, darkly funny story of corruption, integrity, and the power of the pen, The Boat Rocker is a tour de force of modern fiction.
About the Author
---
HA JIN left his native China in 1985 to attend Brandeis University. He is the author of seven previous novels, four story collections, three volumes of poetry, and a book of essays. He has received the National Book Award, two PEN/Faulkner Awards, the PEN/Hemingway Foundation Award, the Asian American Literary Award, and the Flannery O'Connor Award for Short Fiction. In 2014 he was elected to the American Academy of Arts and Letters. Ha Jin lives in the Boston area and is director of the creative writing program at Boston University.
Praise For…
---
"The China-born but United States-based author Xuefei Jin, who publishes under the nom de plume Ha Jin, is a writer of simple yet powerful gifts. . . . [The Boat Rocker's] cast features people of varying backgrounds whose speech patterns Jin captures in pitch-perfect dialogue. . . . The novel includes nuanced debates on loyalty and identity. . . . Jin also reveals an added talent, previously hidden, for savage satire."
—Jeffrey Wasserstrom, The New York Times Book Review
 
"A delicious satire. . . . There's a darkly comic element to all this, delightful to see in Ha Jin's work. . . . Here, he expands his tonal range and approaches a kind of Kafkaesque absurdity. . . . A former Chinese Army soldier who chose to stay in the United States after the Tiananmen Square massacre, Ha Jin has lived and worked under two very different sets of rules. He knows the Communist Party's elaborate control of mass media just as well as he understands the free market's complicated influence on what we read and watch. That bifocal vision brings uncanny depth to his eighth novel, The Boat Rocker, which should find its place alongside Janet Malcolm's The Journalist and the Murderer as one of the most unsettling books about the moral dimensions of modern journalism. . . . Rocking the boat is not just a right; it's a sacred duty—no matter where it leads."
—Ron Charles, The Washington Post
 
"It's 2005, and Danlin, who's in his mid-30s, lives in New York City, where he writes for the small but ambitious Global News Agency. . . . Danlin's column boasts a reputation for, in his words, "shining a light onto the towering corruption of Chinese politics and media." So when his ex-wife Haili, whose fiction he knows to be unremarkable and generally "the size of a block of tofu," is touted by the Chinese state press as a new literary star, he smells a rat. . . . In a slow-burning twist that Jin brings into play with consummate skill, Danlin grows aware that China now enjoys such reach that it can engineer the outcome it desires for Haili's state-sponsored book—even abroad. . . . Convincing as well as timely. . . . [Has] a powerful moral core."
—Rayyan Al-Shawaf, The Christian Science Monitor
 
"The narrative framework is fertile ground for Jin's brilliant and nuanced political and social observations. . . . Danlin's feelings of despair and deracination propel the novel on an unexpected trajectory, where storytelling becomes secondary to fascinating and vital topics (mostly through conversations) of resettlement, the role of the intellectual, Chinese living abroad, and race in America. . . . These are cogent, incisive impressions, and it feels like a miracle—and a splendid irony—that an immigrant writer can fashion a novel with such quintessentially American themes from the front lines of the Chinese diaspora."
—David Takami, The Seattle Times
 
"Jin's criticism of modern-day Communist China is stunning, easily the best part of an already well-crafted novel. I was reminded of 1984 and the passages Winston and Julia read aloud from The Theory and Practice of Oligarchical Collectivism."
—Nandini Balial, Los Angeles Review of Books