All the Birds, Singing (Hardcover)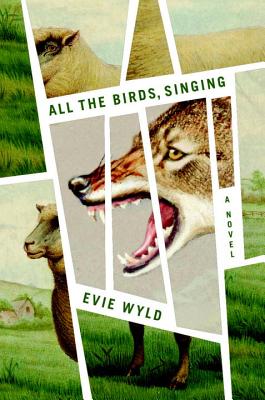 $24.95

Special Order—Subject to Availability
May 2014 Indie Next List
---
"What is Jake Whyte fleeing from? That's the central question in this dark, compelling novel written by one of Granta's Best Young British Novelists. The story, which goes back and forth in time, starts with Jake on a windswept British island trying to figure out who -- or what -- is picking off her sheep. Jake is a loner, but why? How did she get the scars on her back? Why is she estranged from her family in Australia? With each new chapter the reader learns what has driven Jake to this lonely existence. Wyld's writing is atmospheric, wild, and scary, but there is a sense of redemption in the end."
— Carin Pratt, Norwich Bookstore, Norwich, VT
Description
---
From one of Granta's Best Young British Novelists, a stunningly insightful, emotionally powerful new novel about an outsider haunted by an inescapable past: a story of loneliness and survival, guilt and loss, and the power of forgiveness.
Jake Whyte is living on her own in an old farmhouse on a craggy British island, a place of ceaseless rain and battering wind. Her disobedient collie, Dog, and a flock of sheep are her sole companions, which is how she wants it to be. But every few nights something or someone picks off one of the sheep and sounds a new deep pulse of terror. There are foxes in the woods, a strange boy and a strange man, and rumors of an obscure, formidable beast. And there is also Jake's past, hidden thousands of miles away and years ago, held in the silences about her family and the scars that stripe her back a past that threatens to break into the present. With exceptional artistry and empathy, All the Birds, Singing reveals an isolated life in all its struggles and stubborn hopes, unexpected beauty, and hard-won redemption.
About the Author
---
EVIE WYLDgrew up in Australia and London, where she currently resides. She has won the John Llewellyn-Rhys prize and a Betty Trask Award, and she has been short-listed for the Orange Award for New Writers, the International IMPAC Dublin Literary Award, the Commonwealth Writers Prize, and the Costa Novel Award."
Praise For…
---
**Shortlisted for the 2013 Costa Award for Best Novel**
**One of the Best Books of 2013 in the Guardian, New Statesman, Independent, Observer, Scotsman, Sydney Morning Herald**

"Completely and utterly monumental."  —BBC Radio 4
 
"A tremendous achievement . . . A dark, powerfully disturbing and beautifully observed story . . . almost Nabokovian in its structural intricacy." —William Boyd, New Statesman 
 
"Broodingly lyrical . . . Casts a spellbinding breadcrumb trail back in time to reveal the origins of Jake's banishment—and the darker mysteries of human nature."  —Vogue

"Outstanding . . . Evie Wyld is the real thing . . . She reconfigures the conventions of storytelling with a sure-footedness and ambition which belie her age . . . Quite as good as Ian McEwan's early fiction." —The Spectator
 
"Extraordinarily accomplished, one of those books that tears around in your cerebellum like a dark firework, and which, upon finishing, you immediately want to pick up again." —Financial Times
 
"Absolutely gorgeous . . . Wyld's heroine, Jake, is like Hemingway's Nick Adams in toughness and silence, but she has a far more terrifying history, and her story now is edged by greater threat. You won't be able to stop reading." —David Vann, author of Legend of a Suicide
 
"Ingeniously constructed." —Literary Review
 
"A riveting novel . . . Jake is both haunted by the past and struggling with the present, and the intensity of Wyld's sharp novel grows as the two threaten to collide." —Booklist
 
"An intensely involving tale of survival, shot through with Wyld's distinctive wit . . . An indelible and atmospheric novel that will have the hairs on the back of your neck working overtime." —Daily Mail
 
"For once, the hype matches the talent . . . Wyld's writing seems to come from somewhere deep somewhere a little bit unnerving." —The Sunday Times (London)
 
"It's the quality of Wyld's prose that really blows your mind." —Metro
 
"One of the best books I read this year was Evie Wyld's darkly beautiful All the Birds, Singing. Wyld twists together the warp and weft of poetic language and plot to create a disquieting, deeply suspenseful novel. It lingered with me long after I finished it."  —Hannah Kent, Sydney Morning Herald
 
"Searing . . . Wyld's writing is as muscular as Jake." —Publishers Weekly
 
 "Wyld [is] a writer of exceptional talent . . . a distinctive and important new voice." —Irish Times
 
"Vividly drawn . . . When the birds do 'sing,' and Jake's primal tragedy is revealed, it is clever and very unexpected indeed." —The Guardian
 
"Unsettling, beautiful, horrifying and moving in equal parts . . . In the flawed but vulnerable character of Jake, Wyld's created someone you can't help but care for, root for and desperately want the best for . . . There is no disputing the power of the story and the beauty of Wyld's writing. It's an extraordinary book." —Stylist
 
"One feels the influence of an early Ian McEwan or Iain Banks . . . But All the Birds, Singing is also powerfully original." —Times Literary Supplement (London)
 
"Tim Winton is a writer with whom the fearless Wyld deserves serious comparison." —Daily Telegraph
 
"Wyld's work has been compared to that of Cormac McCarthy for the mythic qualities they share, but it is in the continuity of peoples, places and customs that the two are bound together tightest." —The Skinny
Coverage from NPR