Paris, Paris: Journey Into the City of Light (Paperback)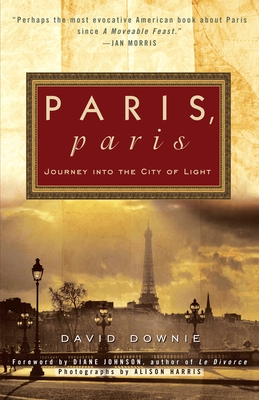 Description
---
Beautifully written and refreshingly original makes us see Paris] in a different light. -- San Francisco Chronicle Book Review
Swapping his native San Francisco for the City of Light, travel writer David Downie arrived in Paris in 1986 on a one-way ticket, his head full of romantic notions. Curiosity and the legs of a cross-country runner propelled him daily from an unheated, seventh-floor walk-up garret near the Champs-Elysees to the old Montmartre haunts of the doomed painter Modigliani, the tombs of Pere-Lachaise cemetery, the luxuriant alleys of the Luxembourg Gardens and the aristocratic Ile Saint-Louis midstream in the Seine.
Downie wound up living in the chic Marais district, married to the Paris-born American photographer Alison Harris, an equally incurable walker and chronicler. Ten books and a quarter-century later, he still spends several hours every day rambling through Paris, and writing about the city he loves. An irreverent, witty romp featuring thirty-one short prose sketches of people, places and daily life, Paris, Paris Journey into the City of Light ranges from the glamorous to the least-known corners and characters of the world's favorite city.
Photographs by Alison Harris.
I loved his collection of essays and anyone who's visited Paris in the past, or plans to visit in the future, will be equally charmed as well. David Lebovitz, author of The Sweet Life in Paris
A] quirky, personal, independent view of the city, its history and its people Mavis Gallant
Gives fresh poetic insight into the city a voyage into the bends and recesses, the jagged edges, the secret interiors of Paris]. Departures.
About the Author
---
An American journalist based in Paris since 1986, David Downie has written about European culture, food and travel for magazines and newspapers worldwide. He was a Paris correspondent for Salon.com, Departures, Appellation, and Art & Antiques, and has contributed to epicurious.com, concierge.com and many other websites. Currently he is a European correspondent for Gadling.com, the popular literary travel site.The author of a dozen works of nonfiction and fiction, Downie s writing has also appeared in many anthologies, among them The Collected Traveler Paris, Southwest France and Central Italy; Salon.com s Wanderlust; Travelers Tales: Adventures in Wine Country; By The Seat of My Pants; and A Moveable Feast. Please visit David Downie s website www.davidddownie.com"
Praise For…
---
"Like the guide who leads us through The Hermitage and its history in Sokurov's 'Russian Ark', David Downie is the master of educated curiosity. With him we discover Paris, a seemingly public city that is, in fact, full of secrets—great lives, lives wasted on the bizarre; forgotten artisans; lost graves (lost till now); the 'papillons nocturnes'; and the 'poinçonneur des Lilas'. I have walked some of the city's streets with him, and reading this book is just as tactile an experience."  —Michael Ondaatje

"… beautifully written and refreshingly original…Curious and attentive to detail, Downie is appreciative yet unflinching in describing his adopted home… makes us see [Paris] in a different light…."—David Armstrong, San Francisco Chronicle Book Review
 
"The delightful and insightful essays in Paris, Paris meld history, atmosphere and observations on Paris places, Paris people and Paris phenomena."—John Marshall, Seattle Post-Intelligencer and Chicago Tribune
 
"Downie is a saunterer, wandering down the narrow ancient streets of the Île de la Cité, picnicking in storied graveyards like Père-Lachaise, observing a seduction at Jardin du Luxembourg with a birder's patience…. captures the sort of people and places missed by those jetting from starred bistros to hotels with showers."—Dan Rubin, The Philadelphia Inquirer
 
"…gives fresh poetic insight into the city… a voyage into 'the bends and recesses, the jagged edges, the secret interiors' [of Paris]."—Dory Kornfeld, Departures
 
"David Downie's prose illuminates Paris with an unequaled poignancy and passion. He understands and evokes the soul and the substance of the city with a critic's intelligence and a lover's heart. He makes me want to live in Paris again."—Don George, Contributing Editor, National Geographic Traveler
 
"Perhaps the most evocative American book about Paris since A Moveable Feast."— Jan Morris
 
"[A] quirky, personal, independent view of the city, its history and its people. Residents will recognize a place they can vouch for and not the clichés so frequently conjured up to match the legends. Visitors and newcomers are bound to find Paris, Paris reliable company as they discover the city's beauties and pleasures and its problems too."—Mavis Gallant
 
"Downie brilliantly upholds the American expat tradition of portraying the City of Light with an original and endearing touch."—John Flinn, Travel Editor, San Francisco Sunday Chronicle
 
"If there is one book I'd read before heading to the City of Light, Paris, Paris is it. Downie, a longtime Paris resident and roamer, writes with knowledge and verve, pinning down the funny and the sublime as he captures on his canvas the quirks, foibles and follies, and the peculiar mystery of the people and places, that make up this wonderful city." —Harriet Welty-Rochefort, author of French Toast and French Fried
 
"All visitors to Paris who want their eyes opened and their knowledge widened should buy David Downie's irresistible collection of Paris essays. Take the book with you on walks and be astonished at his sense of detail and place; read it in bed or over a glass of wine in a café, and be introduced to a Paris few know. The text is immaculately complemented by Alison Harris' beautiful and evocative photographs."—Anton Gill, author of Il Gigante and Peggy Guggenheim, a biography

"I loved his collection of essays and anyone who's visited Paris in the past, or plans to visit in the future, will be equally charmed as well."--David Lebovitz, author of The Sweet Life in Paris
 
"When good Americans die, Oscar Wilde wrote, they go to Paris. Don't wait that long. David Downie's new book reflects the city and its light with such power that its title says it twice. Paris, Paris shimmers with wit and mesmerizes with wisdom. With splendid photographs by Alison Harris, it is as the French would say un must." —Mort Rosenblum

"[Downie's] is not a superficial examination of Paris but rather a deep understanding and appreciation for all that is quirky, unique or enchanting about the city…those everyday folk who bring Paris to life…One of the most entertaining and interesting books written about Paris that we have found." – Diane Ohanian, FranceOnYourOwn.com

"Paris, Paris, presents the places, people, and phenomena of the city with unequaled intelligence and passion [...] an enchanting valentine to an ageless love."--Don George, Trip Lit for NationalGeographic.com


"Compelling... a rapturous, history-rich love poem"--Pauline Frommer, Toronto Star

"Suitable for serious Francophiles and curious spectators alike, this book paints Paris from a delightful, fresh perspective." --Andrea Rappaprt, Sacramento Book Review