Act of Congress: How America's Essential Institution Works, and How It Doesn't (Hardcover)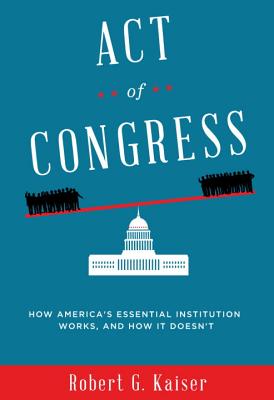 Description
---
An eye-opening account of how Congress today really works—and doesn't—that follows the dramatic journey of the sweeping financial reform bill enacted in response to the Great Crash of 2008.

The founding fathers expected Congress to be the most important branch of government and gave it the most power. When Congress is broken—as its justifiably dismal approval ratings suggest—so is our democracy. Here, Robert G. Kaiser, whose long and distinguished career at The Washington Post has made him as keen and knowledgeable an observer of Congress as we have, takes us behind the sound bites to expose the protocols, players, and politics of the House and Senate—revealing both the triumphs of the system and (more often) its fundamental flaws.

 Act of Congress tells the story of the Dodd-Frank Act, named for the two men who made it possible: Congressman Barney Frank, brilliant and sometimes abrasive, who mastered the details of financial reform, and Senator Chris Dodd, who worked patiently for months to fulfill his vision of a Senate that could still work on a bipartisan basis. Both Frank and Dodd collaborated with Kaiser throughout their legislative efforts and allowed their staffs to share every step of the drafting and deal making that produced the 1,500-page law that transformed America's financial sector.

Kaiser explains how lobbying affects a bill—or fails to. We follow staff members more influential than most senators and congressmen. We see how Congress members protect their own turf, often without regard for what might best serve the country—more eager to court television cameras than legislate on complicated issues about which many of them remain ignorant. Kaiser shows how ferocious partisanship regularly overwhelms all other considerations, though occasionally individual integrity prevails.
Act of Congress, as entertaining as it is enlightening, is an indispensable guide to a vital piece of our political system desperately in need of reform.
About the Author
---
ROBERT G. KAISER has been with "The Washington Post" since 1963. He has reported on the House and Senate; was a correspondent in Saigon and Moscow; served as national editor, then managing editor; and is now associate editor and senior correspondent. He has also written for "Esquire, Foreign Affairs, " and "The New York Review of Books." His books include "Russia: The People and the Power; So Damn Much Money;" and, with Leonard Downie Jr., "The News About the News." He has received an Overseas Press Club award and a National Press Club award, and was a Pulitzer Prize finalist. He has also been a commentator on NPR's "All Things Considered." He lives in Washington, D.C.
Praise For…
---
"An exceptionally informative, candid, evenhanded description of the congressional process." —Choice

"Mr Kaiser depicts the gruesome business of legislating in the wickedly honest fashion only a journalistic veteran, liberated from the restraints imposed on daily reporters, could get away with…[he] names names and spares no one."
—The Wall Street Journal

"Like [Robert] Caro, Kaiser has a gift for writing a legislative page-turner…This should be a book on every informed voter's reading list."
—New York Journal of Books

"If you want to know how Washington really works, read this book. It's the ultimate inside story of a major piece of legislation that will affect the way the country does business for decades to come. Robert G. Kaiser, who knows the terrain like few others, was given unique access to the key players as they pasted this complicated package together. Kaiser shows us the personalities, the politics, and the process."
-Cokie Roberts, political commentator, NPR and ABC News
 
"It's wonderful to read a story about how Congress can actually get something done. This is an exclusive behind-the-scenes tale of how an important bill became law. It's a book we really need now."
-Walter Isaacson, author of Steve Jobs
 
 "Kaiser writes with the clarity of a world-class journalist, the depth of a scholar, and the evocative style of a novelist. His latest book about Barney Frank, Chris Dodd, and financial reform is a master class in understanding the modern Congress."
-David Maraniss, author of Barack Obama: The Story

"Robert Kaiser knows so much about how Congress works, and writes so well about it, it makes me—as a former legislator—both uneasy and grateful. He spots our limitations but leaves every reader with a much better understanding of 'America's least understood important institution.'"
—Lee H. Hamilton, former member of the House of Representatives

"Robert G. Kaiser's Act of Congress is the most detailed, fascinating and sophisticated case study of congressional law making to appear in years. It shows how thoroughly polarized partisanship has reshaped the entire process, but also how exceptionally skillful politicking can nonetheless still occasionally produce landmark legislation. It will be ideal for courses on Congress (I'm adding it to my own syllabus) and the policy making process, but it will also enlighten anyone who wants a better understanding of how present-day national institutions work—or fail to do so. It's a great read." 
—Dr. Gary C. Jacobson, professor of political science at the University of California, San Diego

"Act of Congress captures the story of the historic assertion of federal power known as Dodd-Frank in all its complexity, with its lasting implications for the balance of power between Washington and Wall Street. Robert Kaiser's triumph is to make this complex subject an intimately human tale. Thanks to reporting and insight, the story of Dodd-Frank is revealed not simply as a collision of public and private interests on Wall Street, but as a kind of case study in the anthropology of modern Washington. A great story by a journalist singularly well-equipped to tell it."
—John Harris, editor in chief of Politico

"We have been waiting for this. Robert G. Kaiser, one of our most skilled and thoughtful journalists, has written the inside story of one of the most important legislative measures of the last decade. Kaiser weaves a compelling story of institutions, parties, personalities, and strategy. This book is essential reading for students of Congress and national policy making, for everyone interested in the policy response to the Great Recession, and for citizens who care about the dysfunction of American national government."
—Steven S. Smith, professor of political science at Washington University

"Act of Congress is easily the best book on Congress I have read in decades. It is a stupendous achievement—richly informative, a pleasure to read, wise in its assessments of why Dodd-Frank was able to succeed and how this case is more exception than rule in these difficult governing times.  Congressional scholars have much to learn from the book (I certainly did) and generations of students will find it their favorite and most rewarding assigned reading in classes.  A classic." 
—Thomas E. Mann, Senior Fellow, Governance Studies, The Brookings Institution

"Richly detailed…Remember that old saw about making sausages and making laws—that you don't want to know too much about either one? Kaiser disproves it with this lucid…book."
—Kirkus Reviews

"Bob Kaiser has written a captivating and insightful account of the Dodd-Frank reform of financial services regulation. He convincingly explains both the successes of key actors and why, in the current Congress, such successes are increasingly rare."
—Congressman David E. Price

"Today's Congress is not yesterday's Congress. The rules may seem the same, but new players, bigger campaigns, more partisanship and less civility means more time raising money, fewer hours in session, minimal socialization across the aisle and more delegation to committee staffs. Act of Congress is the first book to describe in detail what it takes to legislate in the 'new' Congress. Robert Kaiser was present at the creation of the Dodd-Frank Act. His reputation as a straight-shooting reporter earned him open access to the staffs of Congressman Barney Frank and Senator Chris Dodd, and extensive interviews with the key players in both parties. The result is an enlightening, sobering, tour de force. Any teacher who hasn't read this book should have his syllabus examined." 
—Samuel L. Popkin, author of The Candidate
 
"Robert Kaiser's Act of Congress is a great read. He makes a complex issue and an arcane process understandable and interesting. Readers get a real sense for the interplay of politics and policy and of personality and structure that goes into passing major legislation. Not just for Congress junkies, Kaiser's book is a fascinating 'How Done It.'"
—Barbara Sinclair, professor emerita of American politics at UCLA

"Intricate [and] incisive…Kaiser…finds the drama in arcane parliamentary procedure and paints extraordinary fly-on-the-wall scenes of legislative sausage making…His absorbing true-life political saga exposes the good, the bad, and the ugly in Congress."
—Publishers Weekly

"Act of Congress is a tour de force, an unparalleled account of the difficulty of legislating in an intensely polarized political era.  Robert Kaiser brings decades of experience to the task, deftly showing how lawmakers balanced policy goals and political risk to build bicameral majorities for landmark Wall Street reform.  I look forward to assigning this masterful work to my students in the years to come."
—Sarah Binder, professor of political science at George Washington University

"Congress is the most powerful, and least well understood, branch of the American government. Luckily, Robert Kaiser is here to explain it to us. Required reading for anyone who is affected by Washington, which is, as Kaiser demonstrates in this book, all of us."
—Ezra Klein, columnist, The Washington Post
 
"The great value of Robert G. Kaiser's Act of Congress is its refusal to accept the Washington cliché that the Dodd-Frank legislation represents a moment when Congress worked the way it is supposed to . . . It uses the passage of the most far-reaching piece of financial reform legislation since the New Deal to show not how Congress works, but how it doesn't, even when a result is attained."
—Michael Tomasky, The New York Review of Books
 
"Riveting . . . Kaiser offers an insightful primer on how laws are made, from conception to passage, as well as the characters and culture of the U.S. Congress, observed from an astonishing perspective most citizens never see."
—Booklist

"Certain to become a classic, this rich and beautifully crafted book tells the story of a rare moment of congressional success. Who would have thought such a thing possible?"
—Lawrence Lessig, professor at Harvard Law School

"One of the best books on the [legislative] process in a long time."
—Bloomberg

"A crackling page-turner…Kaiser…delivers a clear understanding of the issues as well as the exhausting, exhilarating and often appalling political process. His extensive original reporting and deep research lend both richness and authority to the lively text."
—The Plain Dealer

"Informative, incisive and timely, Act of Congress provides essential lessons in civics about how business is done in Washington, D.C."
—The Boston Globe

"For those interested in the legislative process…[Act of Congress] is essential reading."
—PolicyMic.com

"Instructive [and] colorful…a classic study of how Congress works. You don't have to be a wonk to want to read on."
—National Catholic Register

"An exceptionally informative, candid, evenhanded description of the congressional process."
—Choice