Political Evil: What It Is and How to Combat It (Paperback)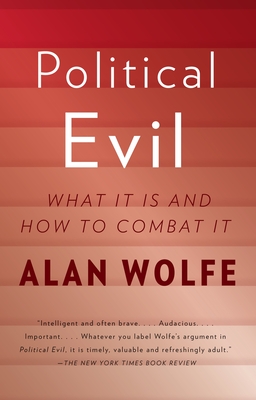 $16.00
Special Order—Subject to Availability
Description
---
A timely, eye-opening examination of political evil, a concept widely misunderstood and desperately in need of clarification in our ever more chaotic world.
In an age of genocide, terrorism, ethnic cleansing, and torture, evil threatens us in ways radically different from tsunamis and financial panics. Nature unleashes its wrath and people rush to help the victims. Evil shows its face and we are paralyzed over how to respond.
It was not always this way. During the twentieth century, thinkers as diverse as Hannah Arendt, Reinhold Niebuhr, Arthur Koestler, and George Orwell made evil central to everything they wrote. Acclaimed political scientist Alan Wolfe argues that in an age of partisan blame-assigning, therapeutic excuse-making, and theological question-dodging, we need to get serious about the problem of evil once again. While there will always be something incomprehensible about evil, we are very much capable of understanding and combating the use of evil means to obtain political ends.
Looking at examples of political evil around the globe in the Middle East, Darfur, the Balkans, and at home in the West Wolfe shows us how seemingly small distinctions can make an immense difference in international response. And he makes clear that much-needed change can be initiated with a shift in how we talk and think about political evil. At once impassioned and pragmatic, Political Evil sheds essential light on the creation of policy and on a concrete path to a more practicable and just future.
About the Author
---
Alan Wolfe teaches political science at Boston College, where he is the director of the Boisi Center for Religion and American Public Life. A contributing editor of The New Republic whose work appears frequently in leading magazines and newspapers, he is the author or editor of more than twenty books, including The Future of Liberalism. He lives in Brookline, Massachusetts.
Praise For…
---
"Intelligent and often brave . . . Audacious . . . Important . . . Whatever you label Wolfe's argument in Political Evil, it is timely, valuable and refreshingly adult." —Jonathan Rauch, The New York Times Book Review
 
"In Political Evil, Alan Wolfe issues a compelling summons to moral and intellectual seriousness and conducts a multi-pronged and . . . soberly argued inquiry into the contemporary forms of political evil and the proper means for combating them." —Peter Berkowitz, The Wall Street Journal
 
"[Wolfe's] sentiments . . . seem both admirable and true." —Michael Ignatieff, Slate
 
"Ambitious and important." —Charles R. Morris, Commonweal
 
"This book has many virtues. Wolfe has done us a service in reminding us that human beings should be sensitive to their own fallibility, and to the dangers of a hubristic mustering of overwhelming force . . . Political Evil represents the reflections of an intelligent, humane and learned scholar who has many important things to say to policy makers in a world that is dangerous and sadly in need of tempering voices." —Robert Swan, Washington Independent Review of Books
 
"A revelatory work: full of terrific analysis, and, a word I hesitate to use, wisdom. So many illuminations about so many murky matters. Really wonderful." —C.K. Williams, winner of the 2000 Pulitzer Prize for Poetry
 
"In this impassioned and thought-provoking journey through the varied landscape of political evil, Alan Wolfe draws subtle and often heartbreaking distinctions examining what can—and cannot—be done to combat the most vile organized horrors that human beings have always inflicted upon one another. This is a necessary but disturbing book, because it is all about the heart of darkness that is so much more comfortable to ignore—and our own limitations even when we try to do the right thing." —Susan Jacoby, author of The Age of American Unreason
 
"In the face of mass violence, terrorism, and genocide around the globe, democratic citizens risk inaction and also excessive reaction. Are there alternatives to letting evil continue and producing more violence and inevitable victimization of innocents? Alan Wolfe's clear-eyed analysis offers vital tools to advance effective responses. He calls for joining unblinking condemnation of large-scale horrors with precise attention to their particular roots. His warnings against sweeping generalizations and faulty analogies to the past are grounded in detailed studies of mass violence in Darfur, the US 'war against terror,' and other current events. For serious alternatives to overreaction and inaction in the face of political evil, read Alan Wolfe." —Martha Minow, author of Between Vengeance and Forgiveness
 
"Despite the persistence of evil, Wolfe is hopeful that we can stop evil acts, and despite his clear appeal to reason, his arguments are quite passionate." —Booklist
 
"A balanced inquiry into the violent world confronting America today." —Publishers Weekly