We're following all official guidelines to keep ourselves healthy on the job, and as a result, shipping may be delayed.
You will receive an email from our web orders team confirming that your order has been processed.
We thank you for your support and your patience at this challenging time.
Woodsburner (Paperback)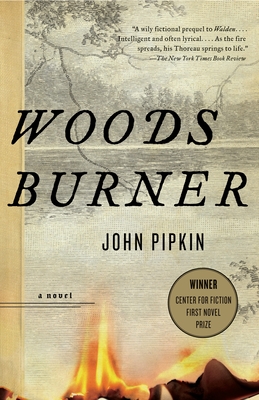 Special Order—Subject to Availability
May 2009 Indie Next List
---
"John Pipkin's Woodsburner is an audacious, wondrous surprise -- audacious for putting someone like Henry David Thoreau and a true event from his life (a great fire) in a novel. It is a luminous story, in which Thoreau, a handful of insightfully drawn characters, and an America they all embody are cast in vivid relief. More than 150 years later, Woodsburner feels like a story from yesterday."
— Rick Simonson, The Elliott Bay Book Company, Seattle, WA
Description
---
Set against the backdrop of a devastating forest fire that Henry David Thoreau accidentally set in 1844, John Pipkin's novel brilliantly illuminates the mind of the young philosopher at a formative moment in his life and in the life of the young nation.

The Thoreau of Woodsburner is a lost soul, resigned to a career designing pencils for his father's factory while dreaming of better things. On the day of the fire, his path crosses those of three very different people, each of whom also harbors a secret dream. Oddmund Hus, a shy Norwegian farmhand, pines for the wife of his brutal employer. Eliot Calvert, a prosperous bookseller, is also a hilariously inept aspiring playwright. Caleb Dowdy preaches fire and brimstone to his followers through an opium haze. Each of their lives, like Thoreau's, will be changed forever by the fire.
About the Author
---
JOHN PIPKIN was born and raised in Baltimore, Maryland, and he holds degrees from Washington and Lee University, the University of North Carolina at Chapel Hill, and Rice University. He has taught writing and literature at Saint Louis University, Boston University, and Southwestern University. He currently lives in Austin, Texas with his wife and son.
Praise For…
---
"A wily fictional prequel to Walden. . . . Intelligent and often lyrical. . . . As the fire spreads, his Thoreau springs to life." —The New York Times Book Review
 
"A terrifically exciting story. . . . Just as captivating are those characters Pipkin has invented, men and women consumed by their own passions. They provide a fascinating impression of the nation when it was still young and swelling and struggling to define itself." —The Washington Post   

"A brilliant first novel. . . . It crackles with heat and energy, as we see these characters tested by the flames, scorched by their passions, beliefs, and hopes." —New Orleans Times-Picayune

"Marvelous. . . . In this compelling homage to an iconic American writer, Pipkin may himself have just written a new American classic." —Pittsburgh Post-Gazette

"Wonderfully grandiose…. Pipkin's portrait of a nation in flux is energetic and optimistic. It's also a remarkably constructed piece of fiction—vibrant, solidly plotted and lyrically yet efficiently composed—and should be a contender for the year's important literary awards." —The Boston Globe

"Infused with moments of genuine drama, peril and suspense. Woodsburner is . . . an exemplary illustration of how fiction can illuminate the past, bring history to life and make it feel as fresh and relevant as the present day." —The Dallas Morning News

"Woodsburner is Pipkin's first novel, but, with its complex structure and top-notch prose, there's not a page that reads like the work of a novice…. The result is, well, transcendent." —The Christian Science Monitor

"Readers will be pulled inexorably toward the heat ignited by the fires of each character's story…. It is a book that will keep you up all night racing toward the last page, and then will leave you longing for more." —Jackson Free Press

"A mature historical work by a writer who happened upon a small footnote in American history and fanned a flicker into an imaginative, complex novel that humanizes an American icon." —San Antonio Express

"Pipkin's characters are full of convincing contradictions. . . . The author has some thoughtful things to say about the notion of American freedom, and the conflagration that serves as Woodsburner's central metaphor allows him to say them in language that is at once vividly precise and richly allusive." —NPR.org, Summer Books "Best Fiction" feature

"What a terrific tale John Pipkin spins! He has taken a dramatic episode in the life of Henry David Thoreau and transformed it into a gripping and profound work of fiction." —Doris Kearns Goodwin

"Witty, bawdy, philosophical, touching, and humorous, Woodsburner is a novel I didn't want to end . . . This book is packed with interesting ideas, vital characters, and vivid writing." —Sena Jeter Naslund, author of Ahab's Wife and Four Spirits