City of Scoundrels: The Twelve Days of Disaster That Gave Birth to Modern Chicago (Paperback)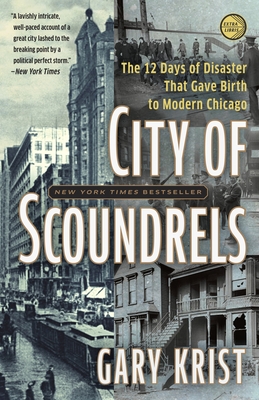 List Price: $17.00
Our Price: $16.00
(Save: $1.00 6%)
Description
---
The masterfully told story of twelve volatile days in Chicago, when an aviation disaster, a race riot, a crippling transit strike, and a sensational child murder transfixed and roiled a city already on the brink of collapse. When 1919 began, the city of Chicago seemed on the verge of transformation. Modernizers had an audacious, expensive plan to turn the city from a brawling, unglamorous place into "the Metropolis of the World." But just as the dream seemed within reach, pandemonium broke loose and the city's highest ambitions were suddenly under attack by the same unbridled energies that had given birth to them.
It began on a balmy Monday afternoon when a blimp in flames crashed through the roof of a busy downtown bank, incinerating those inside. Within days, a racial incident at a crowded South Side beach spiraled into one of the worst urban riots in American history, followed by a transit strike that paralyzed the city. Then, when it seemed as if things could get no worse, police searching for a six-year-old girl discovered her body in a dark North Side basement.
Meticulously researched and expertly paced, City of Scoundrels captures the tumultuous birth of the modern American city, with all of its light and dark aspects in vivid relief. Now with Extra Libris material, including a reader's guide and bonus content.
About the Author
---
Gary Krist has written for the New York Times, Esquire, Salon, the Washington Post Book World, and elsewhere. He is the author of the bestselling City of Scoundrels and the acclaimed The White Cascade, as well as several works of fiction. He has been the recipient of the Stephen Crane Award, the Sue Kaufman Prize from the American Academy of Arts and Letters, a Lowell Thomas Gold Medal for Travel Journalism, and a fellowship from the National Endowment for the Arts.
Praise For…
---
"(An) eager narrative that delivers vivid reading."
—Kirkus Reviews

"The most compelling adventure yarn, full of crashing dirigibles, bloody riots, and classic crooks. Loved it."
—Scott Turow, author of Presumed Innocent

"A lavishly intricate, well-paced account of a great city lashed to the breaking point by a political perfect storm."
—New York Times