High Society: The Life of Grace Kelly (Paperback)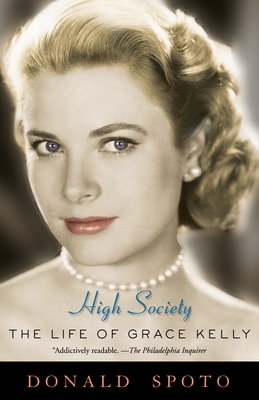 $16.00
Not On Our Shelves—Ships in 1-5 Days
Description
---
Drawing on his unprecedented access to Grace Kelly, bestselling biographer Donald Spoto at last offers an intimate, honest, and authoritative portrait of one of Hollywood's legendary actresses.


In just seven years–from 1950 through 1956–Grace Kelly embarked on a whirlwind career that included roles in eleven movies. From the principled Amy Fowler Kane in High Noon to the thrill-seeking Frances Stevens of To Catch a Thief, Grace established herself as one of Hollywood's most talented actresses and iconic beauties. Her astonishing career lasted until her retirement at age twenty-six, when she withdrew from stage and screen to marry a European monarch and became a modern, working princess and mother.

Based on never-before-published or quoted interviews with Grace and those conducted over many years with her friends and colleagues–from costars James Stewart and Cary Grant to director Alfred Hitchcock–as well as many documents disclosed by her children for the first time, acclaimed biographer Donald Spoto explores the transformation of a convent schoolgirl to New York model, successful television actress, Oscar-winning movie star, and beloved royal.

As the princess requested, Spoto waited twenty-five years after her death to write this biography. Now, with honesty and insight, High Society reveals the truth of Grace Kelly's personal life, the men she loved, the men she didn't, and what lay behind the façade of her fairy-tale life.


From the Hardcover edition.
About the Author
---
DONALD SPOTO is the author of twenty-five books, including bestselling biographies of Alfred Hitchcock, Tennessee Williams, Laurence Olivier, Marlene Dietrich, Ingrid Bergman, and Audrey Hepburn. He earned his Ph.D. degree from Fordham University. Spoto is married to the Danish school administrator Ole Flemming Larsen; they live in a quiet village, an hour's drive from Copenhagen.


From the Hardcover edition.
Praise For…
---
"She was a great lady, and also great fun."
—Ava Gardner

"She was anything but cold. Everything about Grace was appealing. She had those big warm eyes, and if you ever played a love scene with her, you knew she wasn't cold."
—James Stewart

"In two senses, she didn't have a bad side–you could film her from any angle, and she was one of the most untemperamental, cooperative people in the business."
—Cary Grant

"The subtlety of Grace's sexuality–her elegant sexiness–appealed to me. . . . With Grace, you had to find it out–you had to discover it."
—Alfred Hitchcock

"You couldn't work with Grace Kelly without falling a little in love with her."
—Fred Coe

"I thought she was the most gorgeous creature I ever met. . . . She was so entirely unaffected, completely without vanity."
—Rita Gam

"She was a delight to have in the company–a rare kind of young person who had a hunger to learn and to improve herself."
—Raymond Massey

"I saw the utter perfection of her nose . . . the long, elegant neck . . . the silky, diaphanous blond hair. . . . A very aristocratic-looking girl . . . not the sort you simply called for a date."
—Oleg Cassini


From the Hardcover edition.