We're following all official guidelines to keep ourselves healthy on the job, and as a result, shipping may be delayed.
You will receive an email from our web orders team confirming that your order has been processed.
We thank you for your support and your patience at this challenging time.
El amor en los tiempos del cólera (Paperback)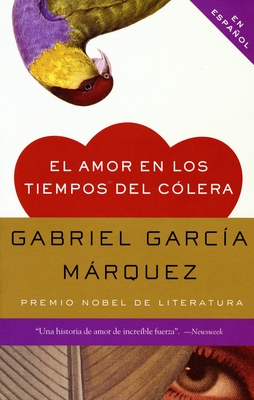 Description
---
De jóvenes, Florentino Ariza y Fermina Daza se enamoran apasionadamente, pero Fermina eventualmente decide casarse con un médico rico y de muy buena familia. Florentino está anonadado, pero es un romántico. Su carrera en los negocios florece, y aunque sostiene 622 pequeños romances, su corazón todavía pertenece a Fermina. Cuando al fin el esposo de ella muere, Florentino acude al funeral con toda intención. A los cincuenta años, nueve meses y cuatro días de haberle profesado amor a Fermina, lo hará una vez más.
About the Author
---
Gabriel García Márquez, nacido en Colombia, fue una de las figuras más importantes e influyentes de la literatura universal. Ganador del Premio Nobel de Literatura, fue además cuentista, ensayista, crítico cinematográfico, autor de guiones y, sobre todo, intelectual comprometido con los grandes problemas de nuestro tiempo, en primer término con los que afectaban a su amada Colombia y a Hispanoamérica en general. Máxima figura del realismo mágico, fue en definitiva el hacedor de uno de los mundos narrativos más densos de significados que ha dado la lengua española en el siglo xx. Entre sus obras más importantes se encuentran las novelas Cien años de soledad, El coronel no tiene quien le escriba, Crónica de una muerte anunciada, La mala hora, El general en su laberinto, El amor en los tiempos del cólera, Memoria de mis putas tristes, el libro de relatos Doce cuentos peregrinos, la primera parte de su autobiografía, Vivir para contarla, y sus discursos reunidos, Yo no vengo a decir un discurso. Falleció en 2014.
Praise For…
---
"Una historia de amor de increíble fuerza". --Newsweek

"Una novela rica y expansiva cuyo poder narrativo sólo compite con la generosidad de su visión". --The New York Times

"Una gran historia humana, despreocupada del tiempo, contada por uno de los más evocadores escritores de este siglo". --Anne Tyler, Chicago Sun-Times Book Week

"Un libro brillante y desgarrador". --The New York Times Book Review