Down to the Last Pitch: How the 1991 Minnesota Twins and Atlanta Braves Gave Us the Best World Series of All Time (Hardcover)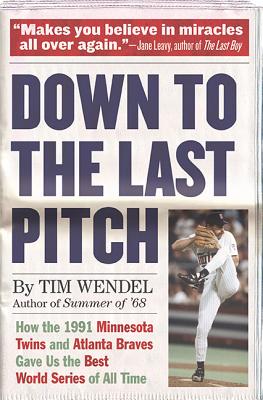 Description
---
Never before in baseball history had a team finished last and rallied to take the pennant the following season. Yet in 1991, lightning struck twice as the Minnesota Twins and the Atlanta Braves both reached the World Series. The remarkable turnarounds resulted in arguably the greatest Fall Classic of all time.

Four of the games between the Twins and Braves were settled by "walk-off" runs. Three of them, including the climactic Game Seven, went into extra innings. And all seven games had memorable moments—from close plays at the plate to base-running blunders to pitching gems to dramatic late-inning home runs. The Atlanta Journal-Constitution cautioned fans about sleep deprivation as the nation was riveted watching Jack Morris, Kent Hrbek, Dan Gladden, and Kirby Puckett go against Tom Glavine, Lonnie Smith, John Smoltz, and David Justice on primetime television.

In Down to the Last Pitch, award-winning writer Tim Wendel brings to life these seven memorable games, weaving contemporary interviews with discussions decades later about this classic World Series, and teasing out fact from legend.

When the final out was recorded in 1991, the cover headline in Baseball Weekly read, "BEST WORLD SERIES EVER?" While that can always be debated, what happened inside and outside the lines in 1991 continues to resonate today.

About the Author
---
Tim Wendel was a founding editor of USA Today's Baseball Weekly, which was in its inaugural season when the 1991 Twins-Braves Series played out. He is the award-winning and highly acclaimed author of eleven books, including Summer of '68. He has served as exhibit adviser to the Baseball Hall of Fame and is currently writer-in-residence at Johns Hopkins University. He lives near Washington, DC.

Praise For…
---
San Francisco Book Review, 4/11/14
"How does one write an intriguing book about something for which everyone knows the outcome? Start with a truly great World Series, add two storied teams facing each other at a time when the game was really changing, then have it stirred together by a man with deep experience in baseball writing…The close examination of the series by Wendel is almost like being there with an all-access pass, privy to so much more than a regular fan ever gets. This is a winner."
BaseballRoundTable.com, 4/14/14
"Good to the last page…If ever a World Series deserved its own book, it was the 1991 match up. Fortunately, for baseball fans, Tim Wendel…(a knowledgeable and passionate baseball fan) has given us that book…Ultimately,
Down to the Last Pitch
is a great read not just for Twins and Braves fans—although it is a must for followers of those teams—but for any fans who want to get closer to the game."
Sports Book Review Center, 4/27/14
"Wendel talks to plenty of the participants from that series, and does good research on some of the others…
Down to the Last Pitch
carries out its mission of reviewing this great matchup quite nicely."
InfoDad.com, 5/1/14
"The writing is exactly what fans will expect and want."
Milwaukee Journal Sentinel, 3/28/14
"What Wendel's really doing with
Down to the Last Pitch
is celebrating baseball before it changed into what it is today: before the ugly 1994 strike, before the steroid era, before small markets like Pittsburgh and Minnesota (and Milwaukee) decided they couldn't compete with the big ones, before every city just had to have an expensive new stadium."
The Hub, 3/27/14
"An in-depth, game-by-game account of the 1991 World Series between the Minnesota Twins and the Atlanta Braves."
Minneapolis Star-Tribune, 4/6/14
"Tim Wendel, a great baseball writer and historian, relives the only time that two last-place teams rebounded the next year to play for the championship."
Tampa Tribune, 4/16/14
"The reader is in for a treat.
Down to the Last Pitch
is Wendel at his best—an engaging storyteller, a writer not afraid to explore different angles, and an author capable of building a dramatic finish (even though we already knew what happened)… Once again, Wendel sheds new light on a memorable baseball event…
Down to the Last Pitch
is sweet to read."
Niagara Gazette, 4/14/14
"Wendel manages to work in practically a history of the game between pitches…
Last Pitch
, exciting and informative, is fun to the final swing."
Praise for Down to the Last Pitch

"Down to the Last Pitch is a lovely, loving ode to baseball's immutable law of possibility. Just when you think you've seen everything, read everything, along comes a book and an author in whose gifted hands the past comes alive and makes you believe in miracles all over again."—Jane Leavy, author of The Last Boy: Mickey Mantle and the End of America's Childhood

"Remember the 1991 World Series? I'll bet you do, but Tim Wendel was there and has a hundred stories from that miracle year that you haven't heard. Kirby Puckett, Lonnie Smith, John Smoltz, Jack Morris—heroes all. But the star of Down to the Last Pitch is Wendel, one of our game's must-read writers."—John Thorn, Official Historian of Major League Baseball

"The most underrated great World Series is finally getting its due. And who better to bring this Series so brilliantly to life than Tim Wendel?"—Claire Smith, award-winning ESPN news editor

Newsday, 3/28/14
"Nifty."