We're following all official guidelines to keep ourselves healthy on the job, and as a result, shipping may be delayed.
You will receive an email from our web orders team confirming that your order has been processed.
We thank you for your support and your patience at this challenging time.
Inadvertent (Why I Write) (Hardcover)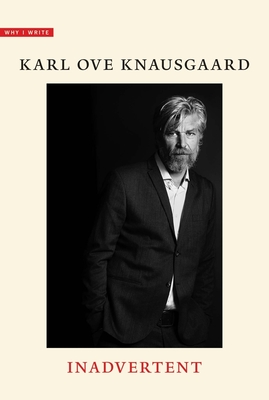 Description
---
The second book in the Why I Write series provides generous insight into the creative process of the award-winning Norwegian novelist Karl Ove Knausgaard

"Why I Write" may prove to be the most difficult question Karl Ove Knausgaard has struggled to answer yet it is central to the project of one of the most influential writers working today. To write, for the Norwegian artist, is to resist easy thinking and preconceived notions that inhibit awareness of our lives. Knausgaard writes to "erode [his] own notions about the world. . . . It is one thing to know something, another to write about it." The key to enhanced living is the ability to hit upon something inadvertently, to regard it from a position of defenselessness and unknowing. A deeply personal meditation, Inadvertent is a cogent and accessible guide to the creative process of one of our most prolific and ingenious artists.
About the Author
---
Karl Ove Knausgaard is an award-winning Norwegian author whose autobiographical novel cycle, My Struggle, spans six volumes which have been translated into over fifteen languages. His lecture was given at the 2017 Windham-Campbell prize ceremony.
Praise For…
---
"For any writer seeking reassurance of the virtue of rewriting, his description of 'eight hundred pages of beginnings' is a kind of balm. But he demands that writers never shy away from big questions: 'What is the meaning of life? Where does this meaning come from? Who am I?' A light-footed meditation on the literary life."—Kirkus Reviews
"[Knausgaard] begins by recounting formative literary experiences: bringing home book-filled shopping bags from the local library, and the day his mother gave him Ursula K. Le Guin's A Wizard of Earthsea, a key moment in establishing literature as 'a hiding place for me, and at the same time a place where I became visible.'. . . . Aspiring writers will find comfort in Knausgaard's candor, which allows him to frankly reveal the feelings of inadequacy and fraudulence with which he has struggled."—Publishers Weekly