We're following all official guidelines to keep ourselves healthy on the job, and as a result, shipping may be delayed.
You will receive an email from our web orders team confirming that your order has been processed.
We thank you for your support and your patience at this challenging time.
A Little History of Religion (Little Histories) (Hardcover)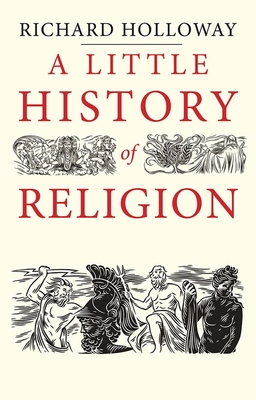 Out of Print in This Format
Description
---
"For readers in search of a thoughtful, thorough, and approachable survey of the history of religion, this book is an excellent place to start."—Booklist
 
Written for those with faith and for those without—and especially for younger readers—A Little History of Religion sweeps us through the story of religion in our world, from the dawn of religious belief to the present.
 
An emphathetic yet discerning guide to the enduring importance of faith, Richard Holloway introduces us to the history and beliefs of the major world religions—Judaism, Islam, Christianity, Buddhism, Hinduism. He also explores where religious belief comes from; the search for meaning through the ages; how differences in belief sometimes lead to hostility and violence; what is a sect and what is a cult; and much more. Throughout, Holloway encourages curiosity and tolerance, accentuates nuance and mystery, and calmly restores a sense of the value of faith.
About the Author
---
Richard Holloway, former Bishop of Edinburgh and Primus of the Scottish Episcopal Church, is an internationally popular writer and broadcaster. His more than twenty books include the best-selling Leaving Alexandria: A Memoir of Faith and Doubt. He lives in Edinburgh, UK.
Praise For…
---
"This is a well-written book, from which most of us will come away knowing more about the religions of the world than we knew before. . . . In its own way this engaging book might be seen as a period piece."—John Charmley, Times
"Holloway's account is brimful of arresting facts."—Ian Thomson, Financial Times
"As an informed reflection on the state of faith in the western world in the 21st century, written by someone who has plenty of experience, it is insightful and intelligent."—Tim Whitmarsh, The Guardian
"Holloway's narrative is made up of many different threads and details carefully woven together to make a satisfying read. The pace is leisurely despite the amount of ground covered, and he manages to include memorable details."—Carol Palfrey, Sofia
 
"In an age of religious tension, this is an important contribution to understanding different beliefs. . . . A straightforward, well-written introduction to religion and its various manifestations."—Library Journal
"For readers in search of a thoughtful, thorough, and approachable survey of the history of religion, this book is an excellent place to start."—Booklist
"[Holloway] deftly makes his knowledge accessible to the public. . . . A great service for students of religion. This is no dry textbook: With its conversational prose and density of information, it is a pleasure to read."—The Weekly Standard
"A Little History of Religion both delights readers and tackles a subject historically and emotionally wide-ranging. . . . Holloway repeatedly links religious movements to political action, perhaps cautionary tales for our times, and how to seek accurate religious history—a surprisingly superior handbook."—Katharine C. Black, Anglican and Episcopal History
"It is difficult to name anyone more qualified to write on this topic than Richard Holloway. His own journey of faith has encompassed so many experiences that he writes with an admirable combination of detachment, knowledge and affectionate engagement."—Diarmaid MacCulloch, author of A History of Christianity: The First Three Thousand Years