We're following all official guidelines to keep ourselves healthy on the job, and as a result, shipping may be delayed.
You will receive an email from our web orders team confirming that your order has been processed.
We thank you for your support and your patience at this challenging time.
Sister Citizen: Shame, Stereotypes, and Black Women in America (Paperback)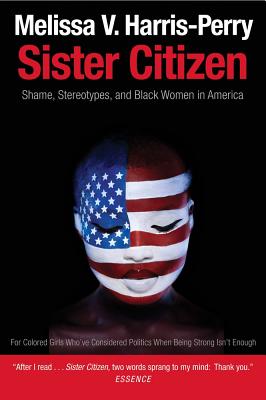 Description
---
From a highly respected thinker on race, gender, and American politics, a new consideration of black women and how distorted stereotypes affect their political beliefs

Jezebel's sexual lasciviousness, Mammy's devotion, and Sapphire's outspoken anger—these are among the most persistent stereotypes that black women encounter in contemporary American life. Hurtful and dishonest, such representations force African American women to navigate a virtual crooked room that shames them and shapes their experiences as citizens. Many respond by assuming a mantle of strength that may convince others, and even themselves, that they do not need help. But as a result, the unique political issues of black women are often ignored and marginalized.
In this groundbreaking book, Melissa V. Harris-Perry uses multiple methods of inquiry, including literary analysis, political theory, focus groups, surveys, and experimental research, to understand more deeply black women's political and emotional responses to pervasive negative race and gender images. Not a traditional political science work concerned with office-seeking, voting, or ideology, Sister Citizen instead explores how African American women understand themselves as citizens and what they expect from political organizing. Harris-Perry shows that the shared struggle to preserve an authentic self and secure recognition as a citizen links together black women in America, from the anonymous survivors of Hurricane Katrina to the current First Lady of the United States.
About the Author
---
Melissa V. Harris-Perry is the Maya Angelou Presidential Chair, Executive Director of the Pro Humanitate Institute, and founding director of the Anna Julia Cooper Center, at Wake Forest University. Her previous book, Barbershops, Bibles, and BET: Everyday Talk and Black Political Thought, won the 2005 W. E. B. Du Bois Book Award from the National Conference of Black Political Scientists and 2005 Best Book Award from the Race and Ethnic Politics Section of the American Political Science Association.
Praise For…
---
"Astonishing. . . . Sister Citizen is written for the benefit of all Americans—sister citizens, brother citizens, and anyone else who cares about the way this country works."—Tayari Jones, San Francisco Chronicle
"This is the beauty of the book. . . . The insight and grace with which Harris-Perry tackles the thorny issue of African American women's identity politics makes it a must-read."—Jordan Kisner, Slate
"This is the beauty of the book. . . . The insight and grace with which Harris-Perry tackles the thorny issue of African American women's identity politics makes it a must-read."—Jordan Kisner, Slate
"Astonishing. . . . Sister Citizen is written for the benefit of all Americans - sister citizens, brother citizens and anyone else who cares about the way this country works."—Tayari Jones, San Francisco Chronicle
"Harris-Perry offers fascinating observations of how black women are, at times, constricted by their mythology and asserts that their 'experiences act as a democratic litmus test for the nation.'"—Vanessa Bush, Booklist
"[Melissa Harris-Perry's] academic research is inspired by a desire to investigate the challenges facing contemporary black Americans and the creative ways that African Americans respond to these challenges."—Great Neck Record
"After I read Sister Citizen, two words sprang to my mind: Thank you."—Patrik Henry Bass, Essence
"In Sister Citizen, Harris-Perry combines her skills as a social scientist, political observer, writer and griot to deftly illustrate how the social, economic, and political conditions of black women, particularly those on the margins, are the index for America at large."—Byron Williams, Oakland Tribune
"A feminist manifesto endeavoring to free sisters forever from the cruel and very limiting ways in which they continue to be pigeonholed."—Kam Williams, Insight
Finalist for the 43rd NAACP Image Awards in the Non-Fiction Literature Category
"Sister Citizen carefully documents the complex challenges and hurdles Black women face in the 21st century. Harris-Perry's book is both insightful and provocative. A must read for those interested in learning more about American politics."—Donna Brazile, Political Commentator for CNN and ABC News and former Interim Chair of the Democratic National Committee

"Melissa Harris-Perry is one of our most trenchant readers of modern black life. In Sister Citizen, she gives new life to the idea that 'the personal is political.' This book will change the conversation about the rights, responsibilities, and burdens of citizenship."—Henry Louis Gates, Jr., Alphonse Fletcher University Professor, Harvard University
"This is a broad, ambitious and important book that centers black women at the heart of American politics. Harris-Perry broadens our ideas of what counts as political, disrupts our ideas about what the study of American politics should look like, and restores our belief that resistance and struggle can change lives, communities and nations."—Cathy J. Cohen, author of Boundaries of Blackness and Democracy Remixed
"In this compelling book, dazzling in its breadth and depth, Melissa Harris-Perry deploys the quantitative tools of the political scientist as expertly as she displays the qualitative methods of the literary and cultural critic. Sister Citizen challenges readers to rethink the meaning of politics when it comes to the complex lives of African American women."—Beverly Guy-Sheftall, founding director, Spelman College Women's Research and Resource Center
"Sister Citizen lends empirical heft to the adage the 'personal is political.' Melissa Harris-Perry does an excellent job of weaving literature, social science, and personal accounts to produce a powerful work on black women's politics. Brilliant."—Lester K. Spence, author of Stare in the Darkness: The Limits of Hip-hop and Black Politics