We're following all official guidelines to keep ourselves healthy on the job, and as a result, shipping may be delayed.
You will receive an email from our web orders team confirming that your order has been processed.
We thank you for your support and your patience at this challenging time.
The Guermantes Way: In Search of Lost Time, Volume 3 (Paperback)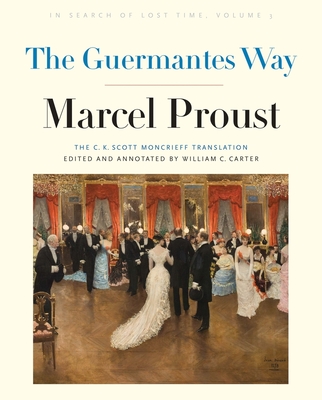 Description
---
An authoritative new edition of the third volume in Marcel Proust's epic masterwork, In Search of Lost Time

Marcel Proust's monumental seven‑part novel In Search of Lost Time is considered by many to be the greatest novel of the twentieth century. This edition of volume three, The Guermantes Way, is edited and annotated by noted Proust scholar William C. Carter, who endeavors to bring the classic C. K. Scott Moncrieff translation closer to the spirit and style of the author's original text.
 
Continuing the story begun in Swann's Way and continued in In the Shadow of Young Girls in Flower, The Guermantes Way follows Proust's young protagonist as he advances through aristocratic French society in late‑nineteenth‑century Paris. A departure from the intimacy of the sprawling novel's previous two installments, part three unfolds against a colorful backdrop of Parisian life, moving from literary salon to opulent social gathering to provide a biting and satirical commentary on culture, human foibles, the ways of the world, and the irretrievable loss of time.
About the Author
---
Marcel Proust (1871–1922) was a French novelist, critic, and essayist best known for À la Recherche du Temps Perdu, published in seven parts between 1913 and 1927. William C. Carter is Distinguished Professor of French Emeritus at the University of Alabama at Birmingham.
Praise For…
---
"Scott Moncrieff's Scottish voice of 1925, interpreting Proust's of 1920 and 1921, has been given new life and transformed into a rich, musical trio through the addition of Carter's American voice of 2018. . . . Carter's monumental task has been undertaken with meticulous care . . . Every word of Scott Moncrieff's has been checked against Proust's and rectified if necessary, or amended according to Carter's taste."—Cynthia Gamble, French Studies
"Carter has an impressive, encyclopedic grasp of Proust's novel. His discreet references to earlier volumes illuminate the strong architectural construction of the book. This is a major and important project, and one which has become increasingly necessary for intelligent, non-specialist readers who cannot read Marcel Proust's vast novel in the original French."—David Ellison, author of A Reader's Guide to Proust's 'In Search of Lost Time'
"Because it takes into account the latest textual corrections in Proust's manuscripts, this edition of The Guermantes Way, based on the legendary translation by C.K. Scott Moncrieff, will no doubt be the authoritative English version of volume 3 of In Search of Lost Time for years to come."—Elyane Dezon-Jones, Washington University in St. Louis