The Beautiful Cure: The Revolution in Immunology and What It Means for Your Health (Hardcover)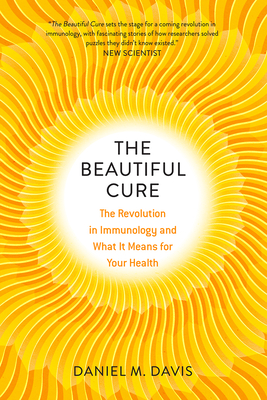 Description
---
The immune system holds the key to human health. In The Beautiful Cure, leading immunologist Daniel M. Davis describes how the scientific quest to understand how the immune system works—and how it is affected by stress, sleep, age, and our state of mind—is now unlocking a revolutionary new approach to medicine and well-being.

The body's ability to fight disease and heal itself is one of the great mysteries and marvels of nature. But in recent years, painstaking research has resulted in major advances in our grasp of this breathtakingly beautiful inner world: a vast and intricate network of specialist cells, regulatory proteins, and dedicated genes that are continually protecting our bodies. Far more powerful than any medicine ever invented, the immune system plays a crucial role in our daily lives. We have found ways to harness these natural defenses to create breakthrough drugs and so-called immunotherapies that help us fight cancer, diabetes, arthritis, and many age-related diseases, and we are starting to understand whether activities such as mindfulness might play a role in enhancing our physical resilience.

Written by a researcher at the forefront of this adventure, The Beautiful Cure tells a dramatic story of scientific detective work and discovery, of puzzles solved and mysteries that linger, of lives sacrificed and saved. With expertise and eloquence, Davis introduces us to this revelatory new understanding of the human body and what it takes to be healthy.
About the Author
---
Daniel M. Davis is professor of immunology at the University of Manchester in the UK. He is the author of The Compatibility Gene: How Our Bodies Fight Disease, Attract Others, and Define Our Selves, which was picked by Bill Bryson for the Guardian'sBooks of the Year feature.
Praise For…
---
"The Beautiful Cure sets the stage for a coming revolution in immunology, with fascinating stories of how researchers solved puzzles they didn't know existed."
— Jeremy Webb
"A terrific book by a consummate storyteller and scientific expert considers the past and future of the body's ability to fight disease and heal itself. . . . We should all pay more attention to understanding the barricades that evolution has provided us with, that we have learned to train, because this war is endless. The Beautiful Cure is a worthy guide."
— Adam Rutherford
"Five stars. We all think we know, at a rough level, how the immune system works. Cells in the blood identify foreign invaders and go into battle with them. Inflammation and perhaps a fever develop, and eventually the body destroys the illegal immigrants. From then on their card is marked: the system remembers the microscopic terrorists, and if they ever reappear they are ganged up on and eliminated immediately. That's immunity. In recent decades, though, the scientific picture has become hugely more complicated, as the immunologist Davis relates in this elegantly concise book."
— Steven Poole
"Davis's wonderful book The Beautiful Cure recounts how research into the immune system in recent decades has resulted in what amounts to a health revolution. Immunotherapy drugs are now worth billions of dollars, and cancers and autoimmune diseases that were once considered untreatable can now be fought and, in a few cases, even cured. There is little doubt that there will be further progress in the years to come. Davis recounts in exceptionally clear and sympathetic prose how all this came about."
— Henry Marsh
"Forget AI, robotics, the internet of things. This is where the future feels strange and exciting: in ourselves, in the 'inner universe' of our messy, complex immune system, and in the radically new therapies that are using it to conquer disease. Davis is passionate about the possibilities of his field. . . . He describes how these cells perform with the fervor of an enraptured dance critic. . . . Davis is right to call the immune system an inner universe. It is just as consciousness-raising and awe-inspiring as the outer universe of black holes and supernovas, yet far less widely known or understood. This eye-opening if demanding book starts to put that right."
— James McConnachie
"The Beautiful Cure is about the history and future of immunology. It is a sweeping tour d'horizon that never shies from complexity but manages, impressively for a science book by a scientist, to remain lucid and entertaining enough to take the reader with it. Much as Siddhartha Mukherjee did in his book The Gene, Davis expertly weaves together human stories and scientific endeavor to give a sense of the grand global collaboration that is still under way to understand 'the complexity, delicacy, and elegance of our immune system.' . . . If anything can be taken from this book it is that life and its mechanisms are too complex for neat stories, however satisfying those stories may be."
— Tom Whipple
"Davis is a sure and engaging guide to these developments. . . . In each case, Davis shows how these scientific thinkers overturned the previous dogma and progressively deepened the story of immunology. His message is that although knowledge of the immune system has come on in leaps and bounds in the past hundred years, immunology still lacks a unifying theory. 'We must not expect everything the immune system does to fit any one over-arching principle,' he concludes. 'The system discriminates between self and non-self, and it detects germs, and it responds to danger, and it does all these things concurrently—and messily.'"
— Mark Honigsbaum
"An inspirational book that not only reveals the 'secret joys' of scientific discovery but is jam-packed full of revelations for non-scientists."
— Jon Dennis
"A layman's introduction to the current state of the science of immunology. It is not an easy read, not because Davis is wilfully obscure but because his subject matter is extremely complex. Explanations should be as clear as possible, but not clearer than possible."
— Anthony Daniels
"Brilliantly conveys the excitement of scientific discovery."
— Bill Bryson
"An eye-opening tour de force of scientific writing that reads like the best kind of adventure story. As David Attenborough opens our goggling eyes to the natural world without, so Davis brings us face to face with the stunningly clever and, yes, beautiful world within—our immune system. One of those books that makes you look at everything human in a new, challenging, and thrilling way."
— Stephen Fry
"The human body is the most complicated assemblage of chemicals in the known universe. It's a huge scientific challenge to understand how we metabolize, how we acquire immunity, and how drugs work. Daniel Davis is a distinguished expert in this field—and he's a fine writer too. He portrays vividly how great discoveries emerge—via prolonged effort, via cooperation and competition, and sometime sheer luck. This gripping book gives an authentic flavor of how science is actually done—and why it's important for humanity's future."
— Martin Rees
"This book is an insight into new, remarkable, and almost unnoticed advances in immunology and shows how medicine is moving on from the world of the gene to the world of the antibody."
— Steve Jones
"Gives extraordinary new details of an ancient remedy that is already more marvelous, powerful, and flexible than any medicine to come out of a lab."
— Roger Highfield