We're following all official guidelines to keep ourselves healthy on the job, and as a result, shipping may be delayed.
You will receive an email from our web orders team confirming that your order has been processed.
We thank you for your support and your patience at this challenging time.
Policing Immigrants: Local Law Enforcement on the Front Lines (Chicago Series in Law and Society) (Paperback)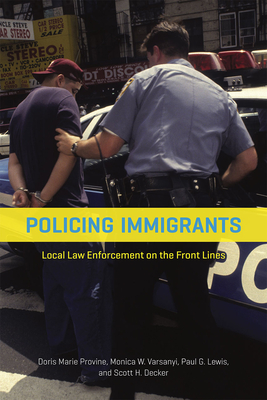 $25.00
Not On Our Shelves—Ships in 1-5 Days
Description
---
The United States deported nearly two million illegal immigrants during the first five years of the Obama presidency—more than during any previous administration. President Obama stands accused by activists of being "deporter in chief." Yet despite efforts to rebuild what many see as a broken system, the president has not yet been able to convince Congress to pass new immigration legislation, and his record remains rooted in a political landscape that was created long before his election. Deportation numbers have actually been on the rise since 1996, when two federal statutes sought to delegate a portion of the responsibilities for immigration enforcement to local authorities.

Policing Immigrants traces the transition of immigration enforcement from a traditionally federal power exercised primarily near the US borders to a patchwork system of local policing that extends throughout the country's interior. Since federal authorities set local law enforcement to the task of bringing suspected illegal immigrants to the federal government's attention, local responses have varied. While some localities have resisted the work, others have aggressively sought out unauthorized immigrants, often seeking to further their own objectives by putting their own stamp on immigration policing. Tellingly, how a community responds can best be predicted not by conditions like crime rates or the state of the local economy but rather by the level of conservatism among local voters. What has resulted, the authors argue, is a system that is neither just nor effective—one that threatens the core crime-fighting mission of policing by promoting racial profiling, creating fear in immigrant communities, and undermining the critical community-based function of local policing.
About the Author
---
Doris Marie Provine is professor emerita in the School of Social Transformation at Arizona State University. She is the author of several books, including Unequal under Law and Judging Credentials, both also published by the University of Chicago Press.
Monica W. Varsanyi is associate professor of political science at John Jay College of Criminal Justice, CUNY, and on the doctoral faculties of geography and criminal justice at the CUNY Graduate Center.
Paul G. Lewis is associate professor in the School of Politics and Global Studies at Arizona State University.
Scott H. Decker is the Foundation Professor of Criminology and Criminal Justice at Arizona State University.
Praise For…
---
"Policing Immigrants is one of the few books to comprehensively analyze the devolution of immigration enforcement into the 'patchwork' of policies and practices that defines contemporary immigration policy in the United States. Drawing on a large cache of original data, the authors trace in careful detail the historical development of the variations across local jurisdictions and provide clear and in-depth analysis of how devolution is proceeding, including the challenges and implications. The book makes an important contribution."
— Kitty Calavita, author of Invitation to Law and Society
"How to address immigration is among the most significant political issues in the United States. With the political parties increasingly polarized on whether or how to integrate the eleven million undocumented immigrants presently in the country, Policing Immigrants makes a major contribution to our understanding of US legal policy on immigration and will contribute to the debate for years to come. No other book so well describes the dramatic variations in local immigration enforcement or the implications for local communities and federal policy."
— Charles R. Epp, author of Pulled Over: How Police Stops Define Race and Citizenship
"This timely book exposes the ragged edges of federalism. What many in Washington think is a federal problem calling for national solutions has become an inward-looking and highly varied set of practices reflecting local priorities and politics. These play themselves out differently everywhere, leaving migrants caught up in this morass to an uncertain fate. What is certain is that this political struggle is far from over. This important book should play a major role in clarifying the magnitude of the contradictions that are at work in the immigration debate."
— Wesley G. Skogan, author of Police and Community in Chicago: A Tale of Three Cities
"The book offers a wealth of original research...Policing Immigrants is a timely, compelling book that highlights the frequently changing and often fragmented response of law enforcement to immigrants in their communities.In a time of rapidly developing politics and policy, Policing Immigrants is an important read for students of law and criminal justice, public safety managers, and, perhaps most importantly,the members of law enforcement and the communities directly impacted by this quickly evolving environment."


— Criminal Law and Criminal Justice Books
"Although these scholars are not the first to argue that immigration enforcement varies widely across localities, no other studies have covered this topic with such extraordinary breadth. The book skillfully distills the complex and dynamic landscape of immigration policing, making it accessible to specialists and non-specialists alike. . . . This is timely and essential reading for scholars, students, and practitioners interested in policing, immigration enforcement, and immigrant–police relations."
— Theoretical Criminology
"The book skillfully distills the complex and dynamic landscape of immigration policing, making it accessible to specialists and non-specialists alike. The book's greatest strength lies in its elucidation of the "law in between", explaining how and why localities arrive at different arrangements of policies and practices...At a time when the federal government is threatening "sanctuary cities" with reduced funding to mandate their cooperation with immigration enforcement authorities, Policing Immigrants makes a strong case for getting local law enforcement agencies out of immigration enforcement. This is timely and essential reading for scholars, students, and practitioners interested in policing, immigration enforcement, and immigrant–police relations."
— Theoretical Criminology