Policing Immigrants: Local Law Enforcement on the Front Lines (Hardcover)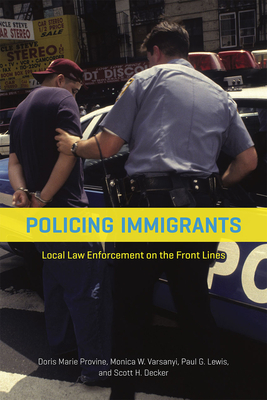 Description
---
The United States deported nearly two million illegal immigrants during the first five years of the Obama presidency--more than during any previous administration. President Obama stands accused by activists of being "deporter in chief." Yet despite efforts to rebuild what many see as a broken system, the president has not yet been able to convince Congress to pass new immigration legislation, and his record remains rooted in a political landscape that was created long before his election. Deportation numbers have actually been on the rise since 1996, when two federal statutes sought to delegate a portion of the responsibilities for immigration enforcement to local authorities.
Policing Immigrants traces the transition of immigration enforcement from a traditionally federal power exercised primarily near the US borders to a patchwork system of local policing that extends throughout the country's interior. Since federal authorities set local law enforcement to the task of bringing suspected illegal immigrants to the federal government's attention, local responses have varied. While some localities have resisted the work, others have aggressively sought out unauthorized immigrants, often seeking to further their own objectives by putting their own stamp on immigration policing. Tellingly, how a community responds can best be predicted not by conditions like crime rates or the state of the local economy but rather by the level of conservatism among local voters. What has resulted, the authors argue, is a system that is neither just nor effective--one that threatens the core crime-fighting mission of policing by promoting racial profiling, creating fear in immigrant communities, and undermining the critical community-based function of local policing.
About the Author
---
Doris Marie Provine is professor emerita in the School of Social Transformation at Arizona State University. She is the author of several books, including Unequal under Law and Judging Credentials, both also published by the University of Chicago Press. Monica W. Varsanyi is associate professor of political science at John Jay College of Criminal Justice, CUNY, and on the doctoral faculties of geography and criminal justice at the CUNY Graduate Center. Paul G. Lewis is associate professor in the School of Politics and Global Studies at Arizona State University. Scott H. Decker is the Foundation Professor of Criminology and Criminal Justice at Arizona State University.