We're following all official guidelines to keep ourselves healthy on the job, and as a result, shipping may be delayed.
You will receive an email from our web orders team confirming that your order has been processed.
We thank you for your support and your patience at this challenging time.
Arendt and America (Hardcover)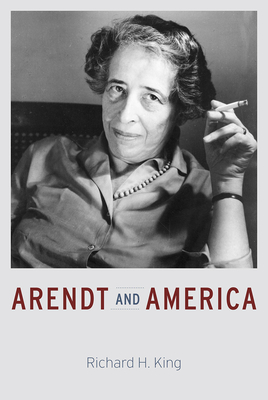 Special Order—Subject to Availability
Description
---
German-Jewish political philosopher Hannah Arendt (1906–75) fled from the Nazis to New York in 1941, and during the next thirty years in America she wrote her best-known and most influential works, such as The Human Condition, The Origins of Totalitarianism, and On Revolution. Yet, despite the fact that a substantial portion of her oeuvre was written in America, not Europe, no one has directly considered the influence of America on her thought—until now. In Arendt and America, historian Richard H. King argues that while all of Arendt's work was haunted by her experience of totalitarianism, it was only in her adopted homeland that she was able to formulate the idea of the modern republic as an alternative to totalitarian rule.
 
Situating Arendt within the context of U.S. intellectual, political, and social history, King reveals how Arendt developed a fascination with the political thought of the Founding Fathers. King also re-creates her intellectual exchanges with American friends and colleagues, such as Dwight Macdonald and Mary McCarthy, and shows how her lively correspondence with sociologist David Riesman helped her understand modern American culture and society. In the last section of Arendt and America, King sets out the context in which the Eichmann controversy took place and follows the debate about "the banality of evil" that has continued ever since.  As King shows, Arendt's work, regardless of focus, was shaped by postwar American thought, culture, and politics, including the Civil Rights Movement and the Cold War.

For Arendt, the United States was much more than a refuge from Nazi Germany; it was a stimulus to rethink the political, ethical, and historical traditions of human culture. This authoritative combination of intellectual history and biography offers a unique approach for thinking about the influence of America on Arendt's ideas and also the effect of her ideas on American thought.
About the Author
---
Richard H. King is professor emeritus of US intellectual history at the University of Nottingham, UK. He is the editor of Obama and Race: History, Culture, Politics, coeditor of Hannah Arendt and the Uses of History: Imperialism, Race, Nation, Genocide, and the author of Race, Culture and the Intellectuals, 1940–1970, among other books.
Praise For…
---
"A major work of scholarship and a truly original and pathbreaking way of looking at Arendt and her work. King situates Arendt in an American context in which she is rarely considered, and he draws on his deep knowledge of U.S. intellectual, political, and social history as well as German philosophy to create a book that is one of the most original and important works on Arendt to have been written in many years."
— Dan Stone, Royal Holloway, University of London
"This remarkably erudite and elegantly written book explains what happened when Hannah met America. King ushers us into the cultural and intellectual milieu of post-WWII New York and invites us to listen in on conversations between some of the leading intellectuals of the time. Arendt—uncompromising, relentlessly thoughtful, and downright difficult to the last—comes across as one of the great interpreters of modernity in all its tragic complexity. Forty years after her death, her thinking continues to enlighten the dark corners of our human condition."
— Jon Nixon, author of Hannah Arendt and the Politics of Friendship
"King's great contribution to the literature on Arendt is to show, in fine-grained terms, how her political theory was the result of a quintessentially American experience: to arrive on American shores an immigrant, to draw on resources from both an old country and a new, imagined one, and to participate in the riot of reinvention."
 
— Los Angeles Review of Books
"In his latest book, Arendt And America, King argues that living in the United States allowed the German philosopher to think far beyond the simple dichotomies of political divisions — such as left and right — that led to the endless slaughter and complete break down of the European social order, before and during World War II. . . . King's argument is certainly a persuasive one. And it's pretty inconceivable that Arendt would have been able to write about totalitarianism (or anti-Semitism) in the same vein, had she not been both physically and spiritually distanced from Europe."
 
— Times of Israel
"Among political theorists, there is no shortage of commentary on Hannah Arendt's work. However, in examining the influence of the US on Arendt's thought, King has developed a novel contribution to this literature. Like many books on Arendt, Arendt in America describes the debates that emerged regarding Arendt's major political works, including The Origins of Totalitarianism, her writings on race (especially her essay on Little Rock), On Revolution, and Eichmann in Jerusalem. King situates Arendt's position and the debates about it in a specifically American context, showing the ways in which her experience in the US, and with American political thought, influenced her thinking about politics. Her 'philosophical' work, most notably The Human Condition and her writings on Kant, do not receive the same level of attention as her more explicitly political writings. Moreover, some critical assessments of the controversies her writing produced receive an overly perfunctory treatment. However, Arendt in America fills an important gap in current scholarship. Well written and well researched, it offers a unique discussion of Arendt's importance, including her contributions to republican theory, the nature of evil, and questions of modernity. Recommended."
 
— Choice
"This book offers a detailed history of Arendt's intellectual milieu in the United States, moving between her published writings, reviews and correspondence with her key interlocutors. . . . This is a concentrated, slow-burning book that requires careful reading, but is without question a rewarding theoretical and historical contribution."
 
— Times Literary Supplement