Cruelty and Laughter: Forgotten Comic Literature and the Unsentimental Eighteenth Century (Hardcover)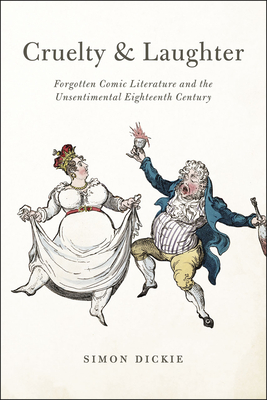 $58.00
Special Order—Subject to Availability
Description
---
Eighteenth-century British culture is often seen as polite and sentimental the creation of an emerging middle class. Simon Dickiedisputes these assumptions in "Cruelty and Laughter," a wildly enjoyable but shocking plunge into the forgotten comic literature of the age. Beneath the surface of Enlightenment civility, Dickie uncovers a rich vein ofcruel humorthatforces us to recognize just how slowlyordinary human sufferings became worthy of sympathy.
Delving into an enormous archive of comic novels, jestbooks, farces, variety shows, and cartoons, Dickie findsa vast repository of jokes about cripples, blind men, rape, and wife-beating. Epigrams about syphilis and scurvy sit alongside one-act comedies about hunchbacks in love. He shows us that everyone rich and poor, women as well as men laughed along. In the process, Dickie also expands our understanding of many of the century's major authors, including Samuel Richardson, Lady Mary Wortley Montagu, Tobias Smollett, Frances Burney, and Jane Austen. He devotes particular attention to Henry Fielding's "Joseph Andrews," a novel that reflects repeatedly on the limits of compassion and the ethical problems of laughter. "Cruelty and Laughter" is an engaging, far-reaching study of the other side of culture in eighteenth-century Britain.
About the Author
---
Simon Dickie is associate professor of English at the University of Toronto.
Praise For…
---
"This book is a prodigiously erudite reminder that the eighteenth century was not just polite, but vicious. Drawing on jestbooks, verse satires, comic fiction, and a plethora of overlooked sources, Dickie depicts a literary, visual, and physical world replete with cruelty, ribald denigration, and low and bawdy humor. Skillfully combining textual exegesis with a profound knowledge of recent social history, he shows that mockery of the lower orders, beggars, and the poor; jests and japes at the expense of the crippled, deformed, and handicapped; and ribald enthusiasm for sexual violence and rape were part of a cruel social world in which the unprivileged and disadvantaged, even as they sometimes excited compassion and sympathy, were just as likely to excite a disdain that ran the full gamut of verbal and physical violence."


-John Brewer, California Institute of Technology

"A pioneering work. Dickie uncovers a rich, long-neglected archive and challenges received wisdom on virtually every page. A joy to read and a revelation."


-Toni Bowers, University of Pennsylvania

"With great verve, occasional disgust, and intermittent outrage, Simon Dickie portrays a society of entrenched hierarchies in which entitled aristocrats entertained themselves with cripple dances, libertine young bucks wreaked havoc in both popular fiction and common reality, and the poor and disabled were the inevitable butts of cruel jokes on and off the page. Working against common scholarly assumptions but backed by ample evidence, he argues that delight in the suffering of others was one thing that all classes of eighteenth-century society shared. Throughout he combines the virtues of a historian and a literary critic with a creative and self-conscious awareness of the complex relation of representation to reality. One of the most original, readable, educational, and entertaining books in the field of eighteenth-century studies I have read in the past decade."


-Helen Deutsch, University of California, Los Angeles

"This excellent and thoroughly researched book argues clearly that eighteenth-century readers read—and worse, enjoyed laughing at—jokes that we would find in incredibly bad taste; and in that, Dickie sees the key to the persistence of an entire way of thinking that is now lost to us. Bringing a tremendous amount of material to our attention, he takes a provocative stance against what he sees as an idealized image of the eighteenth century and points to numerous avenues for future research. Terrific and important, Cruelty and Laughter will be of great interest to scholars of eighteenth-century history, literature, popular culture, humor, and the history of the book."


-John O'Brien, author of Harlequin Britain: Pantomime and Entertainment, 1690-176

"Placing Fielding, the greatest humourist of his time, back amongst his contemporaries and responding to the comedy of his writing as his first readers would have done is a masterly stroke in this scholarly, original and highly readable book."



"The examples [Dickie] presents are convincing—and largely shocking to modern sensibilities."



"Dickie unearthed a huge number of 18th-century jest books, poems, bodily dysfunction and rape jokes, ramble novels, and farces—most of them hitherto ignored or neglected—and here offers a valuable and engrossing exploration of them. . . . Highly recommended."