Charles Marville: Photographer of Paris (Hardcover)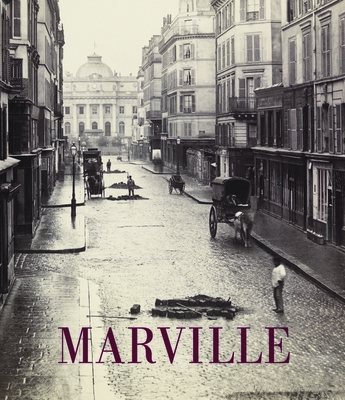 Description
---
Charles Marville (1813–79) is widely acknowledged as one of the most talented photographers of the nineteenth century. Accompanying a major retrospective exhibition at the National Gallery of Art to honor Marville's bicentennial, Charles Marville: Photographer of Nineteenth-Century Paris offers a survey of the artist's entire career. This beautiful book, which begins with the city scenes and architectural studies Marville made throughout France and Germany in the 1850s, and also explores his landscapes and portraits, as well as his photographs of Paris both before and after many of its medieval streets were razed to make way for the broad boulevards, parks, and monumental buildings we have come to associate with the City of Light. Commissioned to record the city in transition, Marville became known as the official photographer of Paris.

Marville has long been an enigma in the history of photography, in part because many of the documents about his life were thought to have been lost in a fire that destroyed Paris's city hall in 1871. Based on meticulous research, this volume offers many new insights into Marville's personal and professional biography, including the central fact that Marville was not his given name. Born Charles-François Bossu in 1813, the photographer adopted the pseudonym when he began his career as an illustrator in the 1830s. With five essays by respected scholars, this book offers the first comprehensive examination of Marville's life and career and delivers the much-awaited public recognition his work so richly deserves.
About the Author
---
Sarah Kennel is associate curator of photography at the National Gallery of Art in Washington, DC.
Anne de Mondenard is conservateur du patrimoine, adjoint au chef du département de la conservation préventive au Centre de recherche et de restauration des musées de France.
Peter Barberie is curator of photographs at the Philadelphia Museum of Art.
Françoise Reynaud is curator of photographs at the Musée Carnavalet, Paris.
Joke de Wolf is a PhD candidate at the Rijksuniversiteit Groningen.
Praise For…
---
"Charles Marville is best known for his government commission to photograph the neighborhoods of Paris slated for demolition during Baron Haussmann's reconfiguration of the city between 1853 and 1870. In fact, that is virtually all he has been known for, a matter the authors of Charles Marville: Photographer of Paris are eager to rectify. Among the basic but previously unknown facts they have unearthed are his real name (Charles-François Bossu—which means "hunchback") and his date of birth (1813). They have also delved into his early career as an illustrator for the popular press and his pre-commission work as a photographer. . . . It is wonderful to finally have appropriately scaled reproductions of these pictures at hand."
— Luc Sante, New York Review of Books
"The images bring to life nineteenth-century Paris with such vividness that in one standout shot, the grain of wood on the side of a shed—perhaps a hundred feet from the camera—is seen in startling detail."
— Bookforum
"Charles Marville long has remained a mysterious figure, despite his significance for the history of photography and the documentation of modern urban design. Thanks to the efforts of this volume's authors, led by curator Kennel, Marville is a mystery no more. . . . Through its exceptional reproductions and new discoveries, this book confirms and expands Marville's significance. . . . Highly recommended."
— Choice
"In addition to significant biographical insights – that Marville was a pseudonym concocted by the young Charles-François Bossu at the beginning of his career, for instance – Sarah Kennel's catalogue essay supplies a textured account of his milieu that locates him at a revealing juncture: between the forefront of a developing medium, on the one hand, and its burgeoning commercial and institutional uses on the other."
— Burlington Magazine