Turnaround Challenge: Business and the City of the Future (Hardcover)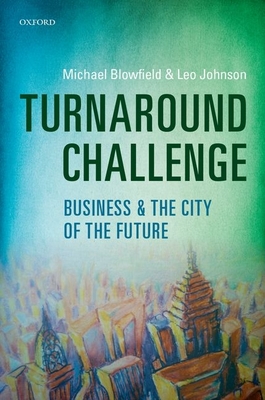 $31.00
Special Order—Subject to Availability
Description
---
Do we have the rights to optimism? Can capitalism deliver a next great wave of growth? "The future," wrote William Gibson, "'is already here. It just isn't evenly distributed yet." Lucid and polemical, Turnaround Challenge is a dig into that future and its meaning for business. It dissects the nexus of social, economic, environmental and governance crises confronting us, and a series of colliding megatrends with the potential to reshape opportunities for growth.
Three cities of the future are emerging. The first is Petropolis, the alluringly familiar but decreasingly resilient city, locked into the century old technologies of fossil fuel-driven mass production. This is the city of rising inequality, credit-fuelled consumption, offshored jobs, climate volatility, and unsustainable household and national debt. The second city is Cyburbia. This is mass production on the steroids of IT: the latest manifestation of science fiction's city without pain, but one inhabited by voice-activated popcorn dispensers, of athletics' shoes with in-built Twitter feeds, of sensor-packed and censoring glass towers that risk reducing their citizens to digital factors of production in the supply chain of big data. The third is the Distributed City, where technology is deployed with the intent to connect us not virtually but physically--from Nairobi's network of innovation spaces to Hamburg's Participatory Budgeting experiments, from Barcelona's network for micro-manufacturing, to Austin's distributed smart grid.
These are the cities of society's future, and they have very different implications for business success, and our ability to navigate the social, economic, and environmental megatrends that confront us. Blowfield and Johnson present the DNA of the winners of the future, high growth and disruptive businesses, emerging from the bottom up, and with the capacity to tackle society's biggest challenges head on.

About the Author
---
Michael Blowfield is a Senior Research Fellow at the University of Oxford's Smith School of Enterprise and the Environment where he researches business transformation in an era of climate change and resource constrained economies. He is also a Teaching Fellow in Corporate Responsibility at the London Business School and Visiting Professor at Middlesex University Business School. He has worked as an academic and consultant in the field of corporate social and environmental responsibility with a particular focus on the socio-political context of corporate responsibility, and the role of business in society.

Leo Johnson is the Co-Founder of Sustainable Finance, now a part of the PwC group. He is a Business Fellow of the University of Oxford Smith School of Enterprise & Environment, and a Judge of the Financial Times "Boldness in Business" Awards. As the Presenter of the BBC World News show "Down to Business" he has worked with social enterprises around the world that address the challenges of reaching scale. Formerly with the Environment Department of the IFC in Washington, he is a Trustee of the UK's Green Alliance and the New Economics Foundation.