We're following all official guidelines to keep ourselves healthy on the job, and as a result, shipping may be delayed.
You will receive an email from our web orders team confirming that your order has been processed.
We thank you for your support and your patience at this challenging time.
The Long Southern Strategy: How Chasing White Voters in the South Changed American Politics (Hardcover)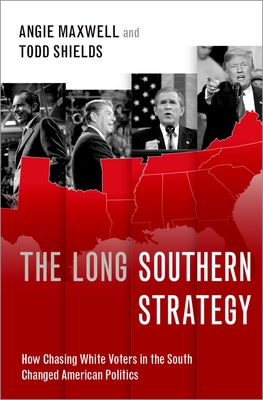 Description
---
The Southern Strategy is traditionally understood as a Goldwater and Nixon-era effort by the Republican Party to win over disaffected white voters in the Democratic stronghold of the American South. To realign these voters with the GOP, the party abandoned its past support for civil rights and used racially coded language to capitalize on southern white racial angst. However, that decision was but one in a series of decisions the GOP made not just on race, but on feminism and religion as well, in what Angie Maxwell and Todd Shields call the "Long Southern Strategy." In the wake of Second-Wave Feminism, the GOP dropped the Equal Rights Amendment from its platform and promoted traditional gender roles in an effort to appeal to anti-feminist white southerners, particularly women. And when the leadership of the Southern Baptist Convention became increasingly fundamentalist and politically active, the GOP tied its fate to the Christian Right. With original, extensive data on national and regional opinions and voting behavior, Maxwell and Shields show why all three of those decisions were necessary for the South to turn from blue to red. To make inroads in the South, however, GOP politicians not only had to take these positions, but they also had to sell them with a southern "accent." Republicans embodied southern white culture by emphasizing an "us vs. them" outlook, preaching absolutes, accusing the media of bias, prioritizing identity over the economy, encouraging defensiveness, and championing a politics of retribution. In doing so, the GOP nationalized southern white identity, rebranded itself to the country at large, and fundamentally altered the vision and tone of American politics.

About the Author
---
Angie Maxwell is the Director of the Diane D. Blair Center of Southern Politics and Society, an associate professor of political science, and holder of the Diane D. Blair Endowed Professorship in Southern Studies at the University of Arkansas. She is the co-editor of several volumes and the author of the The Indicted South: Public Criticism, Southern Inferiority, and the Politics of Whiteness, which won the Southern Political Science Association's 2015 V. O. Key Award for best book in Southern Politics. Todd Shields is the Dean of the J. William Fulbright College of Arts and Sciences and a professor of political science at the University of Arkansas. He is the co-author or co-editor of several books, including The Persuadable Voter: Wedge Issues in Presidential Campaigns, which won the American Political Science Association's 2009 Robert E. Lane Award for the best book in Political Psychology.